Pioneer India has unveiled a wide range of Home Audio Solutions today, including LX series audio video receivers and Home Theatre Packages apart from the regular audio video receivers, Home Theatre in Box and Bluray & DVD Player categories.
The LX series audio video receivers, are part of their premium range, which includes the SC-LX86, SC-LX76 and SC-LX56 models. Built on a Class D amplifier, these receivers are equipped with DSD file playback, Android compatibility over MHL, and Pioneer control application iControlAV2012 for Android based devices & iPod touch, iPhone and iPad.
Pioneer has also upgraded the existing Regular audio video receivers and introduced the new line-up which includes VSX-1122-K, VSX-922-K, VSX-822-K & VSX-522-K. With Pioneer proprietary technologies like PQLS (Precision Quartz Locking System), control application for smart-phones substituting the need of a remote control the company aims to please the power user. Another interesting feature is Airjam, only available on some models, which allows users to create, edit and play common playlists with different phones via Bluetooth at the same time - a blessing for house-parties.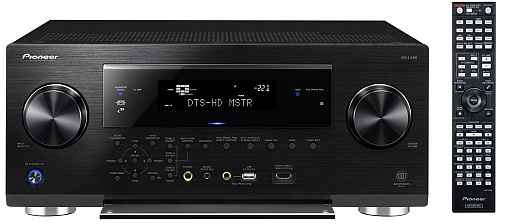 The other products launched were upgraded versions of the Todoroki series of home theaters: HTP-RS42 & HTP-RS32. Pioneer India also introduced two new Home Theater package: HTP-822ES & HTP-RS52, focussing the need of Indian youth for more connectivity features and powerful audio solution requirements. HTP-822ES also features advanced connectivity options and applications like Airjam, control application for smart-phones and tablets, etc.