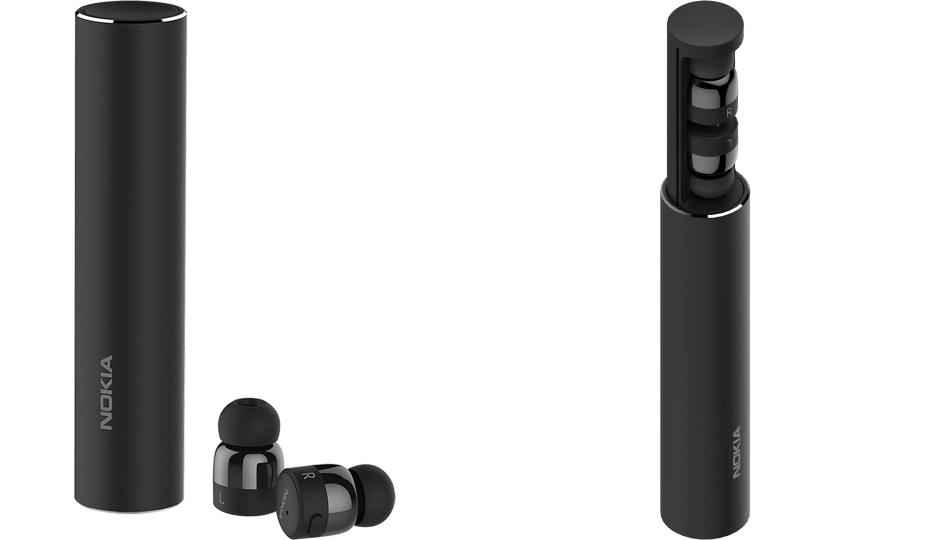 HIGHLIGHTS
The earbuds are available for Rs 9,999 and support bluetooth 5.0.
Highlights
The Nokia True Wireless Earbuds are priced at Rs 9,999.
They support Bluetooth 5.
Each bud weighs a mere 5 grams.
If you are one looking forward to the Nokia True Wireless Earbuds, you can get your hands on them for Rs 9,999 now. According to NPU, the earbuds are available on Nokia's website in India and in offline stores as well. However, as of writing this story, the earbuds, though listed on the Nokia India website, lack a buy button. They aren't listed on e-commerce websites like Amazon or Flipkart either.
Speaking of the specifications of the Nokia True Wireless Earbuds, they are available in one colour only – Black. The earbuds are pretty light weighing a mere 5 grams each. Nokia's website claims that you can get 3.5 hours of playback or 4 hours of talk time from the earbuds and it supports Bluetooth 5.0. The truly wireless buds also gives users stereo music playback and the ability to take phone calls. The Nokia True Wireless Earbuds are sweat and splash resistant IPX4 rated. The carrying case also doubles up as a portable charger, giving users three additional full charges for the earbuds bringing the total playtime to 14 hours of playback or 16 hours of talk time before resorting to the wall. The earbuds support USB type-C charging. In the box you also get 3 pairs of earbuds (S, M, L) to suit the size of your ear canal.
The earbuds recently received recognition at the iFDesign Award 2019. Speaking on the occassion, Edoardo Cassina, Global Head of Social Media Nokia Mobile tweeted, "It gives me immense pleasure to announce that Nokia True Wireless Earbuds have been honored with the iFDesign Award 2019!"
These earbuds have us intrigued and we will tell you how good they are as soon as we get our hands on them for review.
If you are looking for a pair of wireless earphones for your iOS device, chances are you are considering the AirPods. The AirPods are compatible with the iPhone, iPad, and iPod touch models with iOS 10 or later. They also work with Apple Watch models with watchOS 3 or later and Mac models with macOS Sierra or later. Apple claims that the AirPods,on a single charge, give users up to 5 hours listening time, up to 2 hours talk time. 15 minutes in the case equals 3 hours listening time or over an hour of talk time. The carrying case can give users more than 24 hours listening time, or up to 11 hours talk time. Apple doesn't disclose the bluetooth version in the AirPods but they do have a one tap setup process with your iOS or Mac device. Each AirPod weighs a mere 4 grams making it lighter than the Nokia True Wireless Earbuds and the charging case for the AirPods is 38 grams in weight. The AirPods are available in india for Rs 11,999 and it is speculated that the second generation AirPods will launch soon.
Also Read:
Mozilla to block autoplaying videos with Firefox 66 update
FiiO BTR1K Portable High-Fidelity Bluetooth Amplifier launched in India at Rs 3,890