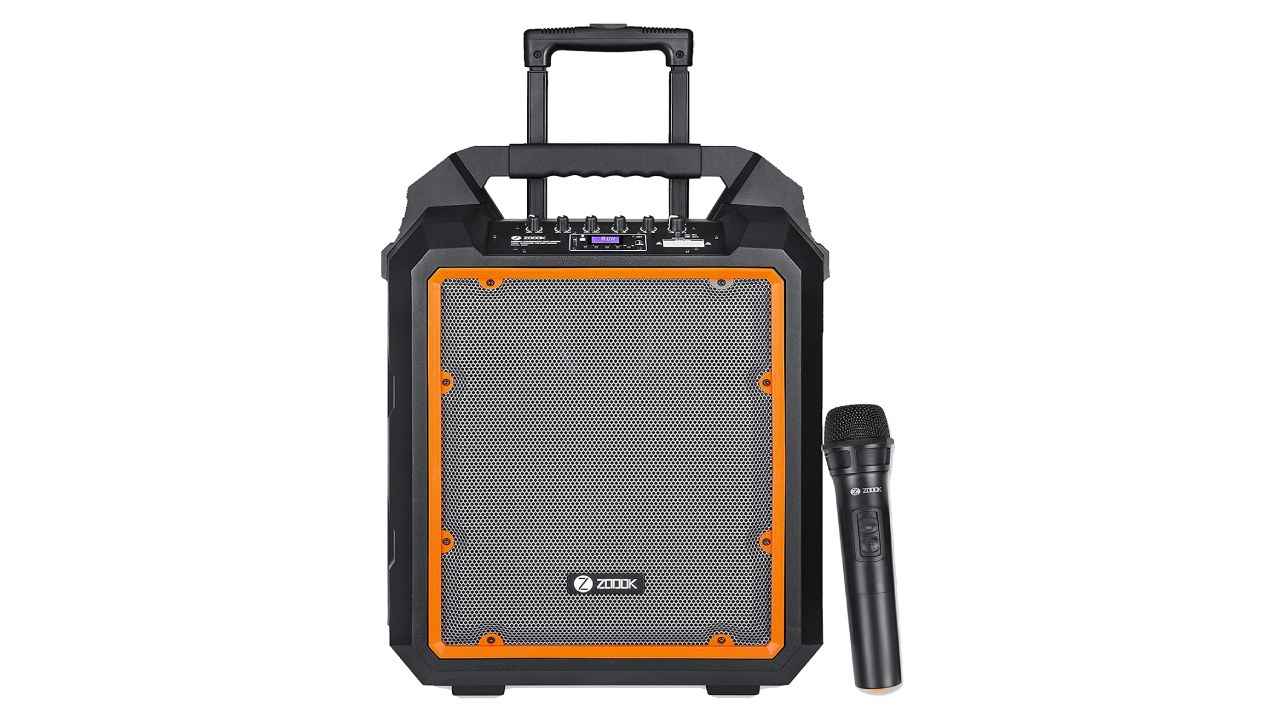 How to zest up your party where the guests continue to jam for hours? The answer lies in Bluetooth speakers that can produce a loud and clear sound. If you are searching for a Bluetooth speaker that can recreate a club-like experience in your home, make sure the ones you shortlist have a substantial output. Also, ensure they have built-in amplifying features and a long-lasting battery so that your party can go on for hours without any interruptions. Here is a list of a few good options of Bluetooth speakers on Amazon that are explicitly made to unleash the party beast in you.
Tronica Dual 6.5" Thunder Vibra Party Speaker
The Tronica Dual 6.5" Thunder Vibra Party Speaker features an array of media inputs, ranging from Bluetooth connectivity to USB, SD card, and AUX slots. This enables you to play music from any of your devices, giving you maximum flexibility. This 60-watt dual 6.5" speaker has a rechargeable battery capacity of a whopping 6,000 mAh that gives you a backup of up to 6 hours! It comes along with two mics, where one is wireless, and the other is wired. But both the mics have echo and mic volume controls to give the best balance of sound in karaoke singing. Its Bluetooth technology provides the speaker with a range of 10 metres, which is enough to operate it from any corner of the room. Moreover, it also has an RGB glow light that adds to the party feel!
Zoook Rocker Herculean Pro (200W) Bluetooth Speaker
The Zoook Rocker Herculean Pro (200W) Bluetooth Speaker is powered by disco jam speakers that drop full, deep, and resonating sounds. This makes this BT speaker a true party blaster! With 200 watts of total system capacity, this speaker can handle a substantial amount of power to enrich the sound experience. The Zoook Rocker Herculean Pro speaker gives you complete control over your music, thanks to its EQ, bass, treble, and echo control. Moreover, the speaker doesn't only support connectivity through Bluetooth but also with SD/TF card and Flash USB drives, ensuring the music never stops at your party! It works on a rechargeable lithium-ion battery and has a built-in amplifier that supplements the speaker to give a loud and crystal-clear sound.
Zoook Rocker Torpedo (50W) Bluetooth Speaker
The Zoook Rocker Torpedo (50W) Bluetooth Speaker has an IPX5 waterproof rating and comes in a shock-absorbing design. These features make the BT speaker durable enough to stand the test of time and play music at your parties for an extended period! For its Bluetooth connectivity, it uses BT v4.1 that gives the speaker a range of up to 10 metres, enabling you to operate it wirelessly from any part of the room. Powered by a 5,200 mAh rechargeable battery, it can easily give an uninterrupted runtime of 8-9 hours. Equipped with an output of 50 watts, this sound torpedo can reproduce a decent bass with no distortions at high volumes. Apart from these, some of its other notable features are a passive subwoofer at the speaker's back that augments the sound quality, and rubber fabricated look that gives it a premium finish.
Marshall Stanmore II Wireless Bluetooth Speaker (1002485)
The Marshall Stanmore II Wireless Bluetooth Speaker (1002485) leverages two 15 Watts class D amplifiers for powering its tweeter and uses a 50-Watt class D amplifier to drive its mighty subwoofer. The Marshall Stanmore II BT speaker can produce clean and precise audio through these robust mechanisms, even at the highest levels. Its stellar sound quality is further enhanced by its wooden cabinet that gives a premium finish to the speaker and also helps provide a warm and natural sound. It can wirelessly connect with your smartphone and other devices, thanks to its Bluetooth v5.0 technology that gives it a range of 30 feet (10 metres). With its built-in analogue controls on the top panel, you can effortlessly fine-tune the volume, treble, and bass to suit the mood of your party. Or, you could change them wirelessly using the Marshall Bluetooth app!