An article describing the launch of two new LG projectors - HS201G & HX301G, their features, specifications, price and availability in the Indian market.

LG Electronics India Pvt. Ltd. (LGEIL), announced the launch of its two new stylish and portable projectors, the HS201G (SVGA) and HX301G (XGA) in the Indian market today, thereby strengthening its hold in the LED projector segment in the market. On the heels of innovation & technology, it is reported that the new projectors incorporate impressive features that makes its usage comfortable both at work and home.
Being a successor to the previous version HS102G, the new HS201G features high brightness levels of 200 ANSI lumens & contrast ratio of 2000:1. It promises to deliver high picture quality, connectivity and vivid graphics. It is rated to have a long lamp life of up to 30000 hours and the product is estimated to weigh only 800 grams offering high durability & portability. HS201G is said to be an ideal choice for any kind of presentations delivering the ultimate in picture quality with Digital Light Processing technology.
LG HX301G, is another portable LED projector with XGA resolution with brightness of 270 ANSI- lumens, that is unsurpassed in its category. HX301G is quoted to offer a combination of brightness, picture quality and portability at its best, while delivering both smart technology and a stylish design.
Speaking on the occasion of the new launch, Mr. R. Manikandan, Business Head, Business Solutions, LG Electronics India Pvt. Ltd., said: "These LED projectors are an addition to LG's winning products, offering smart technology, packed with aesthetics. Both the new projectors HS201G & HX301G deliver ultimate portability and longer lamp life making them ideal projectors for CXOs, Business Travelers and home projections."
Read on to know more about each of the projectors...


LG HS201G (Rs. 48,000)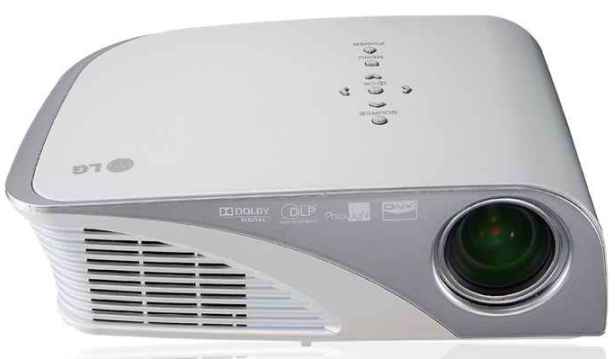 LG's new HS201G projector is designed to deliver the very best images with due credit to the high contrast ratio of 2,000:1. With the Digital Light Processing chip, the HS201G is rated to deliver exceptional picture quality and vivid colors. The Twin XD Engine is said to offer superb color correction so that images are displayed naturally. In addition, the internal Advanced Color Engine is said to enhance colours brilliantly, create warm and natural skin tones, and sharpen edges with the Edge Enhancer for accurate and independent color control. With due credits to HDMI 1.3 upscaling, the new projector is expected to eliminate on-screen color banding, providing smooth tonal transitions and subtle gradations between colors.
Ease of use is said to be one of the most important features of the new HS201G. Its Real Quick On/Off feature is rated to turn the projector on and off in only five seconds, which means no waiting for the long warm-up time of conventional projectors. The system is expected to play DivX files, display JPEG images and even play MP3 music files through external hard drives, USB memory sticks or memory cards connected through the USB port. Finally, the estimated 30,000-hour life means that the HS201G LED projector could be used for eight continuous hours everyday and still last 10 years.

LG HX301G (Rs. 71, 000)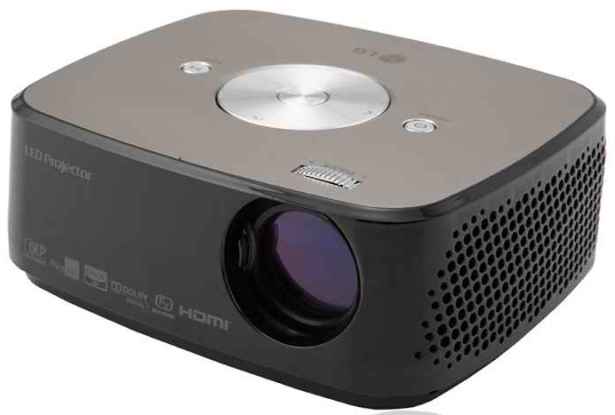 HX301G is another projector that is rated to display a crystal-clear XGA resolution picture with a brightness of 270 ANSI-lumens, unparalleled for a projector of this size. It is expected to clearly project 1024 x 768 pixel images with vibrant color and a contrast ratio of 2,000:1. With light output of 270 ANSI-lumens, the new portable LED projector could be used to show presentations, video and photos in rooms that are not fully darkened. It is said to be one of the LG's most energy efficient projectors, aided by its Phlatlight LED lamp, which is rated to last an incredible 30,000 hours.
LG is reported to have further enhanced the HX301G's image quality with its XD Engine image processor with the improved DMD chip. This is the same technology that LG uses in its high-end HD TVs. The DMD chip is built to enhance colors, contrast and skin tones, while ensuring that edges are crisp with no misalignment. Other intelligent features on the HX301G include the ability to show PowerPoint presentations, Excel spreadsheets, Word documents, PDF files and JPEG images, or play DivX and MP3 files directly from USB memory and many more.

>>Check out my detailed review on LG HS201G conducted at the Digit Test Center>>Click here<<