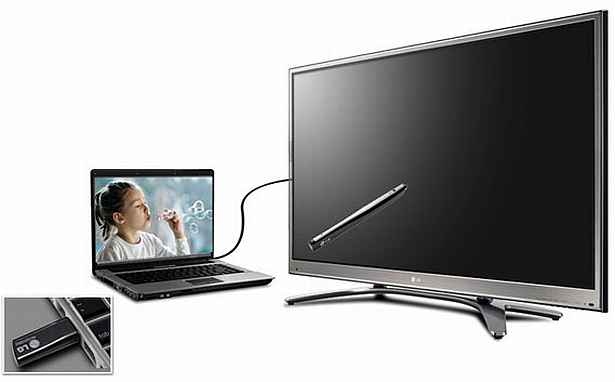 LG Electronics has introduced touchscreen technology to its plasma televisions, calling the combination a LG PenTouch TV. Available in 50-inch and 60-inch models, the touch-enabled plasma televisions will come with a touch-sensitive stylus, and PenTouch software. The entire touch-interface is meant only for when the television is connected to a computer, or, when browsing the internet.
[RELATED_ARTICLE]
The PenTouch Mode is activated via the television's remote control. Up to two styli can be used at a time, and are rechargeable via USB ports. LG has given recommended specifications for the computers that are meant to be connected to PenTouch TVs, with a minimum of 2GHz dual-core processors, RGB or HDMI output, a graphics card, and up to 500GB HDDs. Windows 7 is the preferred operating system, but XP and Vista will also work.
For now, there are three models that have been introduced – a 60-inch model with 3D capability, which will retail for $2,199; another 60-inch non-3D model at $1,699; and a 50-inch model at $1,099. No details about when these devices will hit Indian shores – we'll keep you updated.
Speaking on the launch of the PenTouch TVs in the US, Jay Vandenbree of LG Electronics said:
"Touch displays have become the norm in mobile phones and tablets, but remain almost unheard of in TVs. The PenTouch TV brings all the excitement of touch displays, computers and the Internet to the world of television, with functions and programs that are great fun and really educational. Families, in particular, will have more than ever to enjoy on LG PenTouch TV plasma screens."