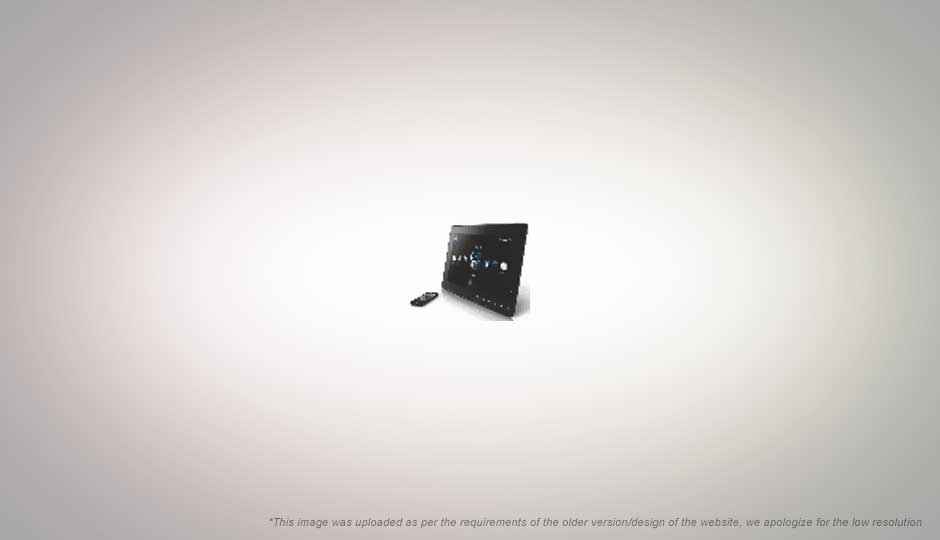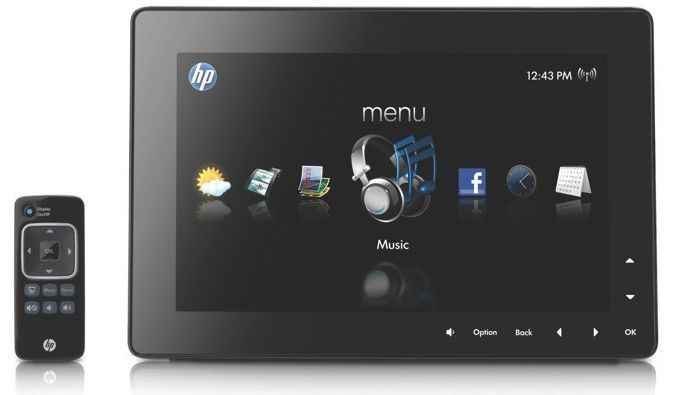 HP has launched a new PC-companion media player, the DreamScreen, which connects easily to a wireless or wired network to bring photos, music and video into any area of the home. The screen also transforms social media and web information into consumable, bite-sized pieces.
Before moving on into the press release, here's our own bite-sized piece of what you need to know: It comes in two models with 10-inch and 13-inch screens respectively, has 2GB of built-in memory, touch-sensitive controls on the frame, Wi-Fi connectivity, USB ports, memory card reader, built-in speakers, a 3.5mm audio jack, and a remote control. The software available includes Snapfish for photos, Pandora for Internet radio, Facebook, a media player and a clock as well.
Without further ado, here's the full press release from HP, and don't forget to scroll down for the image gallery:
People now can stay current with Facebook friends and photos, listen to Pandora Internet radio, share Snapfish personal photos and enjoy their music and pictures from home networked PCs(1) with a new category of connected screens from HP. The HP DreamScreen, a companion to the PC, connects easily to a wireless or wired network to bring photos, music and video into any area of the home. The screen also transforms social media and web information into consumable, bite-sized pieces.
"Constant, always-on access to friends, information and entertainment is a common expectation today," said Satjiv S. Chahil, senior vice president, worldwide marketing, Personal Systems Group, HP. "With HP DreamScreen, social media, web services and digital entertainment can be enjoyed in more areas of the home."
The HP DreamScreen features a piano-black design with a vibrant, flush glass widescreen display. The DreamScreen 100 (measuring 10.2 inches) was designed to fit perfectly on a nightstand or dresser. The HP DreamScreen 130 (measuring 13.3 inches) is ideal for kitchen counters and coffee tables.
Enjoying digital entertainment
The HP DreamScreen comes with 2 gigabytes of built-in memory for storing photos, music and home movies directly on the device. Digital content can be loaded and played using a USB drive or most types of flash memory cards. Photos and music can be streamed wirelessly or moved to the HP DreamScreen by a simple "drag and drop" motion from a networked PC with included software.
Finding and playing songs is easy – searchable by artist, album or genre – and is enhanced with album cover art. High-fidelity speakers are built in and include connections to accommodate headphones and external speakers.
For music enthusiasts, the HP DreamScreen allows users to stream music directly from the Internet using Pandora. The custom-designed experience makes accessing Pandora accounts easy. Album cover art is displayed and users can personalize their stations by thumbing-up favorite songs or artists to refine their stations.
"Pandora's listeners want to have access to their personalized stations on a variety of devices," said Jessica Steel, senior vice president, Business Development, Pandora. "The HP DreamScreen makes it fun and easy for listeners to enjoy Pandora throughout their homes."
In addition, the HP DreamScreen gives users access to HP SmartRadio, a new service that aggregates streams of live Internet broadcasts from more than 10,000 radio stations around the world. Users can now listen to their favorite radio stations on the Internet by location or genre in any part of their home.
With the HP DreamScreen's capabilities, it becomes the "fourth screen" in people's lives, extending the enjoyment of digital content beyond a computer, TV and mobile phone.
Staying connected
The HP DreamScreen includes 802.11 b or g wireless capabilities to access real-time information from the web. By selecting the Facebook icon, for example, users can stay up to date with their social networks while away from their computers. Friends' status updates, photos and upcoming events can all be viewed in real time.
In addition to viewing images from a PC, flash memory card or Facebook, customers also can access their own or their friends' Snapfish photos and albums. Photos from any of these locations can be enjoyed in slideshow mode simultaneously with music stored on the device or streamed from the user's PC in the background.
Checking time, day and weather
The HP DreamScreen also helps people prepare for and organize their day with access to five-day weather forecasts for cities around the world and a view of their calendar. The HP DreamScreen's built-in clock feature can show time in digital or analog format with dual time-zones and lets users choose tones or music for alarms.
Setting up is easy
The HP DreamScreen was designed to be fun, simple and intuitive. A remote control that nests almost invisibly on the top of the product is easy to use, and touch controls that are visible only when the border of the screen is touched provide another way to select activities or preferences. Both models come with a stand and are ready for wall mounting right out of the box.
Pricing and availability
The 10-inch HP DreamScreen 100 is available today in the United States for $249 (Rs 12,000 approx), while the 13-inch DreamScreen 130 is expected to be broadly available later this year for $299 (Rs 14,500 approx).