An article describing the release of Dell's new wireless short range 3D capable projector, known as the Dell S300W, which will be priced at $999.
The DELL S300W is designed to specialize in projection of presentations with the ability to produce images of size 90-inch at a resolution of 720p from a projection distance of three feet or a 60-inch image from two feet distance. It also comprises of twin capabilities of both wireless and 'plug & play via USB' connectivity.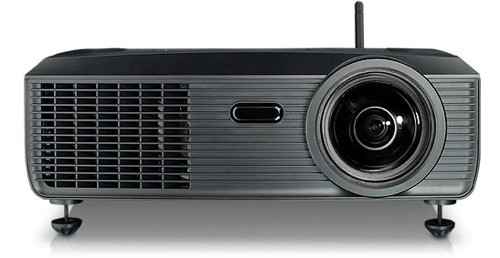 S300W is also bundled with Crestron RoomView Express software to enable remote access and monitoring along with modest overall specifications, including 2200 ANSI lumens of brightness, a 2,400:1 contrast ratio and 3D image rendering capability. It is competitively priced at $999 ~ Rs.45, 743.
Specifications Summary:
Image resolution – 720p
Max Image Size @ 3 feet – 90 inches
Max Image Size @ 2 feet – 60 inches
Connectivity – 'Wireless' and 'USB - plug & play'
Crestron RoomView Express software – Remote access and monitoring
2200 ANSI lumens of brightness
2,400 : 1 contrast ratio
3D image rendering capability
Retail Price: $999 or Rs.45, 743