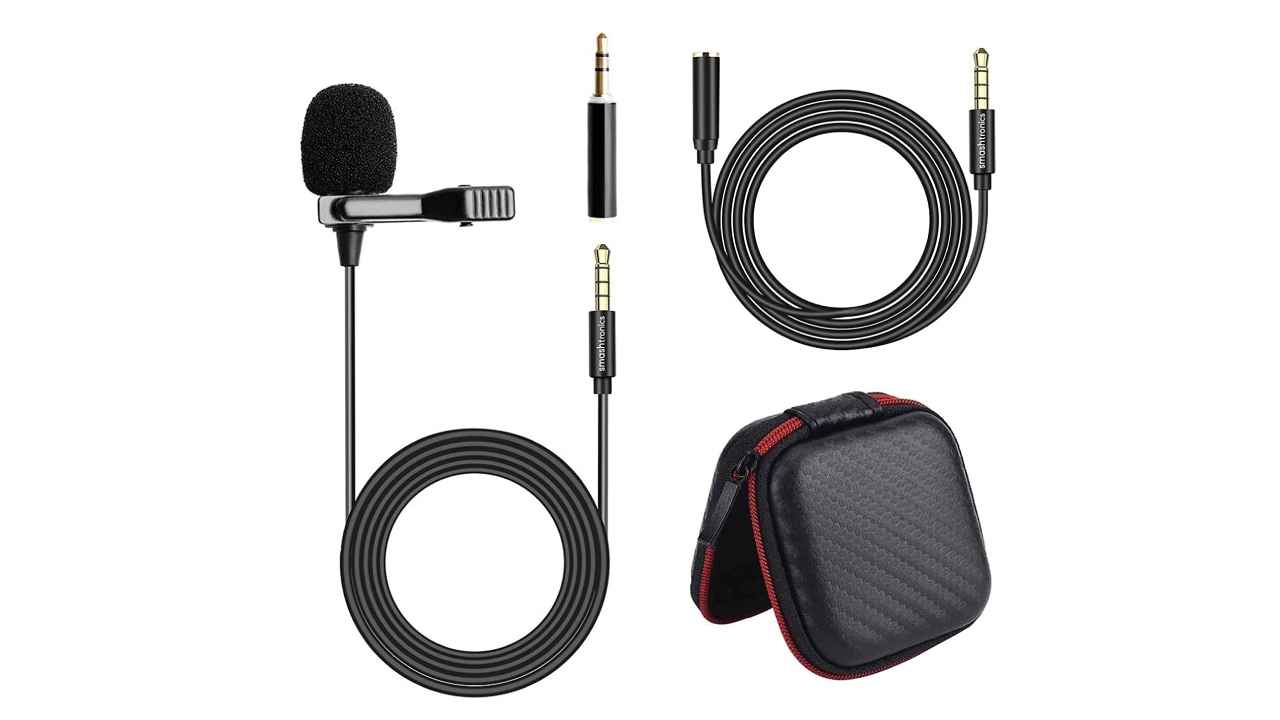 These days, video conferences are becoming common by the day. More people are getting into the work from home culture, which requires frequent conversations and video calls with your team back at the office. For such calls, it is vital that your voice is crisp and clear to your teammates. Since you're attending more video conferences, you should invest in a lavalier microphone, which is lightweight, easy to use and has good audio quality. Choosing a microphone for yourself can be quite a challenge, which is why we've compiled a list of the best lavalier microphones for video conferences which you can find on Amazon.
Mezire 3.5mm Clip Microphone
This is a simple, plug and play microphone. You can simply hook it up to the 3.5mm jack in your PC, laptop, mobile phone or tablet and use it as a regular microphone, to transmit your voice clearly. You can also create audio files and use them for video recording with smartphones as well as DSLRs. Overall, the microphone is lightweight and simple in design. It has a nifty clip, which you can attach to your outfit and have it recording on the go. To see what you've recorded, you can simply check out past recordings and test the quality of the microphone for yourself.
Smashtronics® – Collar Microphone
This microphone is great for video conferencing. The lavalier microphone is compatible with vocal or video use in iPhones and Android Smartphones along with Windows PCs and laptops and most Apple computers too. It is easy to use – has plug and play functionality to connect to one of your devices. It houses a voice amplifier through a standard 3.5mm jack and also provides 360° recordings. This ensures that no words are missed out, and your voice on the other end is loud as well as clear. It packs a wind muff for clear recordings in all conditions. There is also a clip for convenience, meaning you don't have to hold on to it all the time.
JUAREZ JRM50 Lavalier Microphone Lav Mic Omnidirectional Condenser Clip Mic
The Juarez Lavalier Microphone adopts updated noise-cancelling and auto omnidirectional sound pickup technology, which will automatically filter all kinds of background noise. This helps you record clean and clear audio for all your professional needs. It is compatible with almost all devices that house a 3.5mm audio jack. The sturdy metal clip leaves your hands free, so you can go about giving presentations with ease while your voice remains clear. With the mic, you can record video and audio indoors and outdoors. It is ideal for Youtube recording, interviews, video recordings, live broadcasts, webinars, courses, podcasts and video conferencing.
JBL Commercial CSLM20 Omnidirectional Lavalier Microphone
The JBL Commercial CSLM20 is an omnidirectional lavalier microphone with an earphone. It comes with a windshield, a tie-clip, and a carry pouch, all features for ease of use. Using the windshield, it can record audio in all conditions, while the tie clip keeps wires at bay and leaves your hands free. The added earphone makes it ideal for monitoring from the same device and in real-time. Whether you're recording your next hit YouTube cover or making an Instagram video, you can easily monitor your content. The earphone also makes it an ideal mic for work-from-home professionals as it's perfect for video & conference calls. It is compatible with most smartphones, laptops, PC/Mac, and tablets, so you shouldn't have a problem working with it.