The audio segment usually sees a lot of activity at this event, and the all-digital CES 2021 was no different with a selection of headphones, earphones, speakers, and other audio components being revealed
The Consumer Electronics Show (CES) has always been a massive event where some of the most innovative products are unveiled and showcased. The audio segment usually sees a lot of activity at this event, and the all-digital CES 2021 was no different with a selection of headphones, earphones, speakers, and other audio components being revealed. Although this year's CES was a markedly different affair than the status quo, the excitement surrounding the event and new launches was still present. There have been plenty of announcements from companies such as Sennheiser, JBL, 1MORE, V-MODA, Anker, and others. Let's have a look at some of the best gadgets in the audio segment that were revealed at this colossal virtual event.
V-MODA M-200 ANC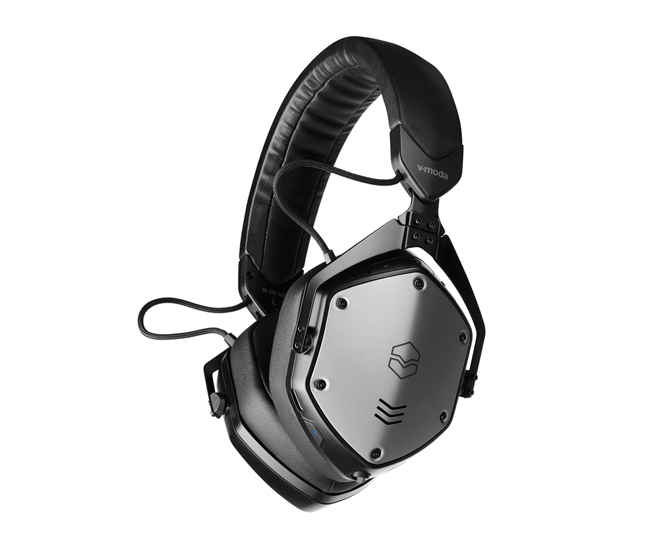 V-MODA made a splash at CES this year with the V-MODA M-200 ANC wireless headphones. This is a new version of the company's already-existing M-200 headphones which bring both wireless connectivity and ANC to the classic V-MODA M-200. The headphones look pretty similar to their wired counterpart, with a hexagonal design, that is a signature for the company. The M-200 ANC comes equipped with 40mm drivers, new buttons for controlling playback wirelessly and a USB-C charging port. They are also slightly heavier than the classic M-200, weighing 320g compared to the 290g on the wired model. It offers hybrid noise cancellation with an option to adjust the levels of ANC via an accompanying app. The new M-200 ANC headphones are priced at $499.99 (approximately Rs 36,500).
Soundcore Liberty Air 2 Pro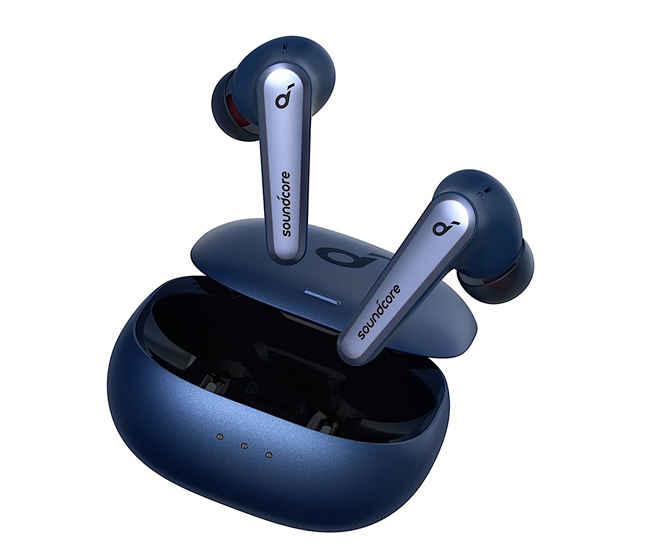 Anker revealed its first truly wireless earbuds with noise cancellation at CES 2021 dubbed the Soundcore Liberty Air 2 Pro. The earbuds come packed with features such as sound personalisation, multiple ANC modes, wireless charging, 34 hours of total battery life, and others, all at an attractive price point of $130 (approximately Rs 9,500). The earphones feature what the company calls 'targeted' ANC, where certain modes optimise the ANC for particular instances such as commute, outdoor and indoor. The battery life is rated at 7 hours on the earbuds and a total of 26 hours with the charging case.
Sennheiser IE 300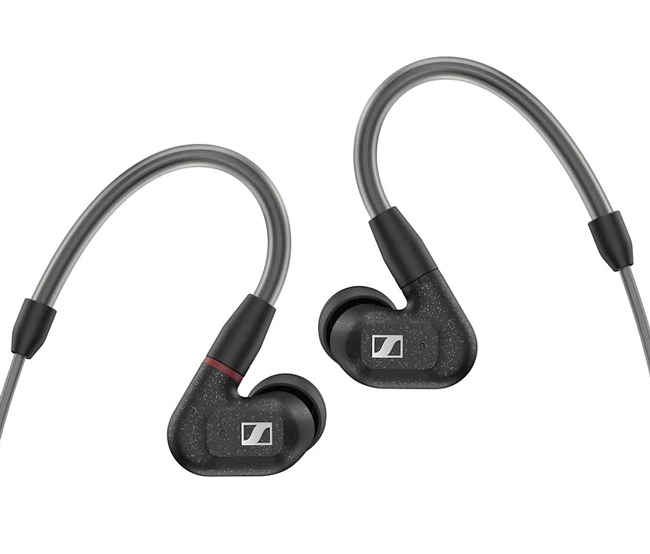 Sennheiser took to the stage with the Sennheiser IE 300 earbuds at CES 2021. The earbuds are powered by a refined version of the company's 7mm XWB (Extra Wide Band) transducer. The Sennheiser IE 300's focus is clear - it is sound quality. So, it doesn't come packing features prevalent in the consumer audio market at the moment such as ANC and wireless functionality. The company claims that the components in the buds have been meticulously tuned to refine listening experience right from the optimised membrane foil that minimises vibrations and distortions to the resonator chamber that gets rid of masking resonances in the ears to enhance the highs. The Sennheiser IE 300 will be available starting March and will cost $299.95 (approximately Rs 22,000).
1MORE ComfoBuds Pro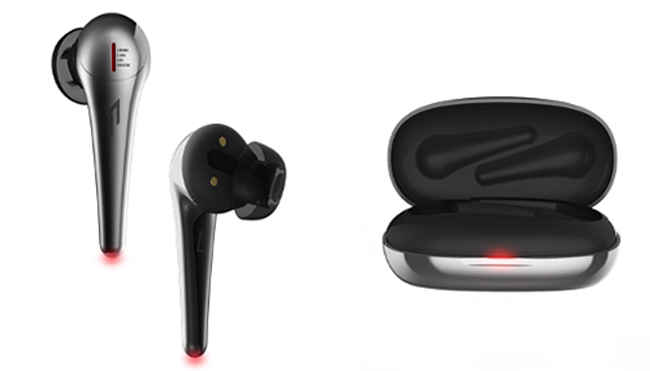 1MORE entered the spotlight at CES once again this year with three of the company's products receiving the 2021 CES Innovation Honoree Award, making 1MORE the most awarded headphone brand at CES of all time. One of the awards was taken home by the 1MORE ComfoBuds Pro True Wireless Headphones. The earphones come packed with features such as four ENC microphones for calls, instant pairing, Bluetooth v5.0 connectivity, auto pause/play, IPX5 water resistance and the 1MORE sound tuning powered by 13.4mm dynamic drivers. It also comes with 1MORE's QuietMax ANC technology and a low latency entertainment mode. Alongside the ComfoBuds Pro, 1MORE also won the award for the 1MORE ColorBuds, which we have reviewed, and the 1MORE ColorBuds Pro, which comes packing ANC technology.
Earin A-3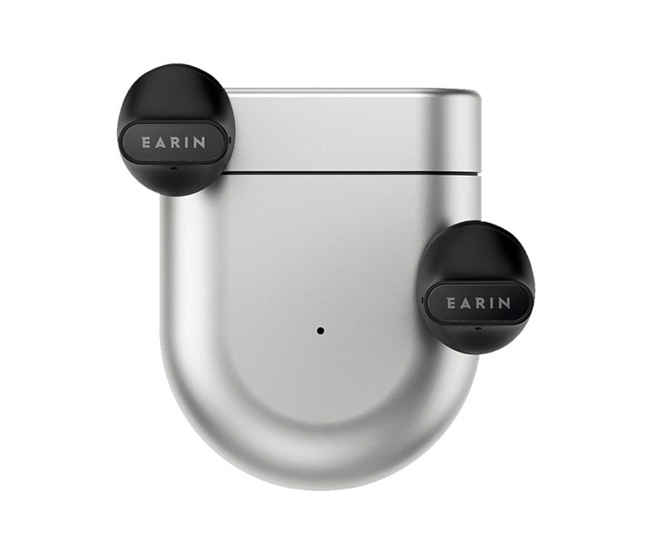 Priced at $199 (Rs 14,500 approximately), the Earin A-3 are tiny truly wireless earphones that are allegedly 20 percent smaller than most other true wireless earphones on the market. They come with an AirPods-style stem and half in-ear design. The company claims that these are the "smallest and lightest" headphones ever made. The buds don't come with silicone tips to create a tight seal within the ear, however, the company said that this was intentional since they wanted the earbuds to be able to let more ambient sound in to ensure user safety. They come packing a sizable 14.3mm custom driver and each bud houses an accelerometer that picks up vibrations from your head as you speak. This combined with the microphone allegedly improves voice quality when making calls. What's more is that the earbuds can even detect which ear it is in, and since there is no predetermined left and right earbud, it will detect which side it is in and assign a left or right channel accordingly. Pretty cool!
JBL Charge 5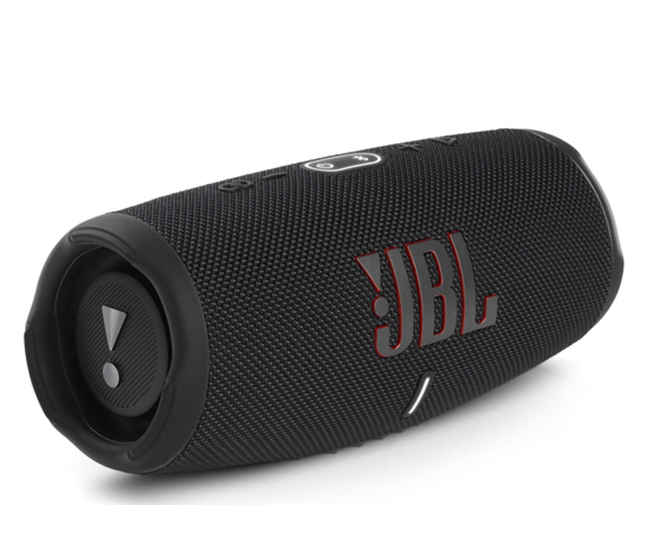 Kicking off the company's 75th anniversary celebration, JBL showcased a host of products at CES 2021. One of them being the JBL Charge 5, the fifth generation of JBL's rugged Bluetooth speaker range. The company claims that the speaker offers improved audio over the last gen model and has an elevated dustproof and water resistant design. There's also a built-in USB port that allows you to charge your mobile devices, which means that it can double as a power bank. The company stated that the speaker comes with a "racetrack-shaped driver" with a separate tweeter and dual passive radiators which improve bass performance and clarity over its predecessor, the Charge 4. The battery life is rated at 20 hours and it is also equipped with JBL's PartyBoost feature that allows users to connect it with other compatible JBL speakers and have them all play music together.
JLab JBuds Frames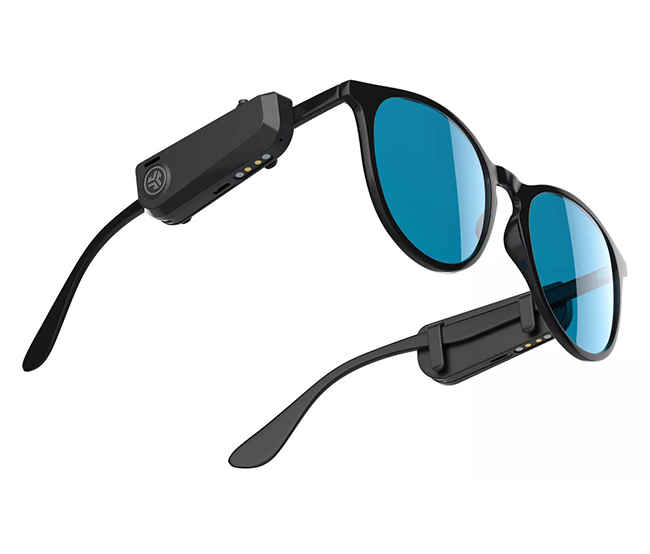 JLab launched the JBuds Frames, a set of wireless mini speakers that can attach to the arms of any style of sunglasses or eyeglasses, priced at $50. The JBuds Frames is an audio eyewear product that aims to combat one of the problems plaguing the category. Usually these speakers are always integrated into the glasses frames, which makes it difficult to mix and match speakers and glasses or use them with existing glasses. JLab, on the other hand, allows you to retrofit the mini speakers onto any form of glasses, so even if you change your glasses in the future, you can still continue to use them. They're IPX4 water resistant and each unit comes with 8 hours of playtime. It houses 16.2mm drivers to produce sound and the company claims that users will be able to hear the sound clearly without it being audible to those nearby.
JBL Bar 5.0 Multibeam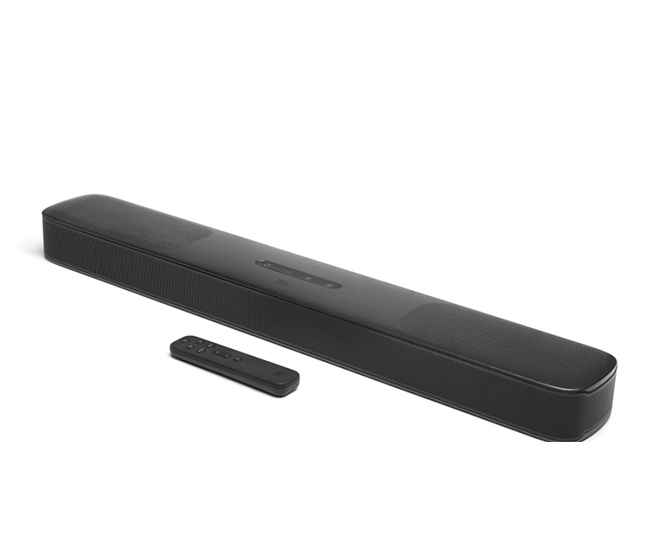 Launched just ahead of CES 2021, the JBL Bar 5.0 Multibeam soundbar comes with Wi-Fi streaming support including Amazon MRM and simulated Dolby Atmos effects, Alexa and Google Assistant support and a $400 price tag. It utilises JBL's proprietary beam-forming technology dubbed Multibeam to bounce surround channels off walls. There's an inbuilt subwoofer working alongside four passive radiators to emit punchy bass response, as per the company. Notably, the Bar 5.0 Multibeam will be compatible with Amazon's Multi-Room Music protocol which allows you to group Echo speakers together.
Binatone MaskFone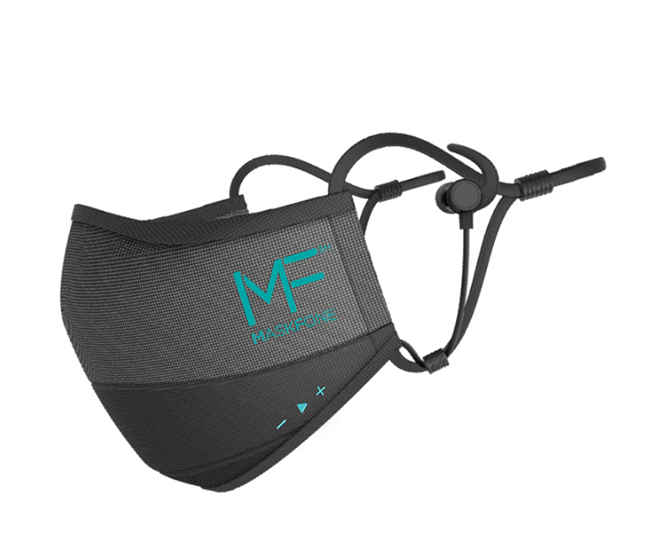 Masks are part of our everyday reality now due to the COVID-19 pandemic. Building on that, Binatone debuted the MaskFone at CES 2021 with a price tag of $50. It is essentially a washable, N95 mask with an integrated Bluetooth headset that allows users to speak to people on the phone without a mask-muffled voice. The earbuds are attached to the straps that hook around your ears and comes equipped with buttons for playing, pausing and changing volume on the face of the mask itself! It also has Siri and Amazon integration, so you can control your music with voice commands. The battery is rated at 12 hours.
Sony 360 Reality Audio Speakers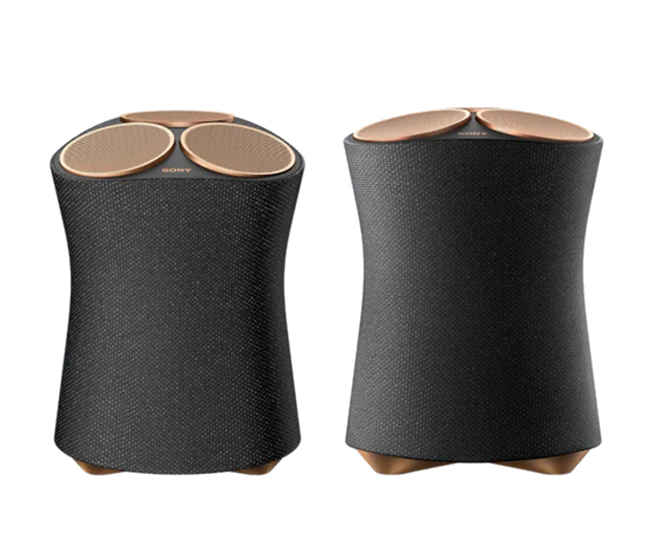 Sony announced two new wireless speakers at CES 2021 with unique design and 360 Reality Audio for a more immersive experience - the Sony SRS-RA5000 and the Sony SRS-RA3000. There are three drivers that fire audio upwards to give music a sense of height and work alongside three other front-facing drivers to provide sound in a horizontal plane for width and an internal woofer. The positioning of these speakers are designed to provide a 360-degree audio experience. Both speakers feature Sound Calibration, according to Sony, which offers "optimal sound performance". Holding down the Immersive Audio Enhancement button on the RA5000 will trigger a sound calibration adjustment in accordance with the room the speaker is placed in. The speakers are also compatible with Google Assistant-enabled devices and have Chromecast built-in. For connectivity, the speakers have Wi-Fi, Bluetooth and NFC.