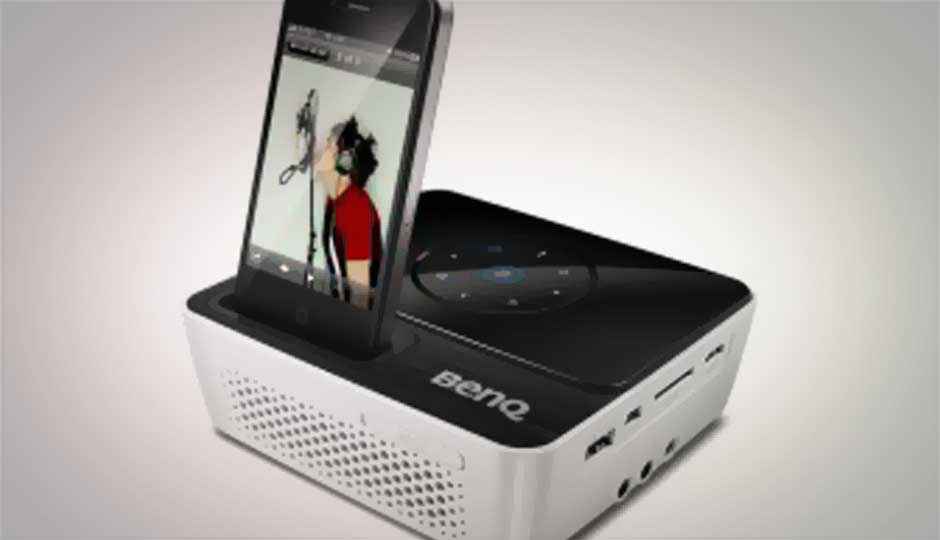 BenQ has announced the launch of the Joybee GP2 projector in India for Rs. 39,167. The projector is meant for portable use and hence its form factor is really small.
The biggest USP of the BenQ Joybee GP2 is that it has an iPod/iPhone dock, which enables you to view content from the iOS device directly on the projected display. The BenQJoybee GP2 projector also has two 2W speakers. Even if the display of the device is off, users can listen to music from their iOS devices by docking it into the station.
Keeping in mind this is a portable projector factor, the BenQ Joybee GP2 runs on a battery as well. This battery is not bundled in with the device and has to be purchased separately. The cost of the battery is Rs. 5000 (approx.). On full brightness (200 ANSI lumens) you can expect the BenQ Joybee GP2 to last for about 1.5 hours. It will last up to 3 hours if users reduce the brightness to 50%.
Straight out of the box, the BenQ Joybee GP2 is compatible with MS Office and can also read PDF files off a pen drive. The device has 2GB internal storage of which 1.3GB is available to the user.
In the box, you get the BenQ Joybee GP2 along with a stand, remote control (batteries included), carry bag, adaptor, USB cable, power cord, user manual, warranty card and a CEA 30 pin cable.
In terms of connectivity (apart from the iPod/iPhone dock), the BenQ Joybee GP2 has a full sized USB port, a mini USB port, memory card slot, a mini HDMI out, 30-pin connector, 3.5mm audio in, headphones out and the DC in.
BenQ also claims that the Joybee GP2 projector will recognize any video format via a USB stick directly, even .MKV files. But we would like to put this claim to the test.
If you are in the market to pick up a projector, you may also want to take a look at the new range of projectors recently announced by Epson. One of the projectors announced, the Epson MG-850HD, also has an onboard iPod/iPhone and even iPad support. The downside is that it isn't portable.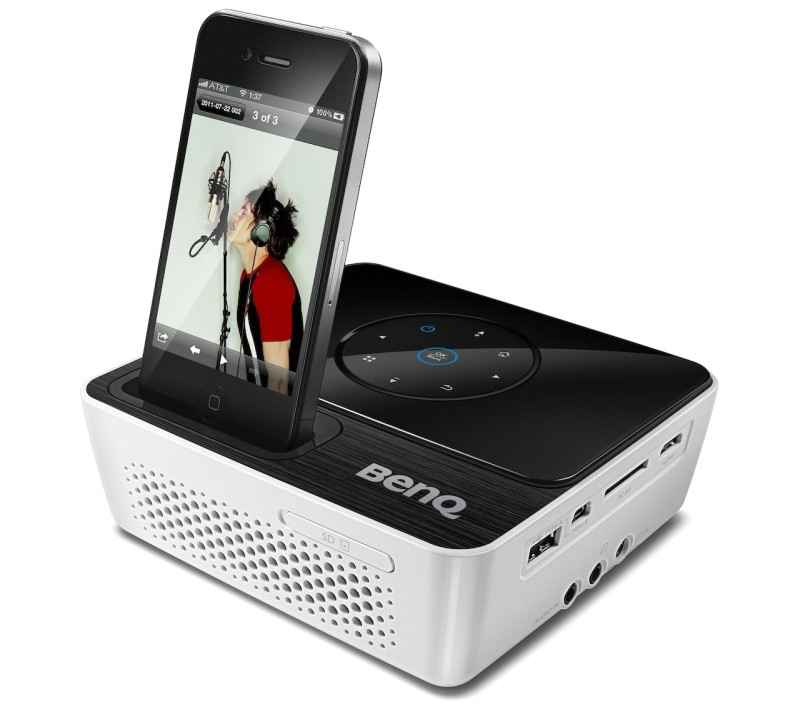 You can take a look at the detailed specifications of the BenQJoybee GP2 below.
Specifications
Projection System: DLP
Native Resolution: WXGA (1280 x 800)
Brightness: 200 ANSI lumens
Contrast Ratio: 2400 : 1
Lens: F=1.93, f=26.95mm
Aspect Ratio: Native 16:10 (5 aspect ratio selectable)
Throw Ratio: 1.13 (44″ @ 1m)
Image Size (Diagonal): 20″-160″
Zoom Ratio: Fixed
Resolution Support: VGA (640 x 480) to UXGA (1600 x 1200)
Interface: Computer in (D-sub 15pin) x 1 (via CEA 30 pin cable)
Composite Video in (RCA) x 1 (via CEA 30 pin cable)
HDMI (v1.3) x 1 (mini type)
Audio in (Mini Jack) x 1
Audio L/R in (RCA) x 1 (via CEA 30 pin cable)
Audio out (Mini Jack) x 1
iPod/iPhone Universal Dock x 1
Speaker 2W Stereo x 2
USB (Type A) x 1 (USB Reader)
USB (Type Mini B) x 1 (USB Display/File Transfer) Compatible with Win XP SP2 32 bit , Win Vista 32/64 bit , Win7 32/64 bit
Card Reader x 1 (SD, SDHC up to 16GB)
Internal memory 2GB (1.3 GB for user usage)
Dimensions(W x H x D): 140.3 x 52.5 x 129.8 mm (without battery) | 140.3 x 93.8 x 129.8 mm (with battery)
Weight 0.56kg (1.23lbs) (without battery) | 1.05kg (2.31lbs) (with battery)
3 hours battery life @ 100 ANSI lumens (1 hour @ 200 ANSI lumens)