The company's US website has hosted a webpage, which suggests that the successor to Amazon Fire TV Stick could be in the works.
Amazon could soon launch its next-generation media streaming device, which could be called the Fire TV Cube. The online retailer's US website has hosted a notify me page, first spotted by AFTVNews, which reads "What is Fire TV Cube?". No other details pertaining to the device are seen on the website and one can currently only sign up to be notified when the device is announced. Rumours suggest that Fire TV Cube could be the company's next media streaming device and the successor to the current generation Fire TV dongle.
As per the report, the device could come integrated with the company's smart assistant Alexa, along with far-field microphones so that users can use voice commands to control it. Current generation Fire TV stick is also voice controlled, however, one needs to use the voice remote or attach it to any other Echo device. The device will reportedly feature a built-in speaker as well so that users can hear Alexa's response even when the TV to which the device is attached is turned off. There is speculation that the Amazon Fire TV Cube will be priced around $100 (Rs 6,700 approx). "This was not an announcement, just a webpage. More details will be coming soon," said an Amazon spokesperson to AFTVNews.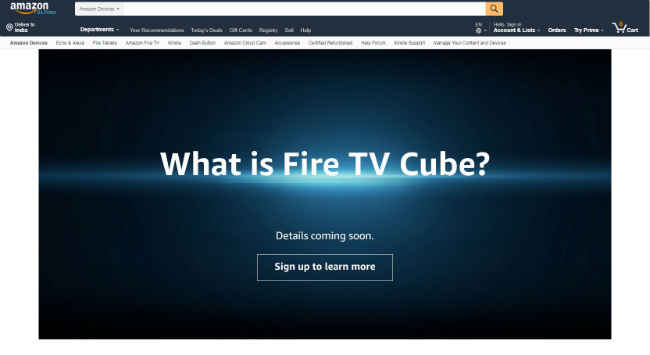 Amazon has become more competitive in the smart speaker segment, at least in India, since Google launched its Home and Home Mini speakers. The online retailer has also expanded its offering in India with the latest Echo Spot device in India. It sports a 2.5-inch screen to display videos, place video calls and more. It is priced at Rs 12,999 but Amazon has discounted it by Rs 2,500 and it is available for Rs 10,499. None of the Amazon Echo devices in India come with a screen and Echo Spot is the first. The Amazon Echo Spot features a Mic/Camera mute button that is placed on top, with the volume buttons on either side. The 3.5mm audio jack (out) and the power port are on the rear-bottom of the device, and the audio jack can be used for connecting the Echo Spot to other speakers. There are four far-field microphones with beamforming technology to pick up a user's commands from a distance and it also features enhanced noise cancellation. You can read out first impressions of the device here.
As mentioned above, the new Echo Spot has come to India soon after Google's Home and Home Mini series of devices. The speakers were launched in the country on April 10 and the Google Home is priced at Rs 9,999, whereas the Google Home Mini will cost you Rs 5,499. Google's smart speakers are targeted at Indian users and come with local news partners for delivering headlines via the device. Same as Amazon Echo series of smart speakers, Google Home devices can also be used to access a smart home ecosystem, given you have one. One can use voice commands for dimming the lights, controlling smart appliances and more. You can learn more about the Google Home smart speakers here.