It looks like Amazon could be launching a new Fire TV Stick. Dubbed the Fire TV Stick Lite, the information comes from German leaker Ronald Quandt at WinFuture. The packaging and the Fire TV Stick Lite look to have the same features as the current Fire TV Stick in India. We get 2 AAA batteries, an HDMI extender, USB cable, power brick, the Fite TV stick itself and an Alexa enabled remote control.
What is interesting to note is that the remote control has a new button and forgoes existing buttons. The power button is missing from the remote control and there is a new TV button at the bottom. It is possible that Amazon is working with Live TV partners for this device and pressing this 'TV' button could bring up the channels on offer. However, we will have to wait and see how this works. The volume rocker is also something that's missing from the new remote control along with the mute button. If this new remote control is indeed the new remote then it is a tad disappointing as the Fire TV Stick along with its power button and volume rocker was ideal to control the TV and a soundbar if the Fire TV stick was the primary mode of content consumption eliminating the need for use of the TVs remote control.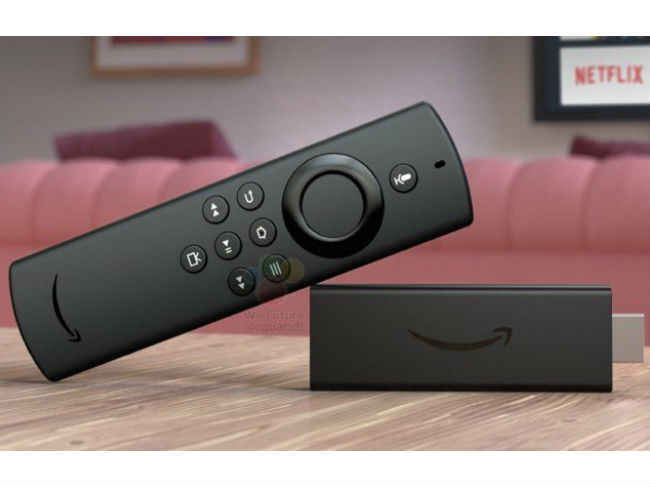 Also, how the device changes to highlight "Lite" features remains to be seen. In India, we currently have the regular 1080p Fire TV Stick priced at Rs 2,999 and the 4K capable Fire TV stick priced at Rs 5,999.
There is no information on a launch date or price of the new Fire TV Stick Lite and it will be interesting to see where this device is positioned in India. Could it replace the current 1080p Fire TV Stick?
If you are in the market to pick up a streaming device, then there are a number of options for you to choose from depending on whether you are looking for a 1080p streaming device or a 4K streaming device. In the 1080p streaming space, we have the likes of the Mi TV Stick priced at Rs 2,799 and the Nokia Media Streamer priced at Rs 3,199. In the 4K Streaming space, we have the Mi Box 4K (review) priced at Rs 3,499. There is also the Chromecast available in India and Apple has the Apple TV 4K as well. So, options are plentiful based on your budget and requirement.
Google is also expected to showcase its next-gen streaming device which is codenamed, Sabrina. You can read more about it here. With the recent announcement of Android 11 for TVs, we think Sabrina will pack in some next-gen features for a smart TV experience. How it will work is something we will only know when Google unveils the device.