Want to modernise your banking loan application?
Build an application that analyses credit risk with #IBMCloud Pak for Data on #RedHat #OpenShift
Click here to know more
Advertisements
YouTube has rolled out HDR video playback for the Samsung Galaxy S8 and Sony Xperia XZ Premium. Both devices feature HDR capable displays and the latest YouTube update will enable users to play videos at max resolution of 1080p, but in HDR. The YouTube app currently does not support 4K video playback on mobiles.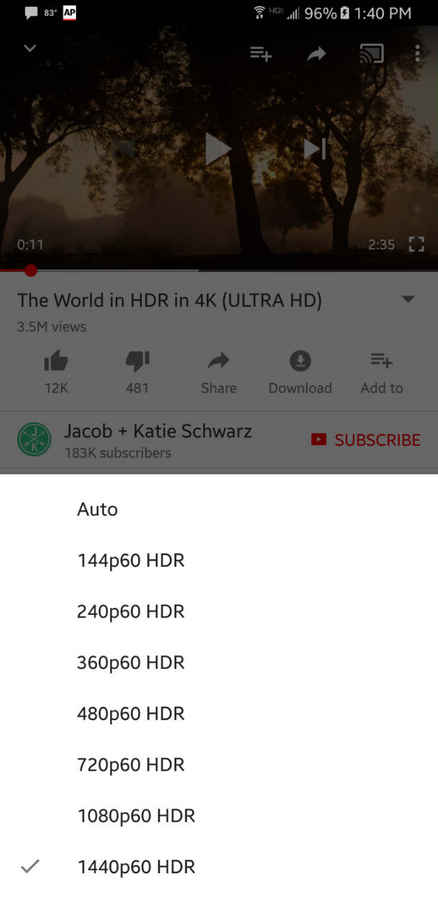 Image credits: Reddit Galaxy S8 thread
There aren't many Android devices that support HDR video playback. Besides Youtube, Netflix and Amazon are also expanding their HDR content library. While Netflix supports both HDR and Dolby Vision, Amazon supports HDR 10. Moreover, HDR content is only supported by a handful of devices, such as the LG V30, Xperia XZ Premium and some more. Also, not every video is available in HDR on the online content streaming platform and not all phones that support HDR, support Dolby Vision and vice versa.
Many users who tried out HDR on their Samsung Galaxy S8 and Xperia XZ premium smartphones posted on Reddit that streaming HDR content has its own set of problems. According to a Reddit thread, many Galaxy S8+ users experienced stuttering issues while testing out the new HDR feature. Users also claimed that HDR videos substantially increased screen brightness, which is believable for viewing HDR content. However, this may end up draining battery faster.
YouTube has been making some changes and recently revamped its look across the mobile app and the website. The website's old "tube-in-tube" logo was replaced by a more modern and familiar YouTube play button. The website was also overhauled to give a more crisp and material look. The new desktop design also features a Dark Theme which the website says, provides a better viewing experience.