Want to modernise your banking loan application?
Build an application that analyses credit risk with #IBMCloud Pak for Data on #RedHat #OpenShift
Click here to know more
Advertisements
Latest leaks suggest that while you enjoy killing the green piggies in Angry Birds, spy agencies like the NSA (National Security Agency) and its UK counterpart GCHQ (Government Communications Headquarters) are able to gain your personal information. Apart from the popular Angry Birds, many other smartphone apps have been reported which these spy agencies use for surveillance.
Since last year, N.S.A leaks have shown us how vulnerable our data is to spying agencies. With the start of a new year, we are already witnessing more reports that suggest how these agencies infiltrate our smartphones.
According to top secret documents these "leaky" smartphone apps transmit user's personal data such as age, gender, location and other information across the internet according to The Guardian which is later picked up by the spy agencies. These apps include apps on both Android as well as the iOS platforms . These latest documents were leaked by the whistleblower Edward Snowden.
The documents leaked by the former N.S.A contractor describe how the N.S.A and GCHQ work together in collecting and storing data from dozens of smartphone apps till 2007. Since then, the agencies have been working together developing more methods to track user's location through Google maps, access address books, buddy lists, phone logs, and geographical data embedded in photos that have been posted on mobile apps of Facebook, Flickr, Twitter, LinkedIn and other services as well.
One of the documents even mentions that spies can even access details such as user's political alignment and sexual orientation.
The N.S.A is reported to have spent $1bn in its phone targetting efforts that access user locations. According to a leaked 2011 British document, this initiative by these spy agencies was named as "the mobile surge." A leaked slideshow is reported to have contained a slide titled "Golden Nugget" referring to iPhones and Android phones as rich resources of information.
This whole process has been so successful for these spy agencies that one 2008 document even noted that "it effectively means that anyone using Google Maps on a smartphone is working in support of a GCHQ system."
User details that have been reported to be accessible to N.S.A and GCHQ include home country, current location (through geolocation), age, gender, zip code, martial status (options included "single", "married", "divorced", "swinger"), income, ethnicity, sexual orientation, education level, and number of children.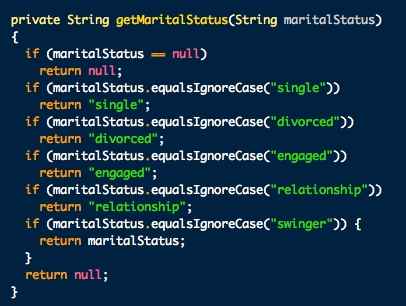 Responding to questions about the program, N.S.A said that it does not profile everyday Americans as it carries out its foreign intelligence mission. It further added,"Because some data of U.S. persons may at times be incidentally collected in N.S.A.'s lawful foreign intelligence mission, privacy protections for U.S. persons exist across the entire process. Similar protections are in place for innocent foreign citizens."
Angry Birds maker, Rovio, had been criticized for privacy concerns in 2012 as well when it's app was reported to collect user's locations and gathering other data later passing it to mobile ad companies. It even mentions it on it's website that Rovio may collect its users' personal data but abides by some restrictions such as "Rovio does not knowingly collect personal information from children under 13 years of age."
Both the N.S.A and GCHQ have not given any comments regarding "the mobile surge" but both have stressed that all their programs are proportional and complied with respective laws of their countries.
Considering the rising use and popularity of smartphones worldwide, spy agencies will have the abiltity to obtain large amounts of data without the user knowing about it.