Snapchat has updated its apps on iOS and Android to include a set of new video filters, called "Speed Modifiers". It will now allow users to add slow motion, fast forward and rewind effects on the videos. The updated iOS app has also introduced some basic 3D Touch support for the iPhone 6S and 6S Plus.
In order to use the speed modifier effects, users will simply need to swipe sideways, after shooting the video. The effects can be sequenced together in various ways. It is also possible to create a loop – somewhat similar to what Instagram Boomerang does. The new update will also allow iPhone 6S and 6S Plus users to quickly send a chat, or add friends from the home screen icon. Tapping strongly on the Snapchat icon will open up a shortcut menu, with options for chatting with contacts and adding new friends. Facebook has also updated its iOS app recently to add similar 3D Touch functionalities. It allows users to access shortcuts for writing a post, taking a photo or video, and uploading them, by pressing on the app icon.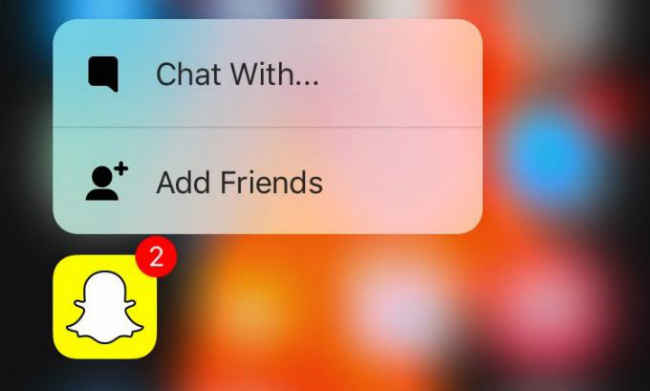 Last month, Snapchat added a new set of filters called Lenses. They are basically animated filters, that can be applied to a selfie by being selected before taking the shot. The Lenses feature was added after Snapchat acquired Ukrainian startup Looksery, which specialised in such live animated filters. Snapchat also introduced option of buying Replays for users in the US. Until the previous update, each Snapchat user was entitled to one Replay per day, to take another look at a snap. Three additional 'Replays' can now be bought for $0.99.
Snapchat has been introducing a lot of new features to compete with other photo sharing apps and platforms. It is also looking at various other channels of shoring up revenue. A recent report by Financial Times indicated that Snapchat will soon launch sponsored lenses. According to the report, Snapchat is reportedly charging anywhere between $450,000 to $750,000 to design Lenses, that will be available for a single day.