Make 2021 your best year with IBM Developer
Make 2021 the year where you truly shine, grow, build & Code. Get support and motivation from the IBM Developer community. #IBMDeveloper #CodePatterns
Click here to know more
Advertisements
Apple Watch has been officially unveiled. Even as the smartwatch has grabbed the spot light, Apple also made some other important announcements, including a ResearchKit, which is targeted at medical professionals.
ResearchKit is defined as an open software framework built specifically for medical research. Apple says the framework makes it easy for researchers and developers to create apps that could "revolutionise medical studies, potentially transforming medicine forever".
With the new framework, you can use your iPhone to access information about your health. "... many of the apps built with ResearchKit will enable you to track your own data and potentially discover correlations between symptoms and daily actions such as diet or exercise," explains Apple.
Currently, ResearchKit is focussing on Parkinson's Disease, Breast Cancer, Cardiovascular Disease, Asthma, and Diabeties. The framework also makes it easier for researchers to find participants. It simplifies recruiting and makes it easy for people to sign up for a study across the world. Apple believes larger studies will help researchers get more precise results.
Also, researchers can do away from traditional handwritten surveys and lengthy forms. They can spend more time on performing research than worrying about data entries and storage.
For users, especially worried about privacy, Apple gives you the option to decide which data to be shared.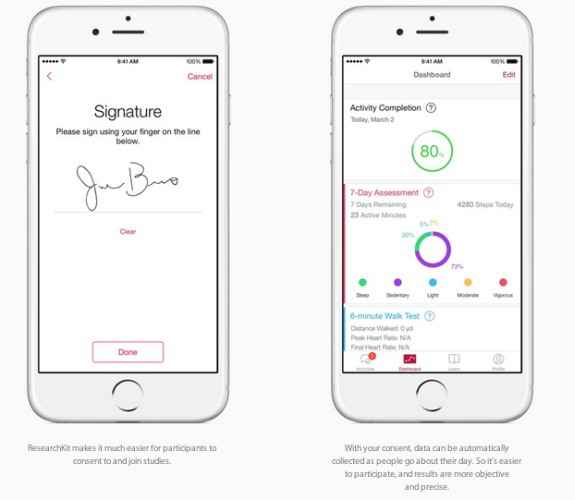 "Numbers are everything. The more people who contribute their data, the bigger the numbers, the truer the representation of a population, and the more powerful the results. A research platform that allows large amounts of data to be collected and shared — that can only be a positive thing for medical research," says Dr. Eduardo Sanchez, American Heart Association.
Apple had recently launched its HealthKit in an attempt to make health focused applications and perhaps devices mainstream. Addition of ResearchKit is set to help further evolve the ecosystem for such health focussed technology on the mobile devices.
Even as the new smartwatch and MacBook have taken the center stage, ResearchKit has definitely a lot of potential, and perhaps become more useful for masses. It will be really interesting to see how Apple (if) implements the framework in emerging markets.
What do you think about ResearchKit? Let us know your views in the comments section below: