BlackBerry's popular cross-platform messaging app BlackBerry Messenger (BBM) will soon receive a major update, allowing users to share photos within multi-person chats and file size limit on shared files increased to 16MB.
"We know customers want to be able to share pics with multiple people in a chat. The next release of BBM will support photo sharing in multi person chats," says BlackBerry in a blog post.
The new feature is in addition to current sharing features available within mult person chats – sending voice notes, sharing location, sending files from Dropbox account.
BlackBerry also revealed the next update will include increase file size limit on shared files.
"While our file size limit on shared files has historically been set at 6MB, we're increasing this to 16MB in the next release of BBM. What this means is that you'll be able to send bigger pictures, larger documents and longer videos. For example, the 6MB transfer limit today allows you to send 6 seconds of 1080p HD video (recorded on a BlackBerry Z30 smartphone). With the increase to 16MB, you will be able to send 16 seconds of video using the same settings. We've also increased the size of the emoticons slightly after feedback from you, our customers," adds BlackBerry blog post.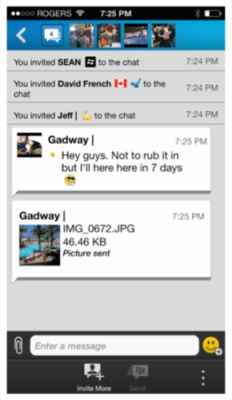 New announcement comes shortly after BlackBerry unveiled eBBM Suite, a mobile messaging platform for the security conscious users. The suite will allow enterprise users to message their BBM contacts outside of the organization with the privacy, control and security that is inherent in BBM. All within one instance of BBM; users don't have to download and manage two different messaging apps to meet all their messaging needs. And IT administrators and infrastructure managers don't have to install any new hardware or software.
BlackBerry recently announced launching BBM on Windows Phone and Nokia's Android-based X smartphones.