Want to modernise your banking loan application?
Build an application that analyses credit risk with #IBMCloud Pak for Data on #RedHat #OpenShift
Click here to know more
Advertisements
Long wait for MS Office suite for Apple's popular tablet iPad has finally ended. Newly appointed Microsoft CEO Satya Nadella in his first press conference announced launching Office for iPad, which includes Word, PowerPoint and Excel. The Office suite is already available for download via the App Store. In the meanwhile, Microsoft has also made its Office Mobile for iPhone and Android phones free.
With the free versions of the apps, users can read Word, Excel and Powerpoint files. Microsoft says the documents will look as good as they do on desktop, or even better on the iPad.
An Office 365 subscription gives you the ability to edit and create new documents. Microsoft assures the content and formatting remains consistent across all platforms - Office on PC, Mac, tablet and phone. With OneDrive and OneDrive for Business, users have access to their updated documents.
With Office 365 subscription, users can install Office for iPad apps on up to 5 tablets as well as 5 copies across Office for your PCs and Macs.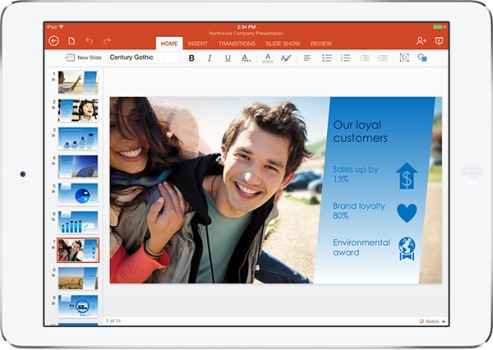 While highlighting need for mobile cloud and related tools, Nadella in a lengthy blog post says: "We've offered Office on the Mac for more than 20 years. Taking the next step and making it available for iPad users too is another way Office delivers on its promise to give anyone the power to make things, and make things happen, any moment of the day."
"And we are fully committed to offering market-leading productivity solutions across all popular platforms and devices. Our goal continues to be to delight users wherever they are and on whatever device they are using by giving them the full power of native Office apps."
You can download Word, Excel and PowerPoint for iPad from the App Store.
Office Mobile on Android and iPhone goes free
In addition to the launch of Office for iPad, Microsoft has made its Office Mobile suite free on Android and iPhone free. You can download the new versions now directly from Apple's App Store and Google Play store.
According to Microsoft, the move will help align Office Mobile for Windows Phone with its iOS and Android counterparts. Users can now view, as well as edit, content on the go for free, doing away the need for having an Office 365 subscription.