Japanese messaging application LINE claims to have crossed the 10 million user mark, expects to surpass 20 million Indian users by the end of 2013
Japan-based popular instant messaging app LINE has crossed 10 million registered users in India, since it was launched officially in July this year. While making some quality features and services available in India, the company is expecting to go past 20 million users by the end of this year. All the logistics of company's growth were revealed at today's press event in Mumbai
LINE was introduced globally in June 2011, and since it was released, company has witnessed a rapid growth in the worldwide market. LINE has reached 260 millions users in 230 countries, and it has become one of the popular messenger in Asian countries like Japan, Taiwan, Thailand and Indonesia, and also South American countries like Mexico and Argentina.
Akira Morikawa, Chief Executive Officer of LINE Corporation, says:
"India has overtaken Japan to become the country with the third largest number of smartphone users. It is only natural to anticipate further growth of the smartphone market in India, and we believe that it will become a vital territory as LINE expands into the global marketplace. We haven't experienced such rapid growth in any other countries to date."
Meanwhile, the company introducing a popular Bollywood star Katrina Kaif as India brand ambassador, and the TV commercial campaign will be established by October 11. The application will also bring some free stickers to Indian users, featuring photographs of Katrina Kaif.
Talking about getting associated with Bollywood's celebrity, Morikawa added:
"With the help of our marketing partnership with Katrina Kaif, along with other partnerships with entities in India, we are confident that we can easily surpass 20 million users by the end of the year."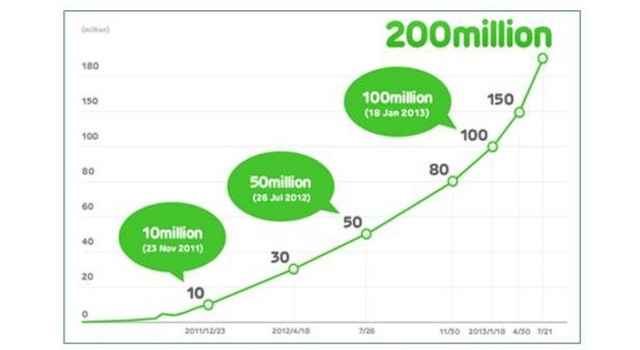 Aiming for a 20 million user mark
In addition to this partnership, company has also partnered with Sony India to have its instant messaging app pre-installed on the Xperia Z1 and Xperia C smartphones.
LINE is one of the leading mobile messenger which offers free messages, voice calls and video calls. It would be interesting to discover how LINE will make a way to knock down its biggest rivals like WhatsApp and WeChat, or perhaps Skype?