Line messaging app, which reached the 100 million users mark in Jan 2013, has now more than 300 million users worldwide. The company aims to get 500 million users by the end of 2014, although if you look at the company's growth they may hit the target in the middle of next year.
The company issued a statement on reaching the milestone:
We are extremely pleased to have achieved our target of 300 million users for the year in such a short time after clearing the 100 million user mark only in January.
As the global market shifts towards smartphones, LINE has made its mark by providing value as a tool that stimulates communication through its expressive sticker messages, convenient voice and video calls, and games that users can enjoy with their LINE friends, setting it apart from other simple communication tools that merely function as text messengers.
Line messaging app launched last year in June, and has a strong user base in East Asia, Spain and Mexico, the company revealed in a statement. Now the company is targeting India, Europe, as well as other markets.
In India, Line has registered more than 5 million users within three weeks since its launch, and had reached 10 million users in October. The company has tied up with various service providers in India. It also has got Bollywood actress Katrina Kaif as the official brand ambassador. The Line app offers free communication, games, ultra-cute animal and human cartoon stickers that are very popular. The app recently added some new features like video calling and Snap Movie.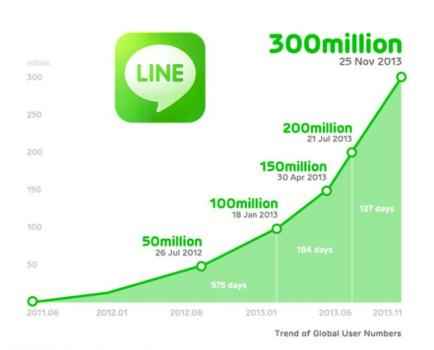 Source: Line