After more than a month in testing, Instagram has officially announced the "you're all caught up" digital wellbeing feature. The app will now notify the user when they have seen all new posts from the last two days so that they have a better sense of when to stop scrolling. The feature was being tested since late May and is available on both Android and iOS from today. With the new feature, the company aims at improving the time people spend on its platform.
"Today, you'll start noticing a "You're All Caught Up" message when you've seen every post from the last two days. We've heard that it can be difficult to keep track of your seen posts. With this message, you'll have a better understanding of your Feed and know you haven't missed recent photos or videos," the company states in its blog post. However, we are not sure how the new feature will help users as the Instagram feed is not chronological anymore.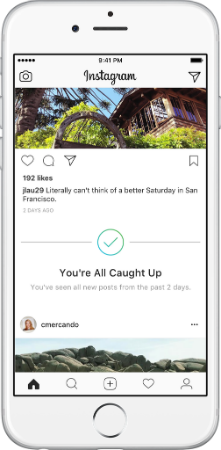 Instagram is also testing a new 'Mute' feature, which will enable users to mute a post and stories from an account. This feature is yet to be announced, but it will reportedly allow users to soft-unfollow someone so that they don't see their posts. As per an earlier report, the mute option is said to help users in creating a more personalised experience, while making posts from muted accounts available by navigating to their profile pages. Users will still be notified of the comments or posts they are tagged in.
Facebook is also said to be testing a new Snooze feature with select users. This is not a feature aimed at digital wellbeing but will help users to steer clear of spoilers. For those who can access the feature, it shows up under the top-right drop-down menu of a post. Once enabled, it will stop displaying updates from that person, page or group for 30 days. You can read more about the feature here.