In what reads like a modern conspiracy story, Google developer Chris Zacharias' recent blog post recounts how he and his team of web developers in the YouTube team secretly plotted to have Microsoft's Internet Explorer 6 browser deprecated some ten years ago. It all began when it occurred to Zacharias and his team one fine day that it was becoming more and more difficult to support YouTube on IE6. The aging web browser would often make mistakes other modern browsers didn't, like interpret an img tag in HTML as an iframe tag, leading to unexpected app and Windows crashes.
The developers obviously couldn't just pull the plug on it. IE6 users represented about 18 percent of YouTube's user base at that point. Needless to say, their bosses wouldn't agree to have it deprecated. But what if they quietly slipped in a deprecation note without anyone knowing about it? What if they simply warned their IE6 users to switch to a more modern browser to avoid losing support for YouTube? Being long-standing YouTube developers, or "OldTubers", they even had the credentials to pull something like that off. So, that's exactly what they did.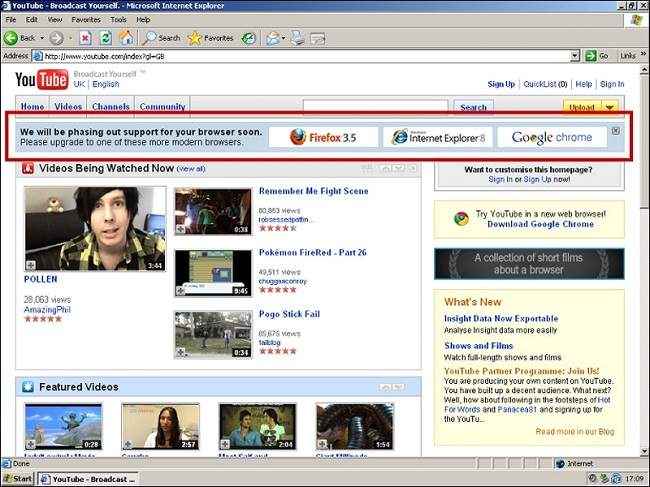 To everybody's surprise, the coup worked. A banner with the text, "We will be phasing out support for your browser soon," went live on IE6 browsers. "Please upgrade to one of these more modern browsers: Firefox 3.5, Microsoft Internet Explorer 8, Google Chrome". Naturally, the move had its share of repercussions. Soon, the team was approached by internal lawyers and PR managers but only for some clarification. The team's move wasn't questioned by higher-ups until much later. More importantly, no one in the team was penalised or fired.
In less than a month after the IE6 deprecation banner went live, two things happened, narrates Zacharias. "YouTube IE6 user base was cut in half and over 10% of global IE6 traffic had dropped off while all other browsers increased in corresponding amounts. The results were better than our web development team had ever intended." Teams of several other Google properties, including that of Google Docs, began putting out the same banner, assuming that the YouTube developers had received the OK from seniors to do so. And thus succeeded Zacharias and his team in their secret plan to have IE6 deprecated for YouTube. The team later swore to their well-spirited boss never to attempt something like that again. Read the entire story here.
Inline image courtesy: Chris Zacharias