Google is rethinking its social messaging strategy once again, by splitting Hangouts into Chat and Meet. With the new move, Google is trying to send a clear message that Hangouts will focus on enterprise, while the company's Allo/Duo products will serve as consumer communication clients.
At the company's Cloud Next keynote, Google announced its plan to double down on its enterprise focus, starting with Hangouts. By splitting Hangouts into two service, Google is preparing to compete with Slack, Microsoft Teams and Skype for Business. "Our customers have told us it should be effortless for them to connect over video and that chat should be more collaborative, so we're evolving Hangouts to focus on two experiences," Google notes in its release.
Hangouts Meet is Google's newest audio/video collaboration tool like Microsoft's Skype for Business. Hangouts Meet reimagines the older Hangouts meeting experience with one click access, and includes new features like recording and the ability to add up to 30 participants. Hangouts Meet comes with a dedicated dial-in number, and since it is integrated to G Suite, each meeting can be synced with Google Calendar. "We've consistently heard from customers about ways we can improve Hangouts, like making it easier to work with external clients or reducing the 'time to start' a meeting to zero. That's why we've built Hangouts Meet to have a light, fast interface and smart participant management," said Scott Johnston, Director, Product Management, Hangouts.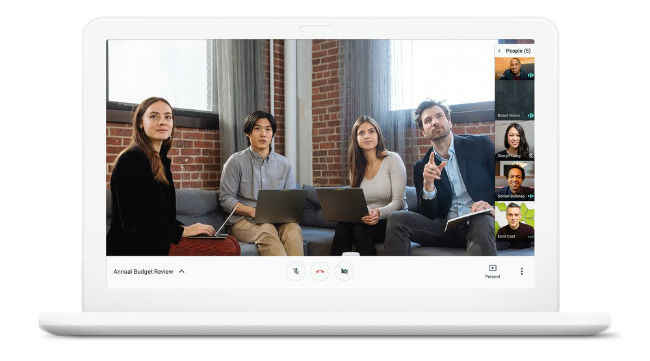 Google is also engineering its team messaging app with Hangouts Chat. As the name implies, Hangouts Chat is a cross-platform messaging app that works exactly like Slack. With Microsoft already copying the model with its Teams for Office 365 users, Hangouts Chat goes after G Suite users.
Hangouts Chat supports threaded conversations and offers deep integration with Google Docs and Drive. Google is also supporting third party services via Hangouts platform to bring in bots support. Google says, Hangouts Chat will soon get advanced bots from Asana, Box, Prosperworks and Zendesk. The messaging app also includes a basic bot developed by Google that demonstrates Hangouts platform integration.
Hangouts Meet is available starting today, and will roll out to more G Suite customers over the coming weeks. Hangouts Chat is being made available to G Suite customers in the form of an early adopter program. With Amazon and Microsoft betting big on cloud and enterprise services, Google's new messaging services will help it better compete in the space.