#IBMCodePatterns, a developer's best friend.
#IBMCodePatterns provide complete solutions to problems that developers face every day. They leverage multiple technologies, products, or services to solve issues across multiple industries.
Click here to know more
Advertisements
Google recently announced a new AI-powered News app which will replace the existing Google Play Newsstand on mobile and desktop in a week. The rollout is now underway and the app is now available for download on Android and iOS. The company said that the new Google News makes use of Machine Learning (ML) and Artificial Intelligence (AI) to find relevant news stories and groups them in chronological order with the option of viewing full coverage, local news aggregation and more. The app is said to use complex algorithms to analyse news being published in real time and it analyses, sorts and organises the news being published to find "the best of human intelligence—the great reporting done by journalists around the globe."
As Google demoed at the I/O 2018 developer conference, the app boots up to show the top five stories, which are customised for the user. These stories can be viewed under a "For You" section and there are also other articles and local news, which the AI decides the user might be interested in reading. The app is made to adapt to the user's reading interests and improve over time. The second section is titled "Headlines" where users will be able to read stories from around the world with sections like Business, World, Entertainment and Sports. Google says, "To help you quickly get you up to speed, we're experimenting with a unique visual format called newscasts. Here, the latest developments in natural language understanding bring together a collection of articles, videos and quotes on a single topic. Newscasts make it easy to dive right into perspectives to learn more about a story—plus, it's easy to read on your phone."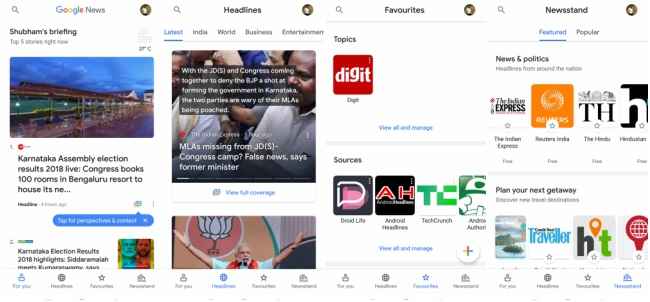 There is a favourites section where the user's starred topics and publications will show up for quick access. Users can subscribe to publications from the Newsstand section and the sources they have subscribed to will show up under the favourites section. One can also save stories to read them later and customise their feed similar to how one can manage Now Cards in Google Now. Finally, the Newsstand section allows a user to browse through featured and popular news publications and subscribe to them. Tapping on an individual media publication displays a new page that neatly organizes the source's stories. Additionally, all publications showed in Newsstand section support the Google AMP standard, meaning that the web pages will load quickly in-app.