Google announced a bunch of new changes to its existing services and introduced new products at its I/O 2018 developer conference. Google News is one of the services which the company announced is getting overhauled. It has been completely rebuilt. The new Google News is said to make use of Artificial Intelligence (AI) and Machine Learning (ML) to find "the best of human intelligence—the great reporting done by journalists around the globe." The new service will replace Google Play Newsstand on mobile and desktop, and the Google News & Weather app on mobile and will be rolled out to everyone on Android, iOS and the web in 127 countries by next week.
The new Google News will make use of AI and ML in real time to analyse, sort, and organise the news being published on the web into storylines. Instead of simply seeing a main heading story followed by similar articles grouped together, users will be greeted with five top stories, which have been tailored for them using a "For You" feature and is called "briefings". These five top stories will be a mix of headlines, local news and the topics in which the user is interested in. Google says that the app will adapt to the user's interests and improve over time. Google, in its blog post, says, "To help you quickly get you up to speed, we're experimenting with a unique visual format called newscasts. Here, the latest developments in natural language understanding bring together a collection of articles, videos and quotes on a single topic. Newscasts make it easy to dive right into perspectives to learn more about a story—plus, it's easy to read on your phone."
In addition, if the user wants to explore and read more about a topic, they can tap on 'View Full Coverage' option to view the complete coverage on the story, which has been reported by various sources with a range of perspectives and include articles, videos and a timeline of the articles which have been published on the topic till now. Also, the content in Full Coverage will be the same for every user and will be an "unpersonalized view of events from a range of trusted news sources." There will also be a Headlines tab for viewing unfiltered news from around the world, which is supplemented with distinct sections for sport, technology, business, entertainment and others.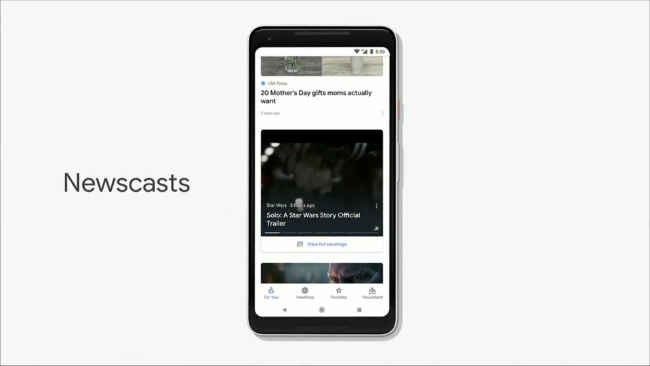 There will also be a Newsstand tab in the new Google News and users will be able to find and subscribe to the sources they trust. Google says that there will be more than 1,000 magazines, which can be accessed in a mobile-optimised reading format and one will be able to search and subscribe to news via their Google account.
Alongside revamped Google News, the company announced a slew of new features for its other products and services. The Google Assistant can now place calls on the user's behalf for making appointments and in the demonstration, the assistant was seen talking in a very lifelike manner. It could adjust the pitch and tone of its voice as well. Google Maps has also been updated with new AR directions, For You, Identify nearby places and some more features.
Google also announced a new Smart Compose feature for Gmail, which makes use of AI for helping users draft emails from scratch. The feature works in the background and suggests sentences when the user is typing the email. One can simply press tab and the suggestion will be appended to their sentence. We are at the Google I/O 2018 and are covering the event in detail. You can read our roundup of what Google announced here.