Google has rolled out a new update for its Google app for iOS, adding support for full-resolution backup of photos/videos, ability to share your location and a new design for notification tray. The new feature works only for iOS 7 users.
The new app Version 4.6.0 has a fresh design for the notification tray. The app gets new set of mapping and location features that allow you to share your location with your friends as well as see their locations. The app also shows who is and is not displayed on the map within the app.
Users also adds back up for full-resolution versions of your photos and videos from your iOS device to your Google profile. It has added a mapping functionality which adds more context to Google experience with the existing "Nearby" stream of updates.
Key features of Google Version 4.6.0 are:
- Get full resolution backup of your photos and videos (iOS7 only)
- New and updated design for the notification tray
- Now share your location, see where your friends are as well as control which friends are displayed on the map
- Users can translate posts and comments inline
- The update also brings additional bug fixes and performance improvements to Google
Google had recently added restricted communities feature to make sure private conversations remain private. The feature lets businesses decide if they want to open their community for everyone at the company, or keep it limited to a few employees only. The new feature allows administrators to make restricted communities a default for their organisations. Owners can manage membership, invite other team members to join in or share videos/files with employees.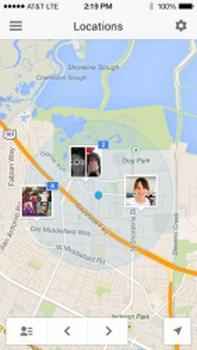 Source: Google on App Store