Highlights:
Google Duo is now available on the web
It gets the Knock Knock feature we see on the app for phones.
If you're an ardent user of Google Duo, you've got some good news coming your way. We reported exactly a month ago that the popular video-calling app for Android and iOS platforms would get a web version in a few weeks' time, and there we go: Google Duo for web is currently available on duo.google.com for both new and existing users alike. Though the site seems to be live when accessed from India, Google admits that "Duo for web is not available in all countries."
According to Google's help article on setting up Google Duo, the web app works on all computers including Chromebooks. Supported browsers include Google Chrome (quite obviously), Mozilla Firefox, and Apple Safari. Empirical evidence tells us that Microsoft Edge is not a supported browser. We can't say for sure if Google has omitted Edge support on purpose. Let's not forget that Microsoft asks you to reconsider when you try to switch your default browser from Edge to Chrome on Windows 10. Interestingly, when the Google Duo site is opened on the latest version of Chrome, expanding the 'More' menu from the right side of the address bar reveals a list item called Install Google Duo... Clicking on it creates a new dedicated window for the web app while placing a shortcut to it in Chrome's Apps list.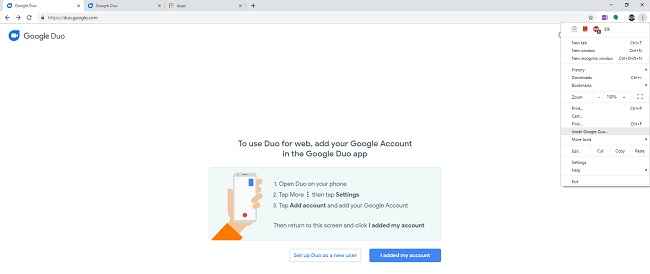 Though Google Duo is finally on the web, it still needs a valid mobile phone number to work, unlike Google Hangouts, which only needs an active Google account. A new Google Duo user will have to submit a code sent to their mobile phone via SMS to get started on the service. Like its iOS and Android counterparts, Google Duo for web gets features like Knock Knock, which lets recipients see a live video preview of their caller before they answer the call.
When rumours about Google shutting down Hangouts for good flooded the internet in December last year, Google was quick to clarify. The search engine giant assured everybody that it would upgrade Hangouts users to Hangouts Chat and Hangouts Meet, two separate G Suite products, before sunsetting the long-standing app. Though Hangouts Chat is currently for G Suite accounts, and Google is expected to make it available on regular Google accounts in the coming months.
Related Read: Google Hangouts won't shut down, users will be upgraded to Hangouts Chat and Meet