Want to modernise your banking loan application?
Build an application that analyses credit risk with #IBMCloud Pak for Data on #RedHat #OpenShift
Click here to know more
Advertisements
Smartphones are hitting a stage where the 5-inch screen size is becoming a norm. Android OEMs are even developing smartphones with screen sizes up to 6.4 inches, which become increasingly difficult to use with one hand. Google's own Pixel XL smartphone, with its 5.5-inch display, seems tall at 154mm, and the search giant thinks that the reason for this problem is the use of UI elements placed at the top instead of bottom.
Google Chrome is no exception when it comes to the ease of use on a larger smartphone. Chrome, the most popular browser on mobile, places all of its controls on the top, making it extremely difficult to navigate on a smartphone with larger displays, but that might change very soon. A test design of Chrome for Android, spotted by Android Police, reveals controls moving to the bottom.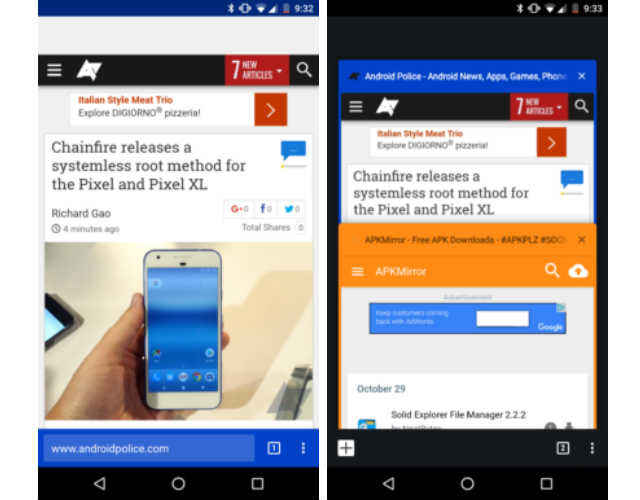 Google may become the last browser to adopt the new UI placement. Microsoft was the first to place browser controls and the address bar at the bottom for both Internet Explorer and Edge browsers. Apple's Safari places the address bar and refresh button at the top, but other controls like forward, backward and tab switch are placed at the bottom.
With Android 7.0 Nougat, Google made app switching and multitasking easier than ever before, and that design language could extend to Google apps, too. The test design, spotted by Android Police, seems unpolished with black space at the top. Google Chrome with navigation UI at the bottom may never make its way beyond developer channels, but it's interesting to see Google working to fix issues of navigating a large smartphone with one hand.