Not long ago Google was busy rolling out the all white Material Theme to its products, and now it is on a spree of introducing native Dark Mode to all its apps and services. After rolling out a dark UI to Google app, Files by Google, Google Drive and Google Keep, the tech giant is working to introduce this feature in Gmail for Android. As per a report by Android Police, Dark Mode for Gmail is currently under development and it is only available in the Settings menu. The report doesn't give any timeline of when a stable version of the mode will roll out to the users. Android Police has also posted some screenshots of Dark Mode in the Settings menu on Gmail for Android v2019.06.09. The Dark Mode doesn't have a toggle and is sporadic in nature.
Last year at Android Dev Summit 2018, Google showed some interesting data comparing the battery consumption between dark mode and normal mode. It said that using dark theme saves power on AMOLED displays. Since then, there have been several reports which claimed that Android Q would have a system-wide Dark Mode. When Google released the beta version of Android Q, developers were able to find bits mentioning the inclusion of the feature in the next iteration of the Android OS. According to a Googler, dark mode is an "approved Android Q feature."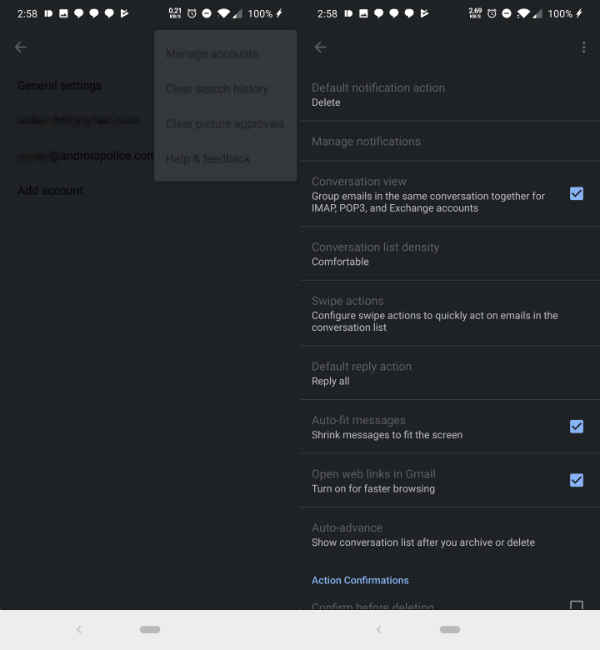 When it comes to Gmail for Android, Google has been streamlining the app in accordance with the web application. Google rolled out the Gmail's Smart Compose feature to all Android-powered devices. The feature was previously exclusive to the Pixel 3 and the Pixel 3 XL smartphones. It was demoed at last year's Google I/O annual event.
Google also pulled the plug on Inbox by Gmail after four years of its service. The move was seen as the company's mission to combine operations and focus on new services "to bring greater efficiency and assistance in the app". Google is apparently shutting down rarely used projects that failed to take off as expected. With the death of Inbox by Gmail, Google was said to focus on the development of the Gmail app on various platforms.