Vostro 3501
Popular tech to stay connected anywhere. Save more on exciting Dell PCs.
Click here to know more
Advertisements
Foursquare has released a new app for the Asha OS platform that will for now, be available only on the Nokia Asha 501. The app will give the users access to all the main features of Foursquare, like the ability to check in and manage their profiles.
The new Foursquare app has been specially designed for low-end devices that do not have GPS support and can work on an internet connection. Users will be able to add friends, check out notifications, and search locations all via their data connection.
Nokia Lumia 510 users will be able to view photos from locations, check-in and keep track of your own profile. The Foursquare app will offer simple graphics that users will be able to view on the Lumia 510. You will be able to search for nearby places of interest as well as check information about the locations for e.g. if they offer free Wi-Fi.
It has a main 'All activity' page that highlights where you've checked in, and shows what your friends are up to. It will show any photographs that the users have shared using Foursquare or any recent tips that you've added. On the bottom bar of Foursquare users will get more options for adding friends, view Notifications and Settings. Users can simply scroll down and tap 'add friends' and once added can check-ins on the All activity page.
The Foursquare app for Nokia 510 will make it easier for users to stay in touch with friends. The application is expected to arrive soon on other Asha devices.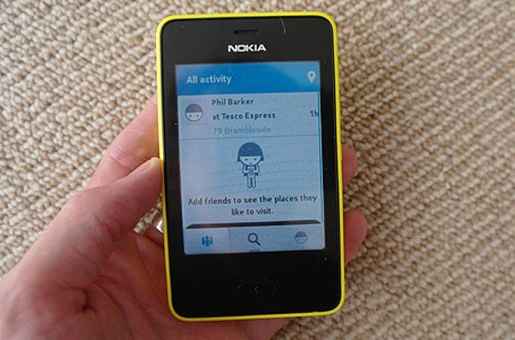 Source: Nokia