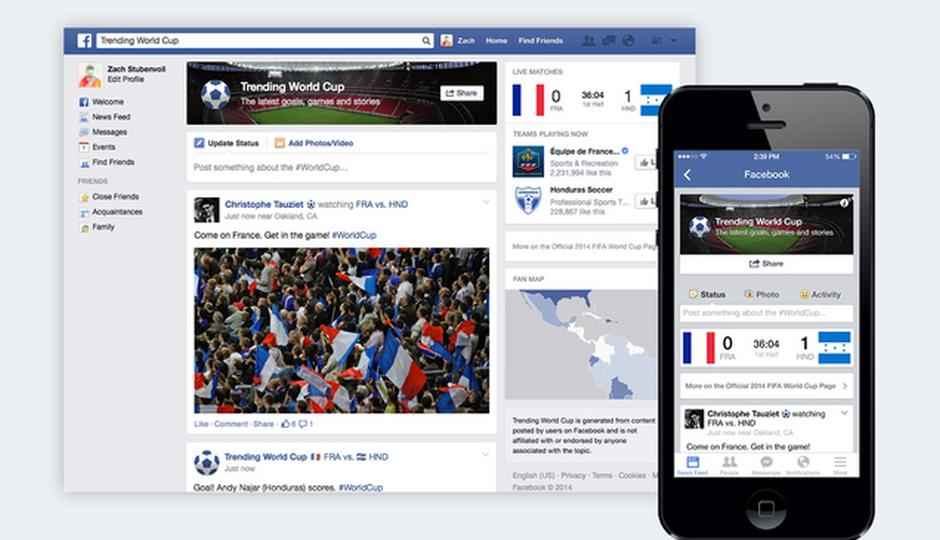 HIGHLIGHTS
Facebook and Twitter have launched hubs for tracking the FIFA world cup 2014.
Social networking giants Facebook and Twitter are rolling out hubs and features dedicated to the FIFA World Cup giving fans easy ways to follow the grand sporting event.
Twitter has launched a new sign-up form, that allows people who make new accounts, the ability to choose their team's flag as their profile image. Users can access major timeline by looking for #worldcup and will be able to find the latest links to all of the teams' accounts and scoreboards for each game. For die-hard fans, the update includes custom timelines for each individual match.
Twitter's has also brought back Hashflags: when you hashtag a three-letter country code, like #FRA or #GER, the country's flag will appear as an image right beside it.
Facebook has also rolled out a special World Cup section called "Trending World Cup," that allows users to keep track of their favorite teams and players throughout the tournament which takes place in Brazil from June 12 to July 13.
The feature is available for web and mobile devices and will include the latest scores, game highlights and tournament related posts. Facebook has launched a page called FacebookRef, where fans can see commentary about the matches from Facebook's official tournament commentator "The Ref". Facebook has also put up an interactive map that shows where fans of some of the World Cup's top players come from.
Facebook which has more than 1 Billion active users, launched trending topics earlier this year to show users the most popular topics at any given moment. The feature is available for users in U.K, U.S, Canada, India and Australia.