Updated with inputs from Facebook
The idea of Facebook using Aadhaar to verify user accounts is not only absurd, but also a huge risk to individual privacy. Fortunately, that is not what's happening here. The social network is testing a new prompt, asking new users to sign up onto the platform using their real names, same as those mentioned on their Aadhaar IDs.
The prompt was first spotted by Reddit and Twitter users who discovered it while trying to sign-up for a new Facebook account. The prompt reads, "Using the name on your Aadhaar card makes it easier for friends to recognise you." We tried bringing up the prompt on the Facebook mobile app, but it is not showing up for us. That's because Facebook is currently testing the new prompt with a limited audience and the social network has a valid reason for it.
A Facebook spokesperson told Gadgets 360, "We want to make sure people can use the names they're known by on Facebook, and can easily connect with friends and family. This is a small test where we provide additional language when people sign up for an account to say that using the name on their Aadhaar card makes it easier for friends to recognise them. This is an optional prompt which we are testing, people are not required to enter the name on their Aadhaar card."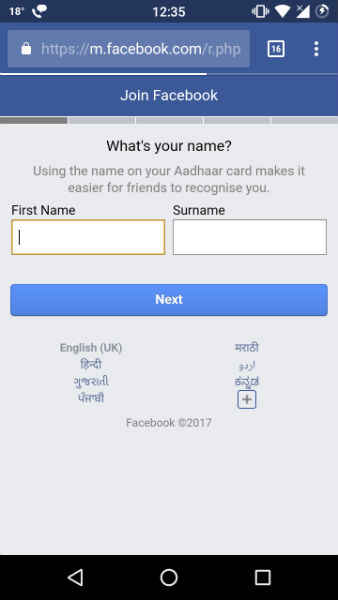 Taichi Hoshino, a Product Manager in Facebook also clarified in a blogpost that the new signup process was a "small test to help new users sign up to Facebook." He wrote that the test was merely some "additional language on the account sign-up page to explain that using their Aadhaar name will help family and friends recognize them" and there is no "integration or authentication with Aadhaar."
The blog post also clarified that the test has now ended. Facebook ran the test with a small number of users in India and currently has "no plans to roll this test out further."
Whether this is Facebook's attempt to curb fake accounts or to get in the good books of the Indian government is not clear from the statement. However, it should not be misunderstood as asking for private data from users. In no way is the social network asking users to share their Aadhaar details on the platform.
Although, given that there is an increasing need to link Aadhaar with PAN cards, bank accounts, mobile SIMs and other such services, multiple memes and WhatsApp messages have jested about the use of Aadhaar to authenticate Facebook accounts. We sure hope we don't see that day ever.