Want to modernise your banking loan application?
Build an application that analyses credit risk with #IBMCloud Pak for Data on #RedHat #OpenShift
Click here to know more
Advertisements
"We're finally going to talk about that Facebook phone... Or more accurately we're going to talk about how you can turn your Android into a great social device. We're not building a phone and we're not building an operating system," said Mark Zuckerberg, at the press event yesterday.
Facebook Phone – that is what some blogs and analysts, the type who usually have a rather inflated opinion about themselves, were convinced would be unveiled. Even though Mark Zuckerberg had often said that a phone "does not make sense". But, why let facts come in the way of a great story! We always had apprehensions about these "exclusives", and pretty much turned out to be the sensible thing.
Facebook, as the invite hinted, has unveiled the Home app. This is the home screen replacement, 'launcher' if you may, that will customize the lock screen and the home screens for easy access to everything on the social network.
Coverfeed is what sits on the lock-screen – Throws out the wallpaper and that clock widget and replaces it with the latest on your FB Timeline and lets you do status updates, check-ins and more. You can configure this to have your friends' cover photos used as a Live background, with the ability to like and comment from here too.
Facebook is integrating the Home launcher so deep into the system that it will even take the simple SMS app within its umbrella. The Chat Heads feature handles FB Messages, chats and SMSes. The interesting feature is when you get a new message, your friend's mug-shot / profile pic floats across the screen and you tap it to read and continue the conversation.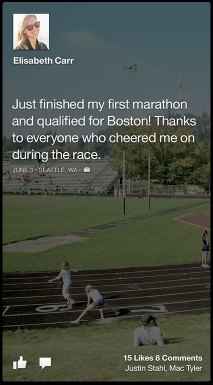 The Facebook Home application will be hitting the Google Play store on April 12 for the U.S. market, and will be rolled out in other countries later, and will initially be compatible with the HTC One X, HTC One X , Samsung Galaxy S III and Samsung Galaxy Note 2. Needless to say, the HTC One and the Samsung Galaxy S4 will also be compatible with Facebook Home. More phones will be added to this list soon after launch. But, the upcoming HTC First will be ummm…the first phone to come with Facebook Home preloaded.
There will be a Home launcher for tablets, but that will be launched later this year.
Check out Home here: https://www.facebook.com/home