Great for karaoke sessions, coordinating lyrics with song audio is an art. If you're interested in m
As the name suggests, lyric videos are those in which the words to the song are the main element of the video.
The fundamental reason behind making lyric videos was to have a way to coordinate lyrics with the song and do it in a way that it doesn't take too long to stream. With the increase in hi-speed internet availability, the technique spun off into an outlet for creativity.
Prince and George Michaels were two of the first few artists to make lyric videos 'professional'; And in the age of Windows Movie Maker, every audiophile started making them for their favorite musicians. And with YouTube – well, 'nuff said.
In today's day and age, with the high-end software easily available to the common man, lyric videos have taken a whole different turn for the better. One such example of well-made lyric videos is Katy Perry's "Part of Me" (http://dgit.in/kplyric). Admittedly not the most imaginative lyrics, but the video's production quality is impressive. So if you're interested in making your own lyric video (and maybe do it with some class) read on: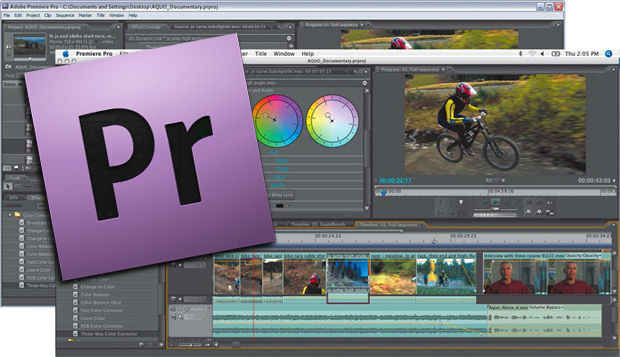 Adobe is your friend
It may be a professional (meaning paid) suite for video editing, but it is one of the easiest to tinker with if you plan on making a lyric videos. Concentrate on Adobe Premiere Pro, Adobe After Effects and Adobe Photoshop. Audition comes in handy later, if you feel like tweaking the song, a bit.
Step One: Adobe Premiere's 'Add Title' option works well enough for someone to put all the text on the screen. The tweaking comes in the later stages.
Step Two: Once you have your lyrics on screen, add the audio track and synchronize the lyrics on the timeline.
Step Three: This deals with basic animation. The effects tab in Premiere gives a variety of options for effects and transitions, so you can always make a basic lyric video look funky and eye-catching using these.
Once you get familiar with that, move on to some serious animation with Adobe After Effects. After Effects can help you animate text in 3D, make it dance around on screen and give you more personalization control over the video.
If you want to make the extra effort, and superimpose text on a video, After Effects can also let you make text look like it was ingrained on a table or embossed on a wall.
There's also an available industry-standard particle system for After Effects called Trapcode (http://dgit.in/rgtrap) available for $399 which can be used to create basic particle-based VFX for your videos, adding a little pizazz to your work.
Since Adobe programs are not free, you can try out free alternatives to them which work similarly and create lyric videos. "Ezvid" is one such example but you can find more here: http://dgit.in/21frvided
Online Editors
There are several video editing software available online. Since text-based editing is common to all video players, most of these video editors would help you make lyric videos with ease. These video editors may not give you the range of options available on the professional software, but they perform the role of being a quick fix to lyrical video editing.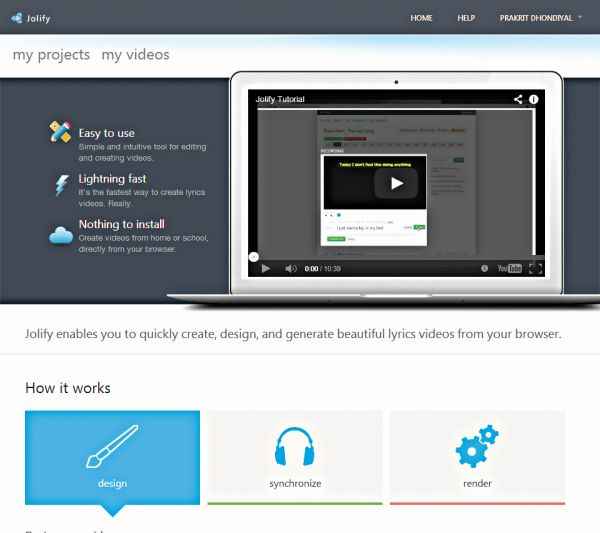 Jolify is an online editor meant specifically for lyric video creation. It's a step-by-step video editor that asks you to import your track and add frames of lyrics that can be easily synchronized with the audio file. To use, just create an account at http://dgit.in/lyrvid and keep your own personalized library of lyric videos as and when you create them.
YouTube's built-in Video Editor is as simplistic as it can get. Simply go to http://dgit.in/ytved, select the background and text colour, and get to it. Import your audio track off your PC onto the Youtube Editor's Timeline. Synchronize the text by clicking on the text button at the required points in the video. Recheck the video when done and publish directly on YouTube. Simple and uncomplicated Lyric Video editing.
If you intend to go beyond the norms and come up with some really creative stuff, check out this link for some ideas that you may be able to use to spark some creativity in you: http://dgit.in/ytlyrvid
Remember the old saying: Imitation is the sincerest form of flattery.