Reliance Jio has started the pilot process for its Fiber To Home broadband services, in Mumbai. In fact, reports say the company is testing these services in Pune as well, but we haven't been able to confirm the same. It seems some colonies and buildings in Mumbai have already been wired, and are ready to get Jio broadband connections at their homes.
Pilot Process
We found two users, one from our own team, who lives in Tardeo, Mumbai, and has already subscribed to Jio's services. The other, is based on Seawoods, Navi Mumbai, but hasn't yet subscribed to the services. Our team members confirmed that Reliance Jio had wired up his colony since November, last year. However, the company started approaching residents only about a month ago.
Much like Jio's services on mobile phones, the company seems to be offering a "Welcome Offer" first. Our team member has a 100 Mbps connection, which is free, with an FUP of 100GB per month, for the next three months. The speeds aren't surprising, given that the network is only under a pilot test run right now. As with its 4G services, things will be clearer once the services are truly commercial.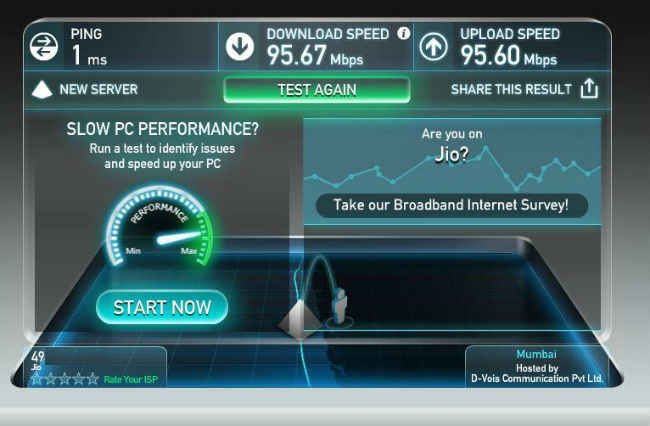 Interestingly, the Jio agents who visited our colleague's home haven't given him a list of the plans the company will offer. They charged him Rs. 4000, as a security deposit for the router. They told him that the amount will be adjusted towards whichever plan he choses, once the service is commercial. In the meanwhile, he doesn't have a daily FUP limit.
Broadband Plans
There have been reports about Reliance Jio's broadband services on a website called jiocare.net. However, a source in the company said the plans reported by the website aren't accurate. The source also clarified that the website has no affiliation to Reliance Jio. The same plans have also been reported by Deccan Chronicle. Website Phoneradar, had earlier reported similar plans for Relaince Jio's upcoming Gigafibre broadband services.
For your reference, the plans reported by jiocare.net suggest that the company's broadband services are going to offer FUPs of 1000GB and more to its users.
The company's broadband services aren't currently listed on its website either. This could mean that Reliance Jio hasn't yet worked out the plans it will offer end users.