Most telecom operators in India have a wide range of prepaid plans to select from, especially in the entry and mid-level recharge plans segment. However, when we talk about postpaid plans, there are relatively fewer, yet streamlined, options to select from and they offer a higher level of convenience and benefits over prepaid plans. Vodafone already has six postpaid RED plans in its portfolio and it has now announced another one called REDX. It is a limited edition postpaid plan priced at Rs 999, excluding GST, which comes with unlimited nationwide calling and data. Free SMS, 'premier' network experience with up to 50 percent higher data speed, better customer service, free access to OTT streaming apps and more. Here's a deeper look at the plan and why it might not be for everyone.
Vodafone REDX terms and conditions you need to know
The REDX pre-booking has started on Vodafone's website and My Vodafone App. Once you sign up for the service, no cancellations are allowed and your existing plan will be changed to REDX on or before November 25, 2019. Additionally, one needs to subscribe to the Vodafone REDX plan for six months and if one intends to change their plan or exit from the service within six months of enrolment, they might be liable towards the benefits or services offered with this plan.
"Irrespective of consumption of these benefits/services e.g Netflix, Amazon Prime, IR pack, free Airport Lounge etc and accordingly, the subscriber shall be charged a minimum amount of INR 3000/- (incl. taxes) in lieu of this plan's benefits for effecting any change of plan/disconnection," state Vodafone's REDX terms and conditions.
'Premier' network experience details
As for offering up to 50 percent higher data speeds, this metric is in comparison to 'other' postpaid plans. Vodafone has not explicitly mentioned if it is referring to its own or rivals' postpaid plans and thus we can't say for sure whether one will actually get higher speeds with the new Vodafone REDX postpaid plan. We have reached out to Vodafone for more clarification on this front and will update this article when the company replies. Additionally, the terms and conditions set by Vodafone for this particular benefit state that, "The data speed may vary depending on several factors including the nature of handset, network congestion, location of access, topography, barriers caused by constructions etc."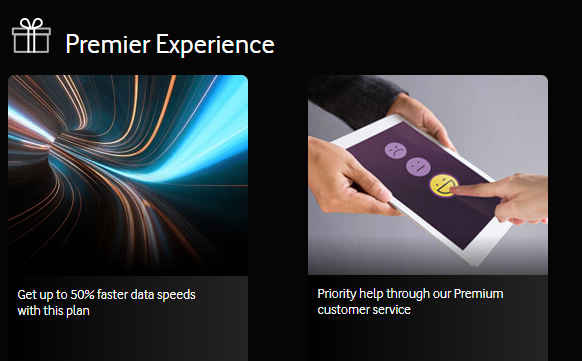 Vodafone REDX postpaid plan calling and data benefits
Vodafone seems to be offering a lot with its REDX postpaid plan, which includes some basic benefits like unlimited national calling and unlimited data. However, going through the terms and conditions for the new postpaid plan, we found that while calling anywhere in India is truly free, clause for unlimited data mentions speeds will be throttled to 1 Mbps after consuming 150GB data in a month. Additionally, one will get 100 free SMS after which they will be charged 25 paise per SMS for up to 3000 SMS.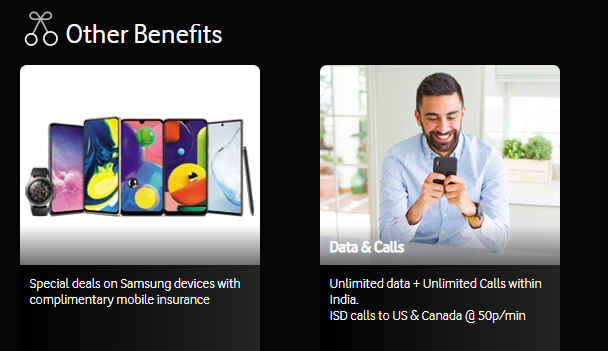 One will also get to place ISD calls at lowered rates. USA or Canada calls will be charged at 50 paise per minute while calls made to China or HongKong will cost Rs 2 per minute. Calling someone in Bangladesh and the UK, a Vodafone REDX postpaid customers will be billed Rs 3 per minute. Calls made to Australia, Bhutan, Germany, Kuwait, Malaysia, Pakistan, Singapore, Thailand will be charged at Rs 5 per minute.
Device offers and travel benefits
Vodafone REDX postpaid plan consumers will also get to avail discounts on select Samsung smartphones when they are purchased on the Samsung portal when availed through the My Vodafone App. This offer is applicable for a maximum of 2 purchases per customer every six months. Furthermore, an i-Roam pack worth Rs 2,999 can be activated for seven days via the My Vodafone App for free and this benefit will be available only once per year.

Subscribers of this new postpaid plan will also get Airport Lounge Access four times for free in a year of which one access can be at an International lounge within or outside India. Airport Lounge Access at select lounges is capped at 1 per quarter. The fine print says a customer needs to complete a one-time registration process on a partner website (www.dreamfolks.in) to activate their lounge access benefit. Then, one needs to generate a QR code while accessing a lounge that will expire within two hours. Once the QR code is generated, Vodafone will consider it as the usage of one access to the lounge even if the customer doesn't use any lounge services.
Travellers can also avail a flat 10 percent off at www.tiquets.com for select locations of attraction when booked via the My Vodafone App and there's also an additional 5 percent discount when availing the service on or before January 31, 2020. Furthermore, a 15 percent discount will be available when booking hotels via Hotels.com, through My Vodafone App, till January 31, 2020. Both Tiquets and Hotels.com have their own set of terms and conditions for the offer on their website, which we suggest you go through once, in case you do plan to avail these benefits.
Free Netflix and Amazon Prime subscription detailed
There's also free access to 1 year of a Netflix Basic plan when availed from My Vodafone App but there's a catch. The company will credit Rs 5988 to a customer's Netflix account and if one upgrades or downgrades their existing plan, the credit will be consumed accordingly. Thus, the credit can be exhausted sooner than one year if someone has a higher tier plan that costs more.

There's also a one year free Amazon Prime subscription worth Rs 999 that can be availed via the My Vodafone app. However, if you have already availed the benefit on any other Vodafone postpaid plan, this benefit will not be available for redemption. Additionally, one year of access to a Zee5 subscription and Premium and Live TV with Vodafone Play will now be available for free via Vodafone Play with the Vodafone REDX postpaid plan.
Image credits: Vodafone