For most people and especially millennials, the smartphone is probably the most important gadget in their arsenal. It's the way they meet new people, keep themselves entertained, complete work and so much more. As such, they need a smartphone that can keep up with their ever-changing needs and requirements all through the day.
Keeping this in mind, OPPO has launched the OPPO F19, the newest member of OPPO's long-running F-Series of devices. While it is the most affordable member of the F19 trio, it still packs a whole host of features. We have had the device with us for a while now, so let's go over some of its key features.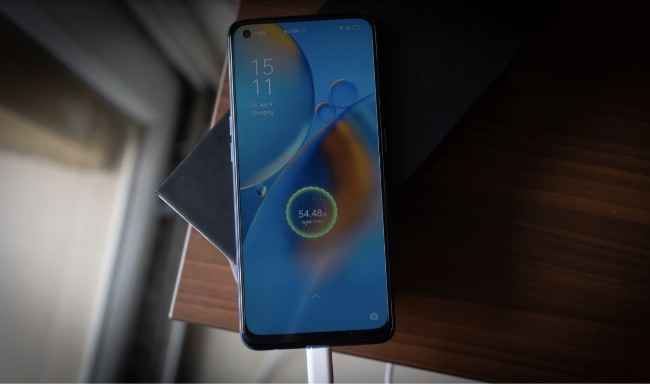 Charge in a flash
The modern lifestyle is such that we are almost constantly on the go. Not everyone has the time to stop and smell the roses. This is why fast charging is so important in a smartphone. We simply do not have the time to wait for hours for our phones to charge back up to usable levels. Earlier, this technology was limited to flagship-grade smartphones. But thankfully, it has started to trickle down to more affordable devices. This means that even those with a very tight budget will be able to enjoy all the benefits of the technology.
OPPO understands the advantages of fast charging quite well. lThe company was a pioneer in the field with its series of VOOC fast charging technology. In fact, the company understands the need for such technology so well that it offers fast charging in all its price points. This is why the OPPO F19 offers support for 33W Flash Charge technology. With this technology in place, the smartphone can charge back up to 100% in just 72 minutes, which is pretty impressive, However, if you only have 5 minutes to spare, fret not. OPPO says that even that time is enough for 5.5 hours of talk time or almost 2 hours of YouTube playback. So you can be out the door in five minutes with enough juice to last through your commute. A very useful feature for those who are constantly on the go.
Bigger is better
Fast charging is one thing, but it's pretty pointless if the phone itself runs out of power within a couple of hours. This is why the OPPO F19 sports a large 5,000mAh battery, which should easily ensure a day's worth of use on a single charge. In fact, OPPO notes that the battery capacity is enough to offer 56.6 hours of talk time or 17.8 hours of YouTube. Which is good news for anyone who loves to binge-watch TV shows on their phone.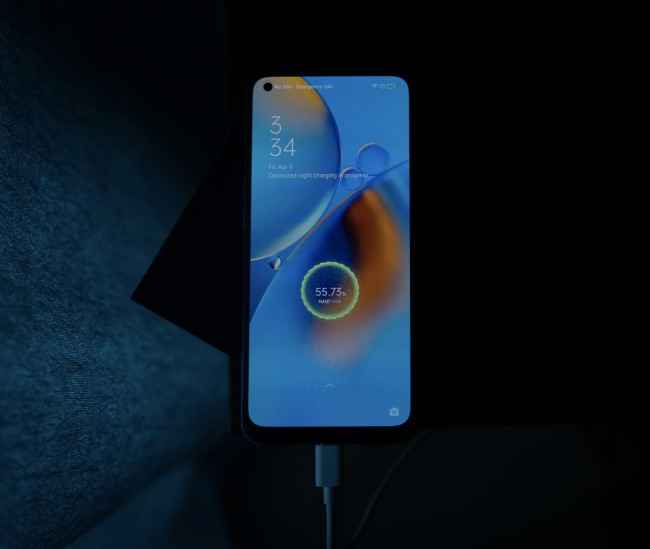 For even greater endurance, the OPPO F19 comes with a Super Power Saving mode. This mode automatically activates when the battery percentage dips below 5%. When it's on, the device shuts down any unnecessary features and apps so that the phone can be used for an emergency. Many users prefer to charge their devices overnight. For added security, the OPPO F19 comes with AI Night Charge that adapts to your sleep habits. This will track when the user tends to wake up. Then it will allow normal charging up to 80%, which is when it pauses charging. It only continues charging so that it hits 100% around the time you wake up. This should help protect you and the phone from the dangers of accidental overcharging.
More screen, less body
The OPPO F19 packs a large 6.4-inch FULL HD+ AMOLED display with a tiny hole-punch located in the top corner. This design improves the screen-to-body ratio as compared to traditional smartphone designs, In fact, the smartphone offers a screen-to-body ratio of 90.8%. In other words, you don't have to deal with any bezels or notches blocking your view.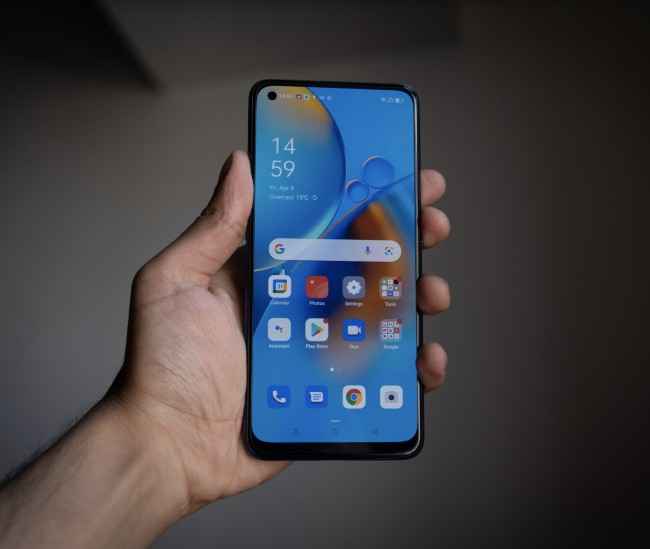 The display also comes with an eye-caring screen feature that continuously adapts brightness levels all throughout the day. This should ensure that the screen is legible, while not being overly bright so as to harm your eyes. Speaking of legibility, the phone can crank up the brightness up to 600nits, if needed. This should ensure that the screen is legible, even in bright daylight.
An AMOLED panel also offers a number of other benefits. Due to its very nature an AMOLED panel is thinner than standard LCD panels as there is no backlighting that's taking up extra space. Further, an AMOLED panel is also more vibrant as compared to a standard LCD panel, which should make colours really pop out. The panel also offers deeper blacks, which should lead to a video watching experience as this allows for a higher contrast ratio as compared to standard LCD panels. So whether you are streaming movies on OTT platforms or playing your favorite games you will have a great viewing experience.
Form and function
OPPO has always been fastidious when it comes to design and the OPPO F19 is no different. It comes with a 3D curved body that serves two purposes. First off, it makes the entire phone look slimmer. Secondly, it makes the phone more comfortable to hold in the hand. There is also a metallic frame that runs all around this phone. This adds a touch of premium quality to the device while also adding to the overall strength.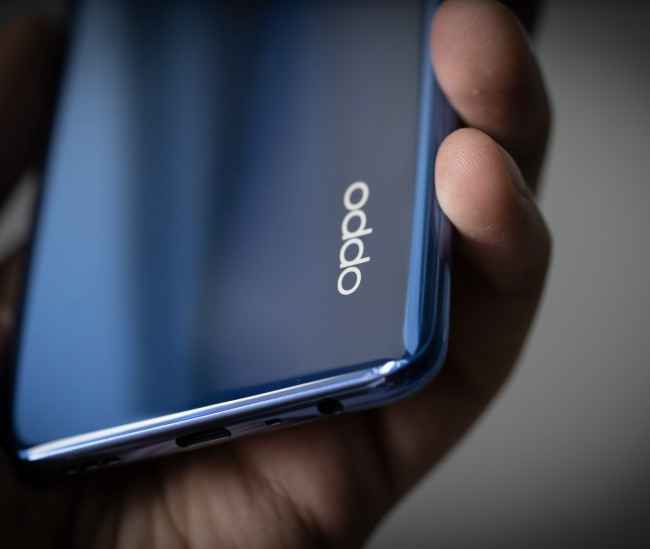 Another key aspect of the OPPO F19's design is its sleek and slim looks. The phone is just 7.95mm thick and weighs 175gms. This is possible thanks to clever engineering from the engineers at OPPO. The company has revealed that it has used a special die-casting aluminium alloy technology to ensure that the thinnest part of the motherboard cover is only 0.21mm thick. Further, the material used on both sides of the battery is much stronger. This allows for narrow sides and lower weight while not compromising on overall structural integrity. In other words, the phone is thin and light but is still pretty strong.
As one can see, while the OPPO F19 is definitely a pocket friendly smartphone, it still manages to offer everything that a user would want and then some. Its combination of design and performance should appeal to millennials. Not only that, but the large battery and 33W Flash Charge technology should ensure that it can keep up with their 'on-the-go' lifestyle.
The OPPO F19 is priced at Rs 18,990 for the 6GB+128GB variant and is already on sale starting April 9 via mainline retailers, Amazon and other leading e-commerce platforms.
In order to sweeten the deal for offline customers, OPPO is offering a bundled discount wherein the Enco W11 earbuds will be available at an exclusive price of Rs 1299 (MRP 3,999), while the OPPO Enco W31 will cost Rs 2499 (MRP 5,900). Further, smartphone enthusiasts can enjoy a range of attractive discounts and offline cashback for OPPO F19 with leading banks and digital wallets. This includes a flat 7.5% cashback on EMI Transactions from HDFC Bank, ICICI Bank, Kotak Bank; Standard Chartered Bank. Customers can also avail of 11% instant cashback via Paytm, Triple Zero Scheme with Bajaj Finserv, ICICI Bank, and IDFC First Bank.
Buyers can also avail of Zero Down Payment with Home Credit, HDB Financial Service, HDFC Bank and Kotak Bank. OPPO's existing users will also be rewarded for their loyalty via an additional one-time screen replacement offer (valid for 365 days) as well as an extended warranty for 180 days on the newly purchased and activated F19 Series.
There are many attractive offers for online customers too. Amazon and Flipkart customers will get an Instant Discount of up to Rs 1500 on HDFC Debit/Credit Cards and Credit Cards EMI.
Users can also get Complete Mobile Protection on Amazon and at Rs 1 on Flipkart. Existing OPPO users can upgrade their OPPO Phone and get Rs 1000 extra on exchange. There are also offers on OPPO Enco W11 and OPPO Enco W31 which will be available for Rs 1,299 (current MOP Rs 1,999) and Rs 2,499 (current MOP Rs 3,499), respectively if purchased with the F19. Apart from the aforementioned, there is also a bundled offer on OPPO Band Style exclusively on Amazon which can be purchased for Rs 2,499 (current MOP Rs 2,799) with the OPPO F19.
[Brand Story]