A bunch of flagship smartphones and 3 billion transistors since last year, and Qualcomm is ready with the Snapdragon 835. The premier chipset manufacturer dropped more details about its flagship SoC for 2015, at CES this year. Built on Samsung's 10nm FINFET process, the 835 is meant to consume less power, while being more powerful than its predecessors.
Is it? Does VR ready really mean what you think it does? Is this a the revolution we've been waiting for? Well, we can't quite answer that yet, but this overview of the Snapdragon 835, and Qualcomm's claims around it, should get us closer.
Smaller, but better?
You've probably already seen photos of the Snapdragon 835. Qualcomm made a big deal of the fact that this SoC is smaller than a one cent coin. Well, that's exactly what the 10nm process achieves. Qualcomm says the 835 is 35% smaller than the 820, but contains over 3 billion transistors.
The size actually doesn't make as big a difference as the number of transistors. The 10nm process allows more transistors to be fit in a given space, allowing higher clock speeds and more efficiency. Simply put, current travels smaller distances, hence lower power is consumed.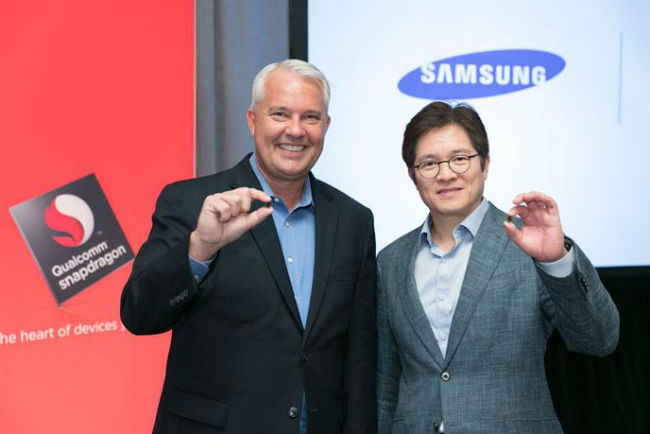 Keith Kressin, Senior VP, Product Management, Qualcomm and Ben Suh, Senior VP, Foundry Marketing, Samsung, at the launch of the Snapdragon 835 in New York. Credit: Qualcomm
The new CPU...
A very interesting bit here is that the Kryo 280 CPU is actually not a "custom" core from Qualcomm. It is the first CPU built using the new Built On ARM Cortex Technology. This is a license that Qualcomm pays ARM for using its cores. Earlier, the company would take ARM's core designs and build its own Kryo custom cores from scratch.
With the new license, Qualcomm can ask ARM to tweak the microarchitecture of a core design, based on its own needs. However, ARM owns the IP for this and promises to not disclose this design to anyone else. So, essentially, the Kryo 280 CPU from Qualcomm is not a custom core built from scratch on ARM's designs. Rather, it's a "semi-custom" design.
Moving on, the Kryo 280 has two clusters - an efficiency core and a performance core. While Qualcomm hasn't made any disclosures on this, it seems like the performance core is a Cortex A72 core, instead of Cortex A73. We think so because the top clock speeds of the performance core is 2.45 GHz, which is lower than the ones advertised for the Cortex A73. Hence, it is possible that Qualcomm asked ARM to make changes to its Cortex A72 core design.
Alternatively, the Cortex A73 cluster may still be in play, but Qualcomm may have chosen lower frequencies in favour of better battery efficiency. Still another idea may the that you'll have a Snapdragon 836 near the end of 2017, with slightly higher clock speeds, just like this year's 820 and 821.
On the other hand, the efficiency core should most likely be a Cortex A53 core, which is a proven choice for power efficient processors. Qualcomm's earlier Snapdragon 625 SoC is based entirely on the Cortex A53 core. The peak frequency for this cluster, on the Snapdragon 835, is 1.9 GHz.
The GPU...
The Adreno 540 GPU accompanying the Snapdragon 835 has full support for OpenGL ES 3.2, Vulkan, DirectX 12, Renderscript and OpenCL 2.0. However, not much is known about it otherwise. While Qualcomm claims that the GPU is 25% faster, this claim may not amount to a real discernible difference for users. The top frequency boosts for the GPU aren't available at the moment.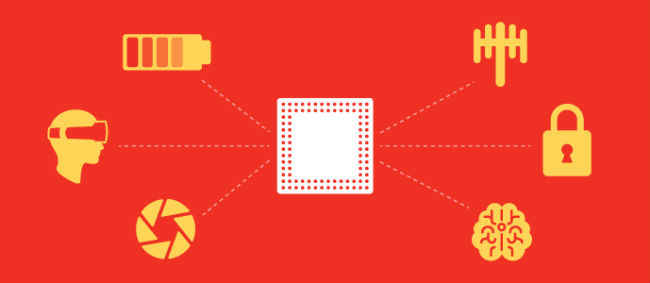 A representational photo of all that Qualcomm says the Snapdragon 835 will manage. Credit: Qualcomm
The DSPs...
The Hexagon DSP was first introduced by Qualcomm last year, but Qualcomm hasn't said much about the Hexagon 682 being used on the Snapdragon 835. As it was last year, though, this DSP is meant to run alongside the CPU or GPU, thereby boosting certain specialised tasks. It is worth noting that the Hexagon DSP augments the CPU and GPU, instead of replacing them.
In addition, the Snapdragon 835 also has two additional DSP cores. Of these, one core is used for the processing the X16 LTE modem that this SoC comes with, while the other performs low power tasks like tracking steps, Wi-Fi etc. This is a low-power core that is always on. Qualcomm refers to it as the All-Ways Aware Hub, and this entire system existed in the Snapdragon 820, too.
The Hexagon DSP will also come into play for Virtual Reality application. Head tracking on such applications will be done by the Hexagon DSP, while the accelerometer and gyroscope data will be processed by the All-Ways Aware Hub mentioned above. According to Qualcomm, the user of DSPs will reduce power consumption. The company claims using the CPU for these tasks would have consumer four times more power. The DSP will also be used for eye-tracking on AR applications, while the GPU of course is needed for the VR world to be rendered.
And the ISP...
This is another element of the SD835 that we don't know much about. Qualcomm has added the Spectra 180 ISP on its newest flagship SoC. It now supports up to 32MP cameras, or two 16MP cameras. This may be very important for 2016, given that more manufacturers are choosing the dual-camera setup every month.
Further, support for hybrid auto-focus systems have also been improved, and shutter lags for HDR photography and videography have been reduced.
Evolution not a revolution…
While the Snapdragon 835 is a powerful SoC, it may end up feeling more evolutionary than revolutionary. This is because a lot of the SoC's capabilities need massive support from the industry at large. While VR capabilities have been enlarged, if you're expecting Oculus or HTC Vive level VR, you may very well be disappointed. In essence, the Snapdragon 835 should allow more power efficient VR on smartphones, rather than "better" quality VR.
In fact, the 10nm process should ideally make everything more efficient, but in some ways, there's just no escaping physics. The Snapdragon 835 will most likely not be efficient enough to make your phone last two days, and that's not Qualcomm's fault. Battery technology has sadly not advanced at the same pace as everything else, which makes it difficult for smartphones to manage hefty battery lives without compromising on other features. We expect a counterpart for the Snapdragon 625 to be launched later this year, which will be used for the battery focused devices. Combine all this with Qualcomm Quick Charge 4.0 and we do expect better battery life from flagship devices.
The Spectra 180 ISP on the Snapdragon 835 may be the most impactful bit of the SoC. OEMs have been using dual-cameras aggressively, while hybrid auto-focus is another popular feature. Moreover, the Snapdragon 835 supports HDR video recording, and aims to make HDR photography faster. Qualcomm even has reference designs for single and dual-camera modules for the Snapdragon 835, in order to help manufacturers make progress with camera hardware on their devices.
In our view, the keyword for the Snapdragon 835 is efficiency, rather than VR, AR or machine learning. Qualcomm has reportedly spent a lot of time making the Cortex A53 cluster more resource efficient, which makes sense, since you phone does indeed spend more time using this cluster than the performance cluster. What all this translates into will only be evident once the first Snapdragon 835-powered devices come into the market, and even then, an OEMs implementation of the same is of the utmost importance.