LG's true flagship for 2017 is now official, and as it was last year, the V30 is the phone the G6 should have been. It has IP68 certification, runs on the Snapdragon 835 chipset and has other features that suit the V-line. This includes features like a Quad-DAC, a new Cine Video feature for shooting videos and more. The V30 also gets dual-16MP camera sensors on the back and 4GB of RAM. It is powered by a 3300 mAh battery.
On the face of it, the LG V30 is the phone we've all been waiting for. Here's how it stacks up against competing flagships.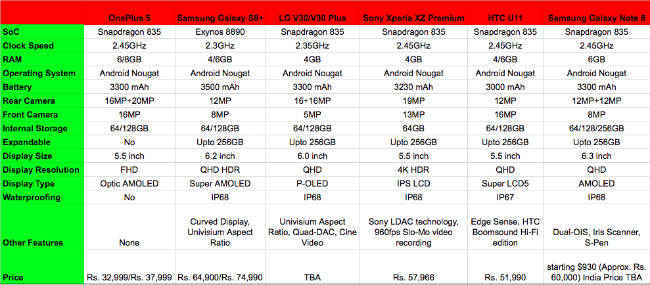 For the YouTube generation
If shooting videos is what you buy a smartphone for, the LG V30 will perhaps be the best. The phone has a new Cine Video mode, that allows users to apply hues to their videos, while the "Point Zoom" feature allows you to zoom to a specific part of a video instead of zooming at the centre and then swiping to where you want. Lastly, there's a Cine Log feature that allows professional grade edits to be made on videos. The Cine Log feature allows users to log gamma curve, shoot in wider colour gamuts etc.
For the audiophiles
The V line by LG has usually focused on enhancing the phone's audio capabilities, and that continues this year. For one, the Bang & Olufsen association is still on, and the audio giant has tuned the Hi-Fi DAC inside the V30 for better audio. Also, the V30 allows users to customise impulse response of the phone, through pre-built filters. Lastly, the earpiece doubles up as a mic for recording audio.
The V30 is also the first phone to sport support for the MQA audio format, which is used for high quality audio streaming. While that won't matter to everyone, audiophiles may want to make a note of this.
For a niche audience?
From the looks of it, it's easy to write the LG V30 off as a product meant for niche audiences, but that may not be true. The software enhancements on the V30 comes on top of flagship class hardware. The P-OLED display makes it ready for VR as well, and overall, you're getting a phone that is future facing to say the least. We haven't reviewed it yet, but we like the story LG is telling with this one.