Legendary Apple CEO Steve Jobs once said, "Every Once in awhile a revolutionary product comes along that changes everything." Jobs made this now famous comment back in the year 2001, as he revealed the first generation Apple iPod. Techies would unanimously agree when I say that the iPod not only changed the game, but brought about a whole new playing field in the music industry. From music licensing to consumption, life and the way we play music was forever altered by the power of a single, miniscule device with the ability to store 1000 songs. That, in 2001 was COOL! Device innovation was on the rise and how! Fast forward to 2016, the innovation graph has taken a u-turn and is plunging down fast into the depths of obscurity.
You have to admit that the most common device we use today is the smartphone. The cellphone and its evolution is perhaps the greatest device journey in the history of human communication. But behold! We are not here to celebrate the life and times of this handy device. Instead, this article aims at posing an extremely pertinent question to the smartphone industry - WHAT HAPPENED TO ALL THE INNOVATION?
Yes, you may own the latest flagship phone with the best in class battery, a neat looking display and a quality camera, but so does your neighbour, your office colleague and maybe your cool aunt. Every new smartphone comes with a multitude of apparently "irresistible" features, but if you really think about it, (heck! Just put 5 similarly priced devices next to each other, or check out the image on top) you will realise that the smartphone industry is cleverly steering you in a sea of sameness.
The challenge
According to Gartner, global sales of smartphones grew by just 9.7% YoY in the fourth quarter of 2015, this being the slowest rate of growth in the industry since 2008. This is just one of the many indicators that smartphone users don't want to replace older generation devices with their newer counterparts. The reason is very apparent, smartphone manufacturers are now purely functioning on a tried and tested business model- sourcing good enough smartphone components from cost-effective suppliers. The result is a market full of hackneyed smartphones, each taking a leaf from the other's book. So what is the challenge? Well, quite simply put, smartphone manufacturers are now struggling to make money and stand out in an environment where any and every smartphone company can make the next best flagship device.
The detour
"On the innovation side when we hear innovation's gone from the category… we think that's absolutely wrong, Innovation in the handset's not constrained to the 4.5 inch or 5 inch screen in the device; it's everything surrounding it, including the ability to capture virtual reality and watch it and share it over wireless with friends and family," said Tim McDonough, SVP - Marketing, Qualcomm, on the sidelines of the Mobile World Congress 2016.

MWC 2016 saw a much needed panel discussion on mobile device commoditisation vs mobile device innovation, with industry stalwarts like Samsung, Lenovo and Wileyfox and Qualcomm taking part. Here, the smartphone innovation debate garnered a mix response from these industry players. While some felt that innovation has and in the future will move forward from device design to functionality, apps and add-on accessories, others felt that innovation has hit a brick wall.
Rick Osterloh, President & CEO of Motorola said,"I was just in the car with our head of engineering reading out specs of one of the launched phones here and it was like, `Is there anything that's different?' And the answer is it's really hard to tell."
MWC 2016 is the best example of smartphone manufacturers taking a backseat and rethinking their options. Some, like chinese manufacturer Huawei, did not launch any smartphone at the event. The Samsung Galaxy S7 was also a refined version of the older generation Galaxy S6. Sony's smartphone presentation was a dull watch with what seemed like 'zero effort' devices flaunting a typical design and unexceptional features. There was only one company that showed off some real innovation at MWC this year...LG.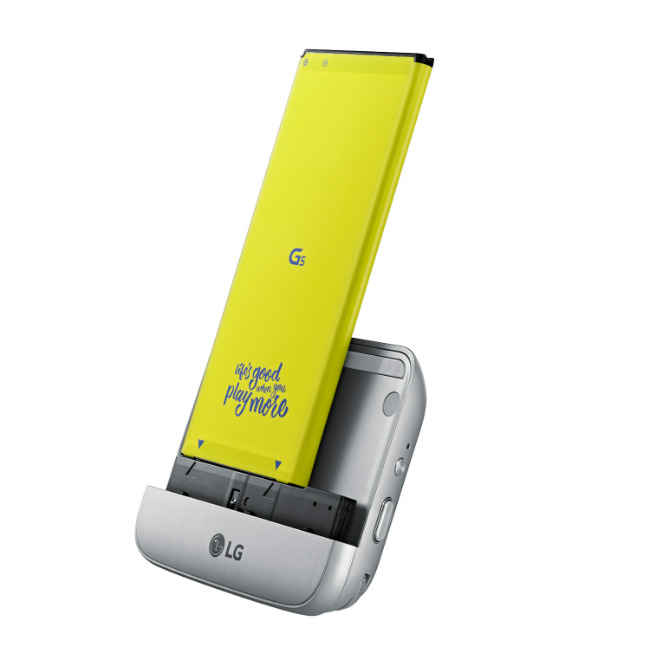 LG G5 Cam Plus
The Solution
This year, LG has addressed some key challenges in smartphone innovation, possibly pumping in some fresh air into the stale device ecosystem. With it's removable battery and impressive dual cameras, LG is definitely shaking the tree with the G5. But, this is still the first step towards a long overdue list of features that should now surface on a consumer device.
Somebody please teleport us from this era of synonymous slabs! The smartphone is now a dying design, totally void of any creativity and change. Where are the bendable and flexible screens? Is the rectangle the only shape known to humankind? Why not think of dual screens? Extendable displays? Bigger yet slicker batteries? Why are manufacturers only obsessed with display size and resolution?
And that's not it, for years smartphones have been expensive yet extremely fragile. Barring a few phones like the Moto X Force, smartphones are still fundamentally delicate. To think that these devices are used all day, everyday and everywhere, their strength does not match their usage requirements.

Anything from too much water, to wind, to shock, to heat, is lethal to the life of a smartphone. Never mind the gi-normous repair costs. Why not standardise build quality? Why not make a phone sturdy enough to live up to its potential? Time to borrow a leaf from the auto industry perhaps?
If processors are a smartphone's saving grace, storage is its achilles heel. Smartphones today have full HD screens, more megapixels, excellent e-book reading capabilities and fantastic music playing abilities, then what is so difficult to understand that a measly 16GB storage on a phone is simply not enough? The OS takes a chunk of that away anyway and on top of that, the option of adding more personal storage is completely disregarded by taking away the slot itself. How smart is that? In-house cameras are also a dime a dozen. Why not think of building in computational photography using VPUs? Problems galore, innovation trampled.
Is this it for smartphones?
Clearly, most tech innovations and breakthroughs are happening in other fields such as virtual reality, Internet of Things, smart cars and more. So why aren't smartphone manufacturers picking up all this new tech? Are they shying away from the cost of production? Will consumers continue to pay a king's ransom for obsolete and redundant technology? Innovation in smartphones is clearly not up to the mark and if this streak continues, we may have to accept that this truly is the death of innovation in smartphones!