For a long time, Motorola has behaved as the grizzled veteran of the smartphone industry. It's quietly launched phone after phone, never really caring to comment on what its opposition is up to. Until now. The new, Lenovo-operated Motorola, seems more aggressive. The company's US Twitter account has flat out accused Samsung of copying its feature. It's true, Motorola's Always On feature came before Samsung's, and it's still much better. However, if anyone should get credit for such a feature, it should be Nokia. Remember the Glance screen?
Motorola improved on Nokia's feature, but Samsung sadly didn't, settling for an Always On display that's basically a gimmick. That said, this isn't the first time an OEM has been "inspired" by something someone else did. Here's a quick look.
Apple
Yes, Apple fans, the Cupertino-based giant is just as guilty as anyone else. Over its past few iterations, iOS has basically been a demonstration of Apple losing its edge with innovation. Here's how.
Live Photos
Nokia did this first, with something the company called Living Images, for its Lumia devices. Apple waxed eloquent about how innovative Live Photos were, but the credit really goes to Nokia and Microsoft.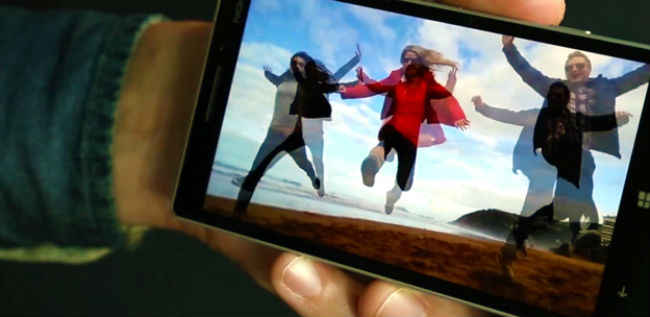 Nokia's Living Images (Credit: Windows Blog)
Split Screen
Split Screen view was introduced by Apple quite recently, but long time smartphone and tablet would give the credit for this one to Samsung. The company brought this to tablets much before Apple.
A 12.9 inch iPad and the Apple Pencil
The Pen is mightier than the sword, but is the Pencil mightier than the Pen? Apple's Pencil is just as good as Microsoft's Surface Pen, but will anyone ever give the credit for this to Apple? Actually, the true credit for smartphone styluses goes to Samsung and its S-Pen.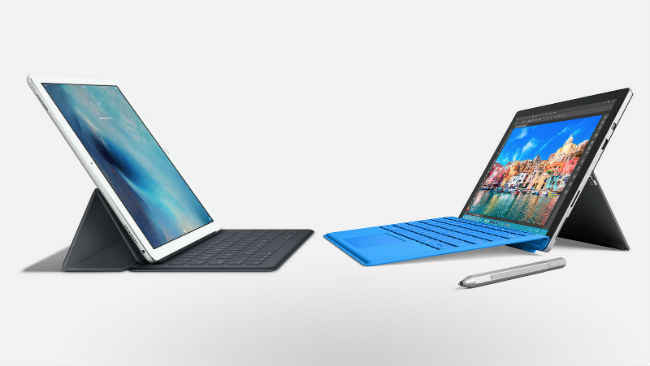 Apple's iPad Pro (L) vs Microsoft's Surface Pro 4 (R) (Credit: Windows Central)
Speaking of the Pencil, Apple's 12.9 inch iPad Pro was a huge nod to Microsoft. The company basically accepted that the Surface was a tablet better suited to replacing the laptop. The Surface remains better, too.
Siri Proactive and Apple's Keyboard shortcuts
From Microsoft to Google. Siri has forever been behind Google Now. The only thing Apple's voice assistant can really boast of, is the fact that it's a better conversationalist than Google Now. Siri Proactive, announced recently, is basically everything Google Now already has, and the voice recognition itself remains to be seen.
While we're on Siri. Remember the Spotlight Search page that Apple added to the left of the home screen is another effort at providing Google Now. Interestingly, there is little use for the page on an iPhone.
Further, the new keyboard shortcuts from Apple, which allow quick insertion of emoticons, pictures etc. have been part of Android keyboard forever.
Night Shift
Apple's newest poster boy, Night Shift, is a feature the company has no business taking credit for. It has been available on Android devices for ages, hasn't it?
Lenovo
Lenovo hasn't been the worst offender, but one of its recent devices perhaps flatters the hell out of Apple. Yes, the Sisley S90 is what we're talking about. The picture below says a thousand words.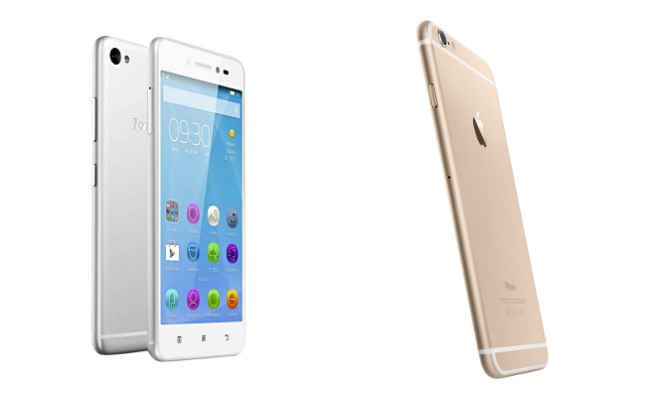 Lenovo Sisley S90 (L), Apple iPhone 6 (R)
Huawei
In many ways, Huawei is the new Samsung. The Chinese telecom giant has quickly made its mark on the smartphone market, and with some impressive devices. It's not without some inspiration, though.
Spotlight Search and Control Center
If you've ever used a phone running Huawei's EMUI, you would have seen the Spotlight search like feature. You simply swipe down on any home screen, just like you do on Apple devices. Also, swiping up on the lock screen brings up a menu that looks dangerously like Apple's Control Center.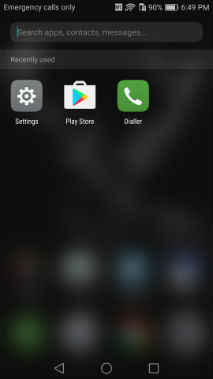 Huawei's take on Spotlight Search (L) and Control Center (R)
Huawei's Force Touch
Technically, Huawei's Force Touch-powered phone came to market before Apple's, but can we really give Huawei the credit for this one? We think not. Not that Force Touch is very useful any way.
Xiaomi
There's a reason Xiaomi doesn't enter the US market today, and a lot of that has to do with the 'inspiration' the company has drawn from Apple. The list can seem never ending here.
Mi Message
iMessage, Mi Message, what's the difference really? It's all about creating an ecosystem of users, a community that uses your phones and other devices.
MiUI
India first saw MiUI with the Xiaomi Mi 3. MiUI 5 on that device, though, wasn't as iOS-like. Things changed with MiUI 6, which was almost a replica of iOS at the time, and things haven't changed much since. Xiaomi has been innovating on its own as well, though.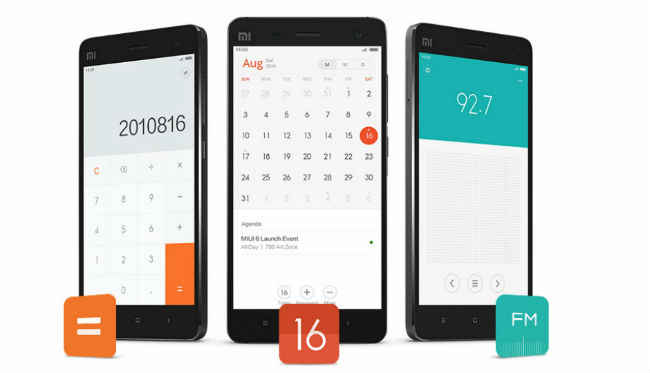 Xiaomi's MiUI 6 launch photos
Xiaomi Mi4 launch
If you followed the Mi 4 launch, you would remember the image shown below.

'Nuff said!
Xiaomi CEO Lei Jun pays tribute to the late Steve Jobs almost every time he takes the stage.
Samsung
The inspiration game in smartphones was perhaps started by Samsung. The company was in multiple legal battles with Apple, and did pay the company a ton of money for "copying" its designs. The damage was done, though, and no one really cares what Samsung did at one time, especially considering how it leads the market today.
Even more recent than the Always On display is Samsung's Iris Scanner for the Note 7. Microsoft added this exact same thing with Windows Hello just a few months ago.
The incidents mentioned here are just some instances when such inspiration was drawn. Google's Pixel C tablet has the same story as the iPad Pro, and there are many other instances as well. Let us know if you can add to this list.