Samsung just announced their next flagship Galaxy smartphone device conveniently called the Samsung Galaxy SIII. Apart from the plasticky build, the device is quite impressive with its power under the hood and some of the unique features that it offers.
To see a detailed look at the features of Samsung's new flagship device, click here.
So, how does the Samsung Galaxy SIII stands out when compared to the competition? Well, we just saw the launch of the HTC One X in India recently (read our review here), and the device has impressed us quite a bit.
We take a look at the three smartphones that have started defining the next gen of mobile devices – the Samsung Galaxy SIII, HTC One X, the Samsung Galaxy Nexus; and just to keep things in perspective about the evolution if the smartphone, we have added the Samsung Galaxy S2, one of the best smartphones of 2012.
| | | | | |
| --- | --- | --- | --- | --- |
| Particulars | Samsung Galaxy S2 | Samsung Galaxy S3 | HTC One X | Samsung Galaxy Nexus |
| Processor | Dual-core 1.2 GHz Cortex-A9 | Quad-core 1.4 GHz Cortex-A9 | Quad-core 1.5 GHz | Dual-core 1.2 GHz Cortex-A9 |
| RAM | 1GB | 1GB | 1GB | 1GB |
| GPU | Mali-400MP | Mali-400MP | ULP GeForce | PowerVR SGX540 |
| Display Type | Super AMOLED Plus | HD Super AMOLED | Super IPS LCD2 | HD Super AMOLED |
| Display Size | 4.3-inch (217 ppi) | 4.8-inches (306 ppi) | 4.7-inches (312 ppi) | 4.65-inches (316 ppi) |
| Internal Storage | 16GB/32GB | 16/32/64 GB | 32 GB (26 GB available to the user) | 16 GB |
| Expandable storage | up to 32GB via micro SD card | up to 64 GB via micro SD card | No | No |
| Rear Camera | 8MP auto focus with LED flash | 8MP auto focus with LED flash | 8MP auto focus with LED flash | 5MP auto focus with LED flash |
| Video calling camera | 2MP | 1.9 MP, 720p Video | 1.3MP, 720p Video | 1.3MP, 720p Video |
| OS | Android 2.3.4 Gingerbread, upgradable to Android 4.0 ICS | Android 4.0.4 ICS | Android 4.0 ICS | Android 4.0 ICS |
| Custom UI | TouchWiz UI v4.0 | TouchWiz UI v4.0 | HTC Sense UI | No |
| Battery | Li-Ion 1650 mAh | Li-Ion 2100 mAh | Li-Po 1800 mAh | Li-Ion 1750 mAh |
| Dimensions | 125.3 x 66.1 x 8.5 mm | 136.6 x 70.6 x 8.6 mm | 134.4 x 69.9 x 8.9 mm | 135.5 x 67.9 x 8.9 mm |
| Weight | 116 g | 133 g | 130 g | 135 g |
On grounds of sheer specifications, the Samsung Galaxy SIII isn't the most impressive. Its specification is at par with the competition (the HTC One X), but has overall left us a little disappointed, courtesy the plastic finish. The HTC One X wasn't just impressive overall but its build though plasticky, felt sturdy. Besides, the Display is a HD Super AMOLED without the "Plus". That's right, the screen has a PenTile display which looses points when compared to the IPS display that is housed in the iPhone 4S and the HTC One S. Don't get us wrong, the display isn't bad by any means. It's just that it isn't the best out there. The reason the Samsung Galaxy S2 was such a big hit was the fact that the display was quite commendable at the time.
Next page: Benchmark comparison...

This time around though, Samsung it seems has decided to go the Apple way with the SIII. The specifications are at par with the competition (though it is surprising that the SIII uses the same Mali-400MP GPU as the S2), but what Samsung has decided is to bring some unique features to the device that will make it stand out from the crowd.
To start with, Samsung has introduced a feature called S-voice that aims to take on Apple's Siri head on. Now, you have a voice-controlled personal assistant on you Samsung device, exclusive to the S3 as of now.
The camera app too has a burst mode that can take 20 pictures at 3.3 frames a second. The app also has the ability to pick out the best picture of the burst keeping certain criteria's in mind such as focus and smile incase there is a person in the picture.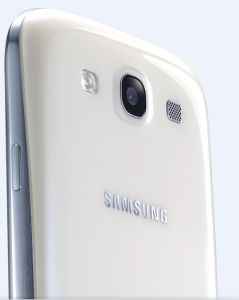 Keeping an SIII ecosystem in mind, Samsung has a feature called the S beam enabling quick and easy file sharing between 2 devices. A lot like Google's Android Beam it has Samsung's own addition to it as well. Apart from NFC, the device use Wi-Fi as well for faster data transfer. If Apple has airplay to stream content wirelessly between your iOS device and Apple TV, Samsung has introduced AllShare Play and AllShare Cast. You can stream content from your S3 to your TV directly via Wi-Fi. AllShare Cast mirrors the display of the smartphone on your TV.
In terms of raw power, the Galaxy SIII really seems to surpass the competition. Our friends at Anand Tech got some hands on with the device and ran sum benchmarks on it. Take a look at the results in the table below:
Particulars
Samsung Galaxy S2
Samsung Galaxy S3
HTC One X
Samsung Galaxy Nexus
Browser Mark
101869
161710
110038
97381
GLBenchmark 2.1 Egupt Offscreen (720p)
62
103
63
28.7
Higher score = Better
Overall our first impression of the Samsung Galaxy SIII is a mixed bag. The hardware is at par with the competition but the build and display feels like a bit of a letdown. In its initial performance benchmark it seems to be the king, but we will determine this fact once we have had used the device in some real world environment. The software features are impressive and we want to see what more Samsung does to take on the competition along with the big Apple.
Source: Anand Tech, Ars technica