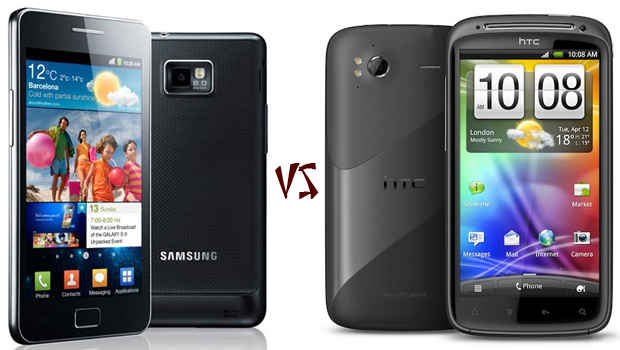 Sparks are flying and the heat is on, with two supremely-endowed phones from leading manufacturers on the verge of launching in India. Let us compare them head to head, and decide the favourite ahead of the showdown… The Samsung Galaxy S2, expected in early May, will release before the HTC Sensation, which for now is expected sometime in May or June.
Both are Android 2.3 Gingerbread devices, with HTC Sense 3.0 UI for the Sensation and Touch Wiz 4.0 UI for the S2. The Samsung Galaxy S II and the HTC Sensation are powered by 1.2 GHz dual-core processors, and feature 1GB and 768 MB RAM respectively. The HTC Sensation has a higher resolution 4.3-inch screen at 540x960 pixels, while Galaxy S II has a 480x800 resolution 4.3-inch screen.
Galaxy S2 comes with 16GB and 32GB built-in storage, whereas the HTC Sensation only offers 1GB - even if it is expandable to 32GB via microSD, and has a 8GB card bundled. Considering the display, the Samsung Galaxy S II has Super AMOLED Plus tech compared to the HTC Sensation's Super LCD, a battle that Samsung might just win on fight night.
Both devices have an 8MP rear camera, capable of 1080p HD video recording, with the Samsung Galaxy S II bearing a single LED flash and a 2MP front-facing camera, and the HTC Sensation bearing a dual LED flash and a 1.3MP webcam upfront. The HTC Sensation also records stereo sound in addition.
[RELATED_ARTICLE]The powerful Exynos 1.2GHz dual-core processor and Mali 400 GPU of the Galaxy S2 runs on a 1650 mAh battery, while HTC Sensation's Qualcomm MSM8260 1.2GHz dual-core and Adreno 220 GPU runs on a 1520 mAh battery. The battle for battery life will of course, depend on just how well optimized the UI and OS are, how much power the respective displays consume, and a hundred other small factors. HTC has rated the Sensation's battery to deliver up to 400 hours of 2G standby time, and roughly 6.5 hours of talktime on 3G. Samsung has not released these figures for the S II.
The Galaxy S II is a much lighter phone than the Sensation, with weight of around 116 grams, compared to a relatively hefty 148 grams. The Galaxy S II is also a super-slim offering with a width of just 8.49 mm, compared to the HTC Sensation's relatively obese 11.3 mm thickness.
As things stand, the Galaxy S 2 seems like the favourite in a rather evenly matched fight of 1.2GHz dual-core CPU powered phones with 4.3-inch displays. Features like document editing abilities, and USB on-the-go are also in its favour. Pricing will be an important factor, and for now, Samsung is expected to price the Galaxy S II at the lower end of the Rs. 30,000-35,000 segment, and HTC, the higher end. Until the first round begins, all eyes are on HTC's corner.