Motorola launched the Moto G73 in India with a 120Hz display, a 5000mAh battery, stock-ish Android 13, and a 50MP primary camera. The phone starts at ₹18,999, putting it at loggerheads with Redmi Note 12 and Realme 10 Pro for the best sub-20K phone title.
5 Ways Motorola G73 compared against Redmi Note 12 and Realme 10 Pro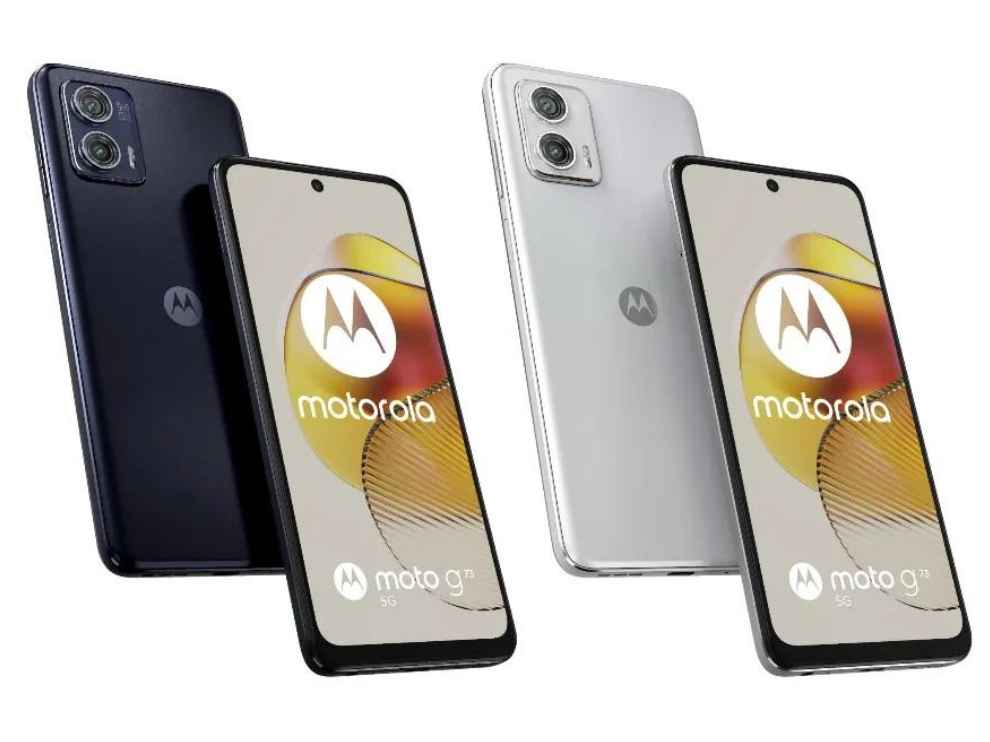 1. Design
Moto G73 is the lightest of the lot at 181 grams. However, it is a touch thicker than the rest at 8.3 mm. Motorola has used Acrylic Glass, which is a thermoplastic. Meanwhile, the other two have polycarbonate backs.
All three phones have a central punch-hole display. Both the Motorola and the Redmi phone have the rear cameras placed in a domino island while Realme has straight up put the camera rings on the back.
2. Camera
On the front, Moto G73 has a 16MP camera, Redmi Note 12 has a 13MP camera, and the Realme 10 Pro has got a 16MP selfie shooter.
On the back, Moto G73 has a 50MP+ 8MP (ultrawide) duo, Redmi Note 12 houses a 48MP+ 8MP (ultrawide)+ 2MP (macro) trio, and Realme 10 Pro sports a 108MP+ 2MP (depth) dual camera setup.
Only, Motorola G73 gets an FHD video option at 60 fps.
3. Display and UI
Out of the three, Motorola has got the smallest screen size at 6.5 inches. It is an LCD panel like that of the Realme 10 Pro. Redmi Note 12 is the only one with an AMOLED (that too Super AMOLED) display.
When it comes to the software, if you are a vanilla Android fan, then Motorola's MyUI is the one to go for. Both Redmi's MIUI and Realme's Realme UI offer more customization but also bear ads and bloatware.
4. Internals
Under the hood, Moto G73 carries a MediaTek Dimensity 930 chipset while Redmi Note 12 brings Snapdragon 4 Gen 1 processor and Realme 10 Pro has Snapdragon 695 SoC.
Moto G73 comes in a solo 8+128GB model while Redmi Note 12 can be picked in 4+128GB and 6+128GB variants, and Realme Note 12 can be bought in 6+128GB and 8+128GB variants.
All three boast a 5000mAh battery. Motorola offers 30W wired charging while the other two give 33W charging support.
5. Connectivity and other things
All three phones feature WiFi ac and USB-C 2.0 ports. Motorola has the latest Bluetooth 5.3 support. Redmi Note 12 is the only one with Infrared sensor support.
All three have a 3.5mm jack, a side-mounted fingerprint scanner, expandable storage (hybrid slot), and stereo speakers.
Redmi Note 12 vs Moto G73 vs Realme 10 Pro: Price
Moto G73's price is ₹18,999 for the 8+128GB memory configuration.
Redmi Note 12 4+128GB model costs ₹17,388, and the 6+128GB model carries a price tag of ₹19,999.
Realme 10 Pro 6+128GB variants cost ₹18,999 while the 8+128GB model comes at a price of ₹19,999.