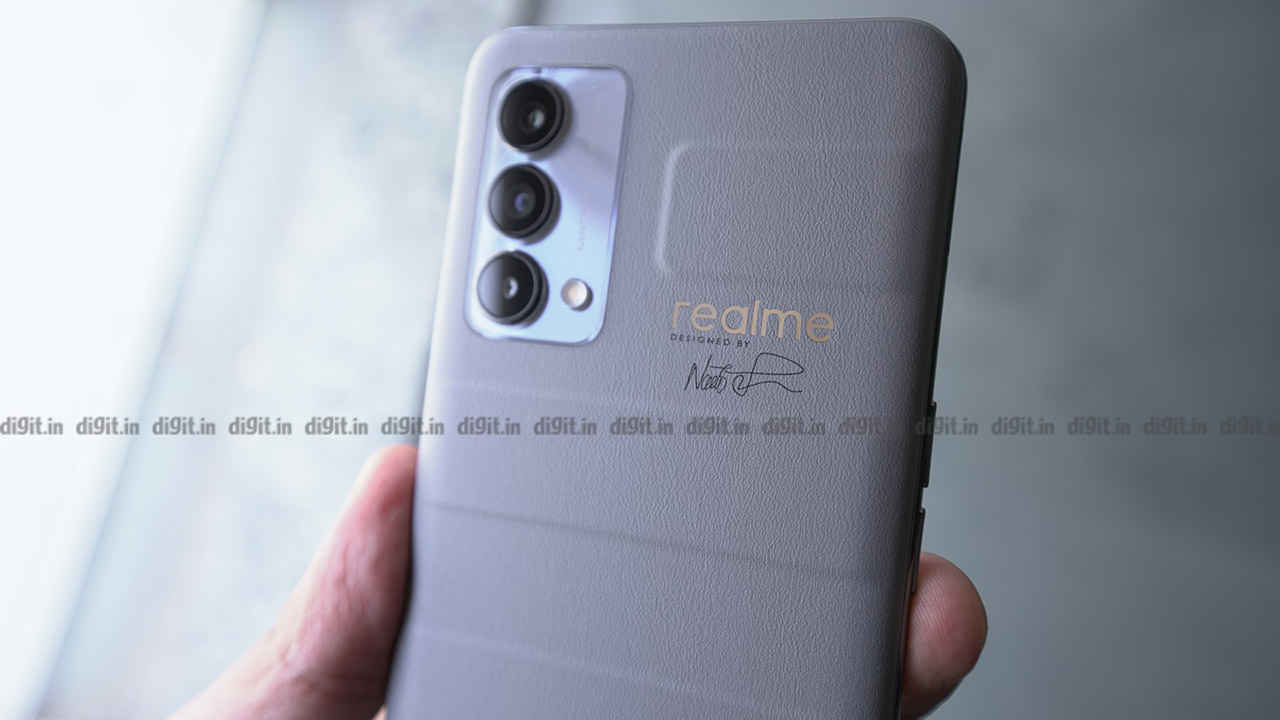 HIGHLIGHTS
Realme GT Master Edition brings a 120Hz display.

Realme GT Master Edition is powered by the Snapdragon 778G chipset.

Realme GT Master Edition also gets support for virtual RAM.
After weeks of leaks and rumours, Realme has finally launched its latest offering for the mid-range segment of the market. Launched alongside the more powerful Snapdragon 888 totting Realme GT, the Realme GT Master Edition promises impressive performance but at a more affordable price point than its sibling. Co-designed by Naoto Fukasawa, the man behind the design of the previous Realme Master Edition phones, the new Realme GT Master Edition has been launched in three colours, Voyager Grey, Luna White and Cosmos Black. Of these, we have with us the Voyager Grey which features a suitcase-inspired design made out of vegan leather and hides underneath the surface the all-new Snapdragon 778 SoC.
Today, we test the Realme GT Master Edition to figure out if it's a good phone for gaming and performance-heavy tasks. For this, we'll test the phone using a battery of benchmarks and then compare the results with some of its competing devices.
Realme GT Master Edition: Specifications
The Realme GT Master Edition is one of the first phones in India to be powered by the new Snapdragon 778 SoC. This is Qualcomm's latest mid-range offering which has been built using an advanced 6nm fabrication process. The chipset features four A78 prime cores, with one of them programmed to hit a peak frequency of up to 2.4GHz, while the other three are capable of hitting a peak frequency of 2.2Ghz. The quad-core CPU also features four A55 cores running at 1.95Ghz. The GPU on-board is the Adreno 642L.
This has been paired with up to 8GB RAM and as much as 256GB storage. To improve performance, the Realme GT master edition also brings support for virtual RAM which expands the phone's RAM allocation by up to 5GB. As a user-controlled feature, this sees the phone allocate some of its fast storage space as virtual RAM when you're running an app or a game that requires extra memory. While Realme claims this helps reduce load times and improves the multitasking experience, we found this to be a marketing claim that doesn't live up to the billing in real life as the phone performs well enough using the available allocation of physical RAM.
Apart from these, the Realme GT Master Edition also brings with it other hardware and software features that improve the experience of playing games and running resource-intensive applications on the device. For example, the phone comes with a 120Hz Samsung AMOLED display with support for 100% coverage of the DCI-P3 colour gamut. The display also supports a 360Hz touch sampling rate which is not the fastest in the business but is still pretty good for a phone in this price range. To complete the package, we have underneath the hood a dual-cell 4300mAh battery with support for Realme's 65W SuperDart charging.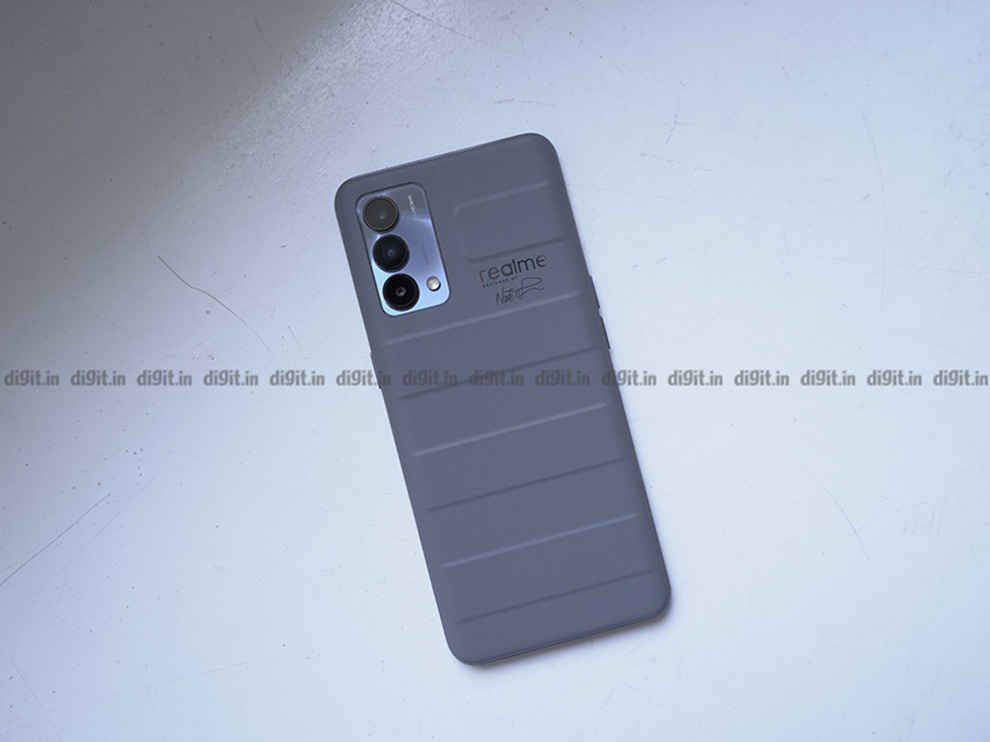 Realme GT Master Edition: Gaming and overall performance
All the hardware we've mentioned above comes together to create a powerful device capable of handling apps of daily use such as Twitter and Instagram without breaking a sweat and also capable of multi-tasking and playing resource-intensive games without much trouble.
As we found out during our review, the Realme GT Master Edition provides an almost flawless experience with both apps and games running like a breeze on the device. The phone feels snappy to use regardless of what you run on it. In our time with it, we tested its performance using a number of benchmark tests and also a few demanding games.
For gaming, the Realme GT Master Edition handled titles like Call of Duty: Mobile and Asphalt 9 Legends with utmost ease at the highest possible graphics settings. Our trusted Gamebench service revealed that despite the maxed-out settings, both these games ran at a median FPS of 60 frames and stability of 100 per cent. Suffice to say, we were quite impressed with this level of performance, as only a handful of devices in the past have managed to clock such good numbers in our gaming tests.
While there are many factors that contribute to such performance, the most important is possibly the fact that Qualcomm's Snapdragon 778G SoC is a mature platform that manages to provide stable peaks which ultimately leads to a smooth and stutter-free gaming experience. To corroborate this theory, we tested the chipset's performance using a number of benchmarks, including the CPU Throttling Test to check how well the device's octa-core CPU was performing under load. The results we achieved were quite surprising as the test showed no sign of throttling through the course of the 20-minute test. And this despite the device heating up a little towards the end of the test.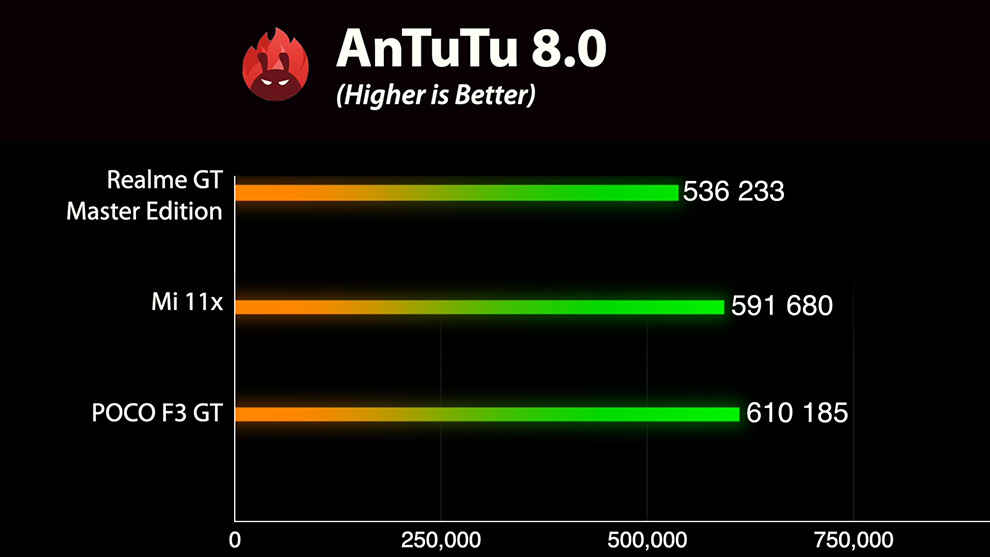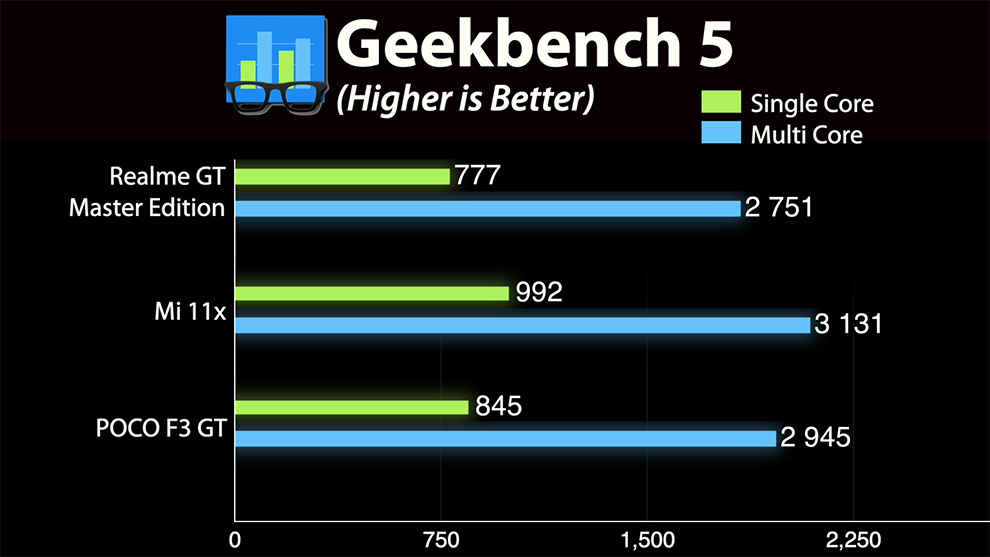 Moving on to benchmarks, the performance again was generally quite good. In fact, the results showed the Realme GT Master Edition clocking numbers very close to what we have previously seen from more powerful devices such as the Snapdragon 870 SoC totting Mi 11X and the Poco F3 GT which is powered by the MediaTek Dimensity 1200 SoC.
For example, in AnTuTu, the Realme GT Master Edition achieved a high score that was around 15 per cent less than what Xiaomi's Mi 11X and the Poco F3 GT offered. And interestingly, this was also the case for both the single-core and multi-core tests of Geekbench.
To test the GPU performance we used 3DMark Wild Life where the Realme GT Master Edition scored 2487 points. This was considerably less than the 4166 points clocked by the Mi 11X and 4197 points scored by the Poco F3 GT. This was honestly a little surprising as we were expecting better numbers considering the phone performed quite well in real-life gaming scenarios.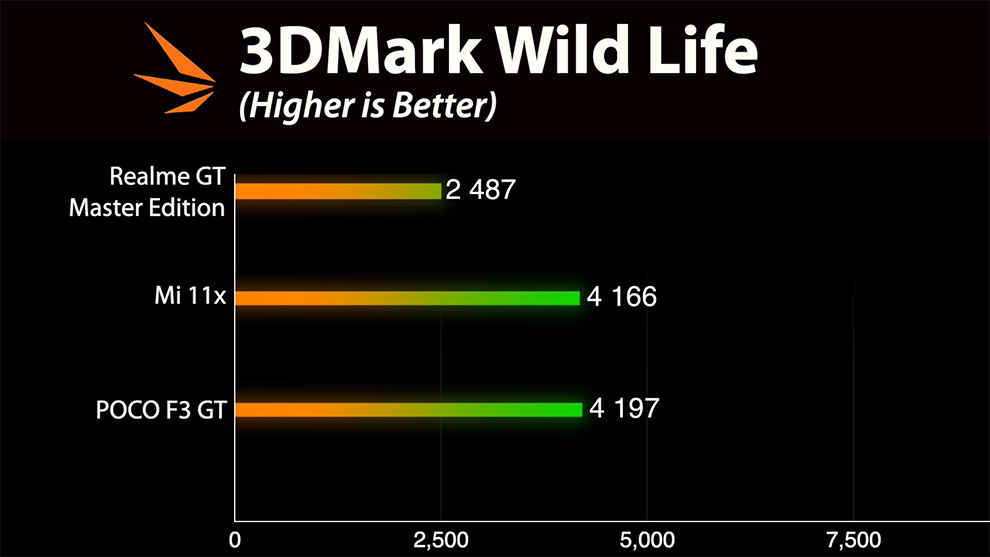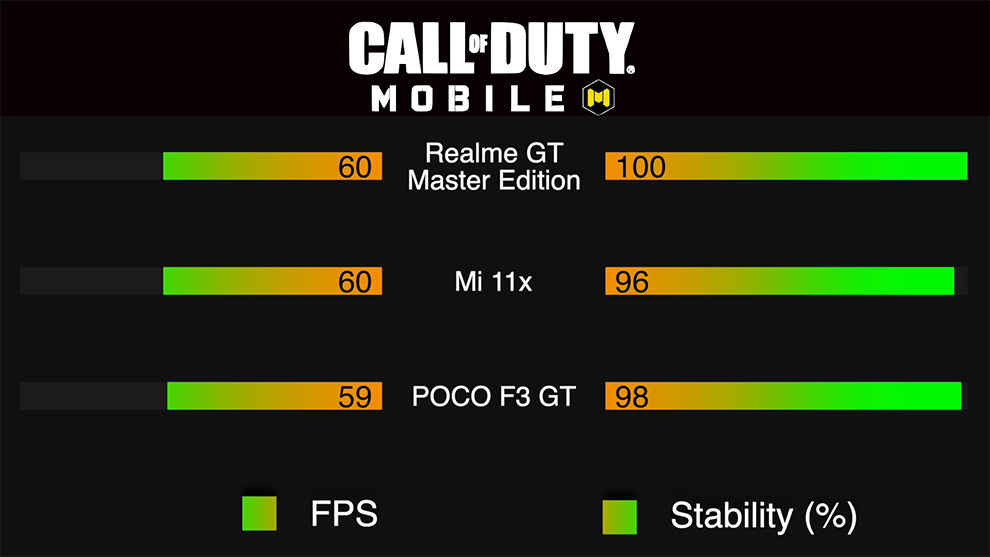 Realme GT Master Edition: Should you buy it?
With all the tests done, and their results with us, we can safely say the Realme GT Master Edition looks like a very promising device. It offers powerful performance and overall a premium experience at a competitive price point. While it does face a lot of competition in the market, the fact that it manages to offer a high price to performance ratio is a sign that it could become another popular offering from Realme.
Thanks to its powerful chipset, the Realme GT Master Edition offers more than enough juice to handle all that you throw at it, and to top it all, its dedicated GT Mode does all to enhance the gaming performance of the device. Depending on what you're looking for from your next phone, it may or may not end up being the gaming phone of your choice. However, if you're looking for a new gaming phone in this fiercely fought budget segment, the new Realme device definitely emerges as a good option, one that we recommend considering before making any decision.