Microsoft's home-brewed mobile platform has received yet another update making it more attractive and feature rich. The Windows Phone 8.1 update was announced last month where Microsoft said that it will make the user experience much more intuitive.
The best part about the update is that it will be available on all (Lumia) devices running on Windows Phone 8, but it will take about a month or so for Microsoft to start seeding the official update in India. For those who can't wait (like us), the developer version of the update is already out and one can easily download the update on their Windows Phone 8 running smartphone. There are a number of guides online which explain how you can get the update.
The update includes an all new voice assistant called Cortana, which is a late move by Microsoft, but it works quite well. Other features include a new Action Centre which is essentially a notification hub, an all-new start screen, and a bunch of other fixes and apps.
Action Center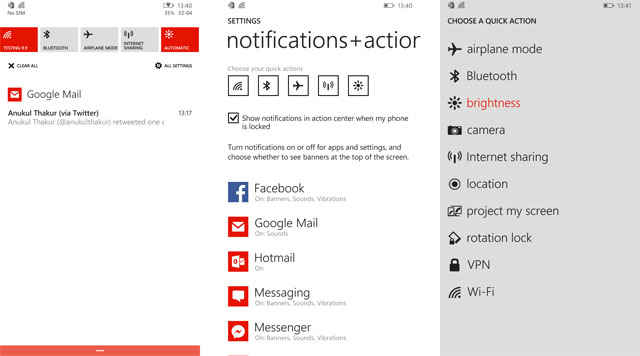 The notification feature isn't something new as we have seen it in Android and iOS, but we do love it. Windows Phone 8.1 now has a similar swipe-down settings and notifications dock called Action Center. Just like Android, all your notifications, including missed call, messages, emails, etc. pile up here and one can easily access them. The Action Center has some quick action buttons also which make it easier to change some of the settings like Wi-Fi, Bluetooth, Airplane mode, Internet hotspot, display brightness and so on. We were able to add only 5 buttons and we really hope that the final update allows us to add some more buttons.
Start screen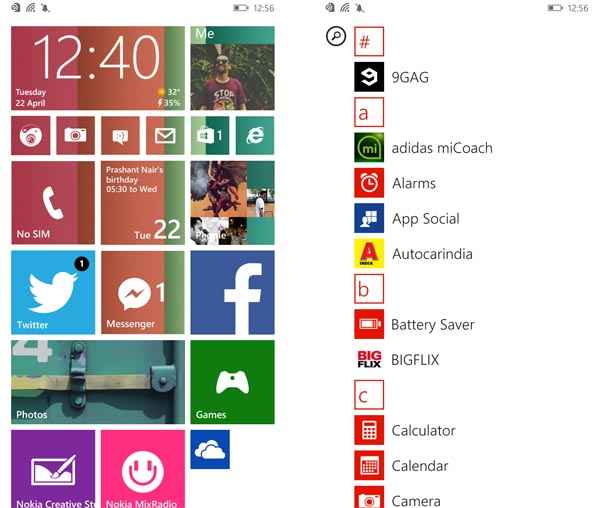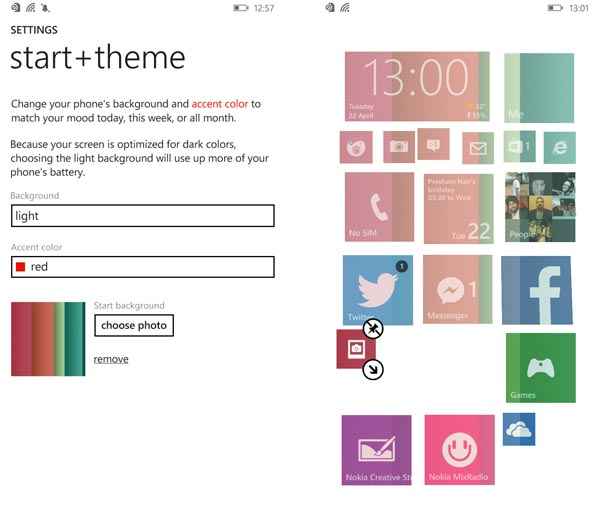 The tile based UI is pretty much the same but there are some new tweaks that have been added to it. Now you can have two or three-tiled columns, each of three different sizes. There is also a new wallpaper feature which allows you to apply any image of your choice onto the tiles which looks like a good upgrade from the previous solid coloured tiles. The wallpaper doesn't cover all of the tiles, but overall it gives a fresh new look to the UI.
In the end, the start screen hasn't changed much. You have the same two screens (tiles and menu layout) and the same light and dark background theme.
Battery Saver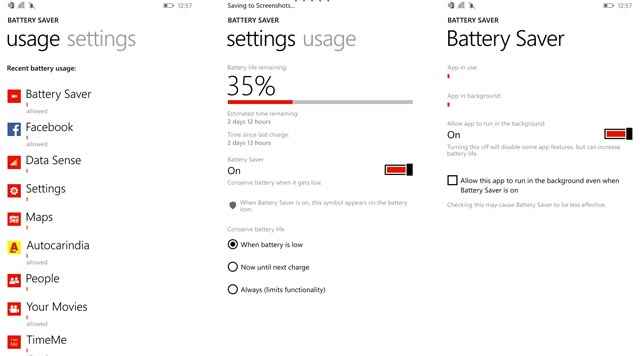 Microsoft has added a battery statistics app which, apart from saving battery, tells you how much battery is being consumed by each app and how much battery backup you can expect including the time since last charge. When you turn the battery saver mode on, it limits the phone's functionality so that the loss of battery is slower leading to an extended battery backup.
The battery saver mode can be kept on or off at all times or it can be set to turn on just when the battery goes low. You can also define which apps are permitted to run when battery saver is activated which is quite a good feature.
Data and Wi-Fi Sense
Again, like Android, we have a new app called Data Sense which is essentially a data monitoring app. It is quite convenient for people who are paranoid about their data usage as it gives separate information for mobile data and Wi-Fi consumption.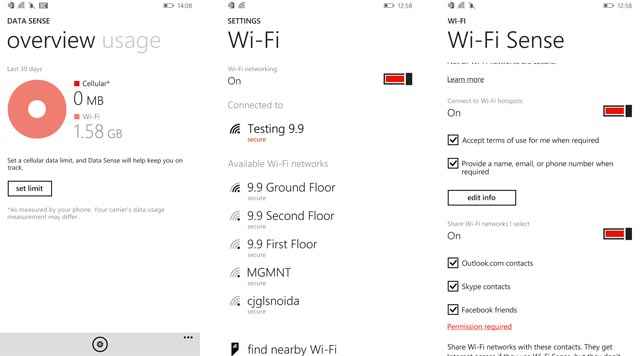 There is a new Wi-Fi sense feature also which makes life a lot simpler. The intelligent feature keeps scanning for Wi-Fi hotspots so that it can connect automatically. Wi-Fi sense, when turned on, also tells you whether a Wi-Fi connection is secure and stable so that you don't have to face connection drop-outs. One of the best things about it is that you can save your credentials onto your smartphone and if in future you connect to a public Wi-Fi network that requires log-in information, Wi-Fi sense will automatically do that for you.
Calendar
The Calendar app has finally been updated and now it has a week-view along with day and month. The crucial synchronizing feature has also been updated and now multiple accounts can be synced to the calendar. Multiple entries can be assigned a colour code which makes it easier to identify the entries. Now you can also have your Gmail, Microsoft, Facebook, Outlook or any other calendar, all at the same place.
Cortana
Windows Phone has a new voice assistant now. While Microsoft did take a late train on voice assistants, the all-new Cortana is a brilliant new feature that allows you to carry out a number of operations on your smartphone including making calls, sending texts, opening apps, searching the web, setting reminders and so on. The voice assistant is surprisingly accurate and does the job quite well.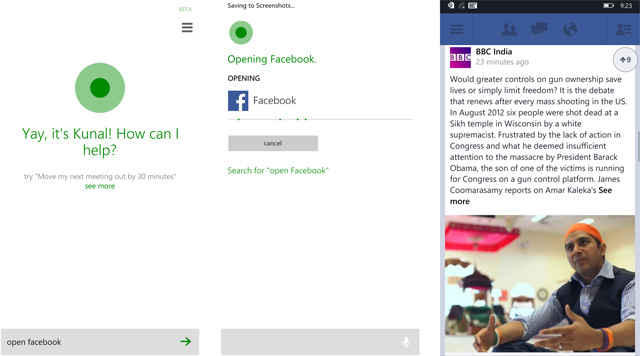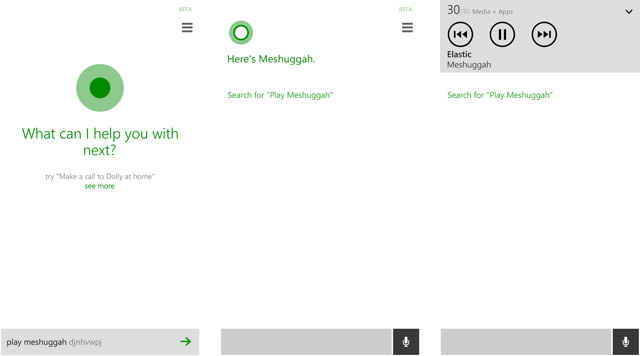 The only issue here is that Cortana has only been customized for the US and a few other countries. Microsoft has confirmed that it is working on various country updates and that it will roll it out in a few months. Although one can get access to it by changing the default language and speech to English-United States. You can checkout our quick preview of Cortana over here.

Bits and pieces
There have been some small yet significant changes here and there in the UI like the new multitasking app viewer where you can just swipe the running apps to close them. Volume adjustment has also been taken care of as now you have separate volumes to control the ringer or notifications and media playback.
The lock screen has also been improved and can now be customized to show apps as a lock screen wallpaper. If you don't fancy that, you can just apply a wallpaper of your choice and have notifications as a text under the clock on the lock screen.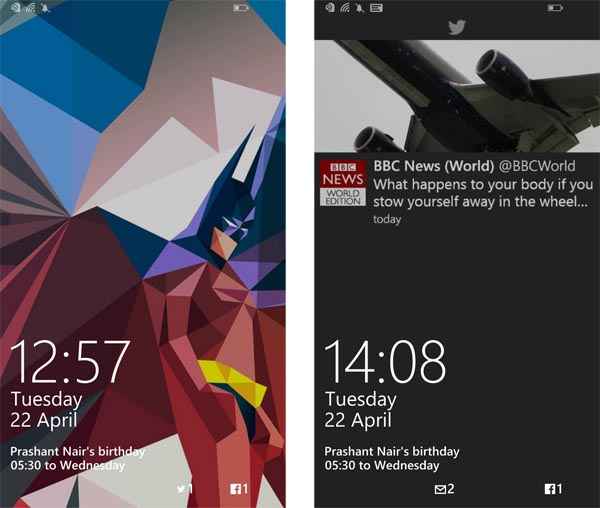 Internet Explorer has also been updated and brings in new features like the ability to share across all Windows and Windows Phone 8.1 devices and also a snappy reading mode, which makes it easier to read articles and stories on a web page.
The keyboard has also been updated and we finally get to see the 'swipe to type' feature. The keyboard is also quite intuitive as it gives excellent word suggestions and a Hinglish keyboard that recognizes Hindi words quite well.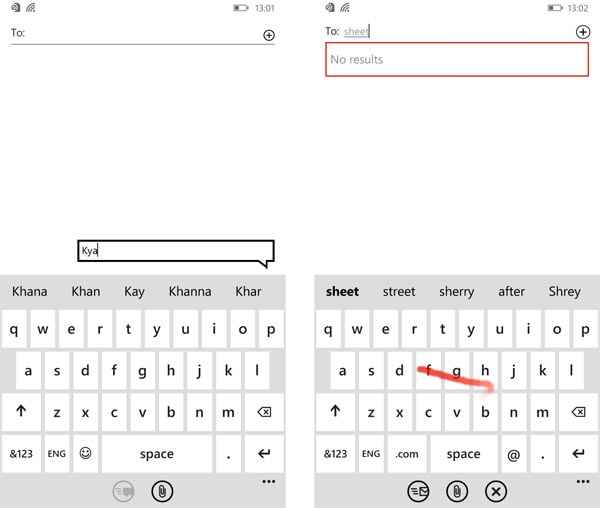 One of the biggest changes is the ability to connect all your Windows and Windows Phone 8.1 devices. If you have your syncing options enabled, then all your apps and themes will be automatically synced within a few seconds.

Conclusion
Microsoft has finally given us a mobile OS that we can use. We totally loved Windows Phone 8.1 and while we have only tried out the developer version, we are excited for the official update. It might not make Windows Phone the perfect smartphone, but it definitely has improved the user experience. Even the smallest of updates have made the platform seem more pleasant than what the OS was two years back