Whenever an established brand decides to launch a new sub-brand, it raises a few eyebrows. The biggest reason being, why? What's the need for a new brand when you're already pretty famous being what you are? I had similar questions in my mind when I first heard about the new Poco brand Xiaomi was planning to launch, and I got my answers today at the launch of the Poco F1.
Before I deep dive into what the phone brings to the table, let's get the basics cleared. Poco is a sub-brand that depends heavily on Xiaomi. It's similar to what Redmi is to the company, only Poco is aimed at speed enthusiasts and is a separate brand. It relies on Xiaomi's supply chain to acquire components (which is one of the reason for the surprisingly affordable price) as well as for after-sales services. It's a global brand and will be available in about 50 markets Xiaomi caters to globally. But more importantly, the Poco F1 embodies the same philosophy with which OnePlus came into the market with — Flagship performance at budget prices. Naturally, Xiaomi (I mean, Poco) had to cut corners to bring down the price which was why there was a need for a new brand. You see, if Xiaomi launched the same phone with the 'Mi' branding, user expectations will not only be about high performance, design would have also become a priority. A new brand does away with that baggage of expectations. It allows one to freely experiment and if it fails, it fails. No harm done to the mother brand.
Back to the drawing board
That's the backstory of the new brand I thought you should know. Now coming to the phone itself, the Poco F1's focus is squarely on speed, much like the rival it aims to topple. There is of course the flagship Snapdragon 845 chipset powering it. A no-brainer if you are promising high-end performance. But what's special here is that there's a dedicated mechanism to keep the chipset from heating up too much for longer, thus preventing any CPU throttling. Poco calls it LiquidCool. But there is no liquid under the hood though. Dedicated copper pipes carrying vapours absorb heat from the chipset and dissipate it uniformly across the body. This allows the Poco F1 to get around thermal throttling. We are currently testing whether the cooling mechanism actually leads to longer peak performance. There's also up to 8GB of RAM and 256GB of storage to go along with it. That's exactly what the highest variant of the OnePlus 6 offers at a price difference of almost Rs 14,000.
Is high-end performance enough to call a phone flagship?
However, calling the Poco F1 a flagship phone would be stretching it too far. While the hardware is definitely right up there with the most expensive Android flagships, it's design isn't like the Honor 10 or the OnePlus 6. Glass-backed design is a major feature in the premium phones launched this year. While that definitely makes them look good, it makes your daily driver extremely fragile and you end up putting a case on it, hiding the premium design. The Poco F1 bucks that trend and goes for good old polycarbonate casing. It's the same material that made the Nokia Lumia phones back in the day a sturdy package. Add to that the Armoured Edition where Poco used actual Kevlar imported from DuPont, USA to give it added durability and a non-slippery grip. It does tend to get dirty though if you are using it with oily hands. Once again, this reminded me of the time when the OnePlus One came out with a sandstone back. It wasn't the premium metal design Samsung was showing off in their flagships at that time, but it stood out for being functional and durable.
Cutting corners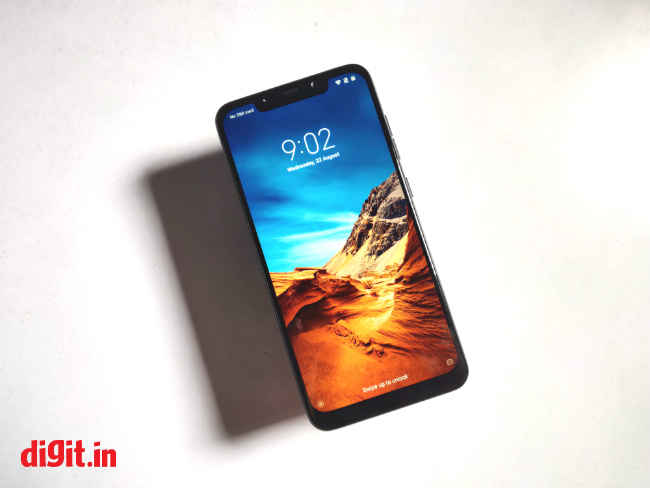 The most uninteresting part about the Poco F1 is it's display. There's a 6.18-inch notched display where the notch doesn't make much sense. There's significant bezels all around the panel. However, the notch does more than housing the front camera and the earpiece. This time, there's an IR blaster that assists the face unlock mechanism to work in low light.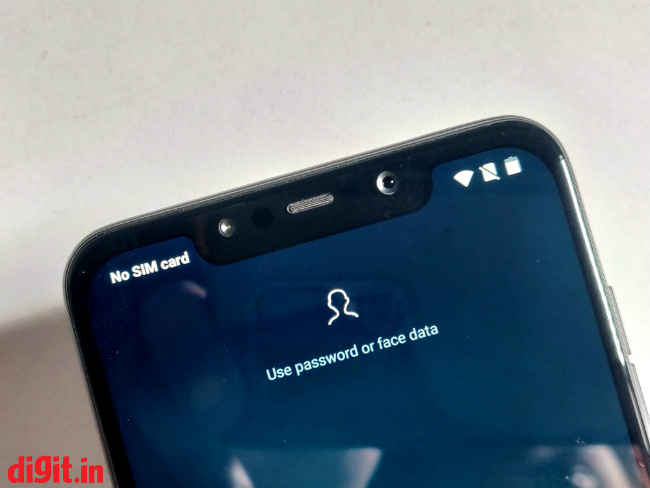 While the hardware does promise top notch performance, the Poco F1 focuses on real-life performance. Which is why there's the extra cooling contraption. We had the phone a few days before launch and after a few hours of gaming (which is of course, work for us), the phone didn't heat up significantly. But not everyone's a gaming addict like us. Some actually get work done on their phones. For them, there's the new Poco launcher which is customised from MIUI 9.5 and has an app drawer!! The launcher animations are also sped up so it feels faster and apps launch just as fast as any other flagship smartphone. The software does have a few bugs that needs to be ironed out. For instance, icons don't show up in the status bar when there's a new notification. In fact, icons don't show up at all in that notched space. We also faced a few instability issues when the volume rockers stopped working till the phone was restarted. Nothing that a new update won't take care of.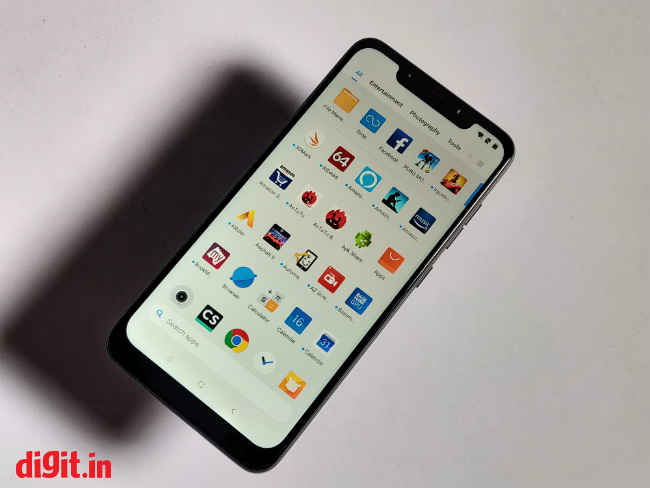 Yet another AI camera
More than speed, people are paying more for better cameras on smartphones these days. The F1 offers a lot to photography enthusiasts. It uses the Mi camera app with AI scene recognition built in. It automatically detects what you're shooting and adjusts the camera parameters. You get a primary 12MP sensor with a 5MP depth sensor for portrait shots. Up front is a 20MP camera that relies on pixel binning to capture more details under low light with lesser noise. The photos come out fairly well for the first few shots we took. We'll be testing it out even more for the in-depth review.
Battery life like a mid-ranger
Completing the package is a 4000mAh battery which is a rarity in flagships which caps battery capacity at around 3300mAh. It's the reason why this isn't the slimmest phone out there and also why we could manage an hour long gaming session without worrying about the phone dying out by mid-day. Thankfully, the bundled charger supports Quick Charge 3.0 and tops up your phone pretty fast.
Also Read: Spec comparison: Xiaomi Poco F1 vs OnePlus 6 vs Zenfone 5z vs Honor 10
First Impressions:
Considering the whole package, it's easy to see who the phone is aimed for. The Poco F1 surely doesn't look like the premium Samsung or Huawei flagships, but it promises high end performance. It lasts long too and is durable unlike the glass-back phones. If I'm not wrong, this is something that a Redmi Note 5 Pro user would want when upgrading. A no-nonsense performer which is easy on the pocket.