OPPO's F-series is known for offering well rounded smartphones that offer a lot of tech at very reasonable prices. The OPPO F17 is the newest smartphone in the series and as one might expect, it has a lot of expectations riding on its shoulders. But judging by its specifications, the phone seems to be more than up to the challenge. Here's a quick look at how the brand new OPPO F17 lives up to the legacy of its predecessors.
Slim 'n Sleek
Kicking things off with the design, the OPPO F17 carries forward the company's legacy to offer sleek devices. The phone is a sleek, 7.45mm thick which makes it look uber premium. Not only that, it also weighs 163g, which is a good balance of lightness and heft. On top of this, the OPPO F17 packs a 2.5D curved body that not only adds to the phone's classy looks, but also helps easily nestle in your hands. That's not all. The 6.44-inch FHD+ display, coupled with thin bezels that measure 1.67mm and offers a screen-to-body ratio of 90.7%, which results in the most immersive viewing experience you'll find on a phone in this price segment. The high-level of precision is quite mind-blowing, all thanks to OPPO's laser-carving technology.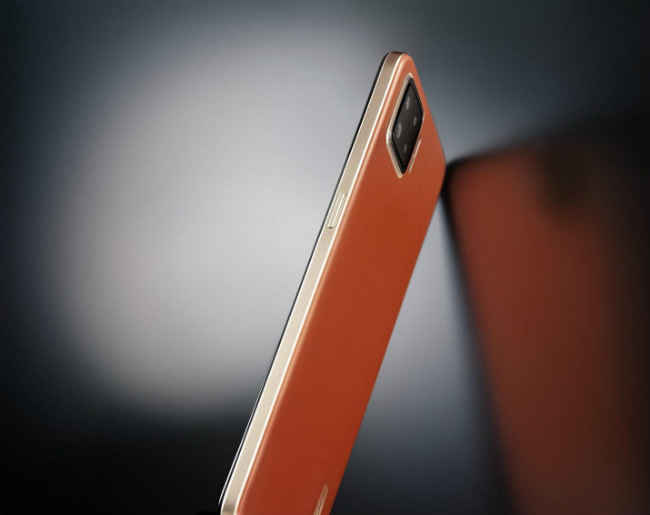 But that's not all, the OPPO F17 comes with a unique integrated back cover design that not only makes the phone stand out, but also improves the in-hand feel. This integrated back cover uses a leather-like texture combined with a matte finish for extra protection against smudges and scratches. No matter how much you use it, there will be absolutely no dirty smudges on this beautiful-looking device. It is available in three colours, namely Navy Blue, Classic Silver and Dynamic Orange. As an added bonus, the Classic Silver colour comes with a laser-engraved OPPO monogram, which adds to the premium feel of the device.
All Charged Up
Battery life is probably the most important aspect of any smartphone. Knowing this, OPPO has added a bunch of battery-centric features to the OPPO F17. For starters, the smartphone comes with a 4015mAh battery that delivers a whopping 9.7 hours of use. In order to ensure speedy charging, the phone comes with 30W VOOC 4.0 flash charging. How fast is it? Well, the device charges up fully in just 56 minutes! Speed doesn't mean lack of safety, and to ensure that, the OPPO F17 charging system also includes five independent thermistors which make sure that in the event the heat generated by charging exceeds a certain safety threshold, the charging automatically stops.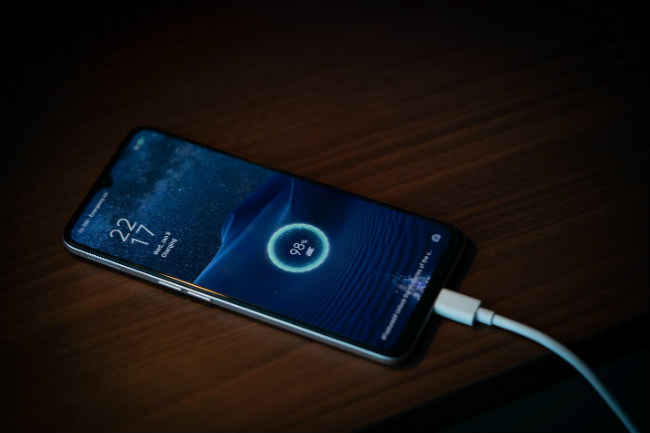 To prolong battery life, the OPPO F17 features a special Super Power-Saving Mode that intelligently implements power saving strategies. When the battery runs low, you are still able to perform all essential tasks. In fact, with just 5% battery, the OPPO F17 can be on standby for up to 17 hours, or even support a phone call for over one and a half hours.
A Window to a New World
The OPPO F17 packs a large 6.44-inch FHD+ OLED display with a resolution of 2400x1080p. However, what really stands out is the fact that the phone offers a high 90.7% screen-to-body ratio that is made possible thanks to a water-drop display. The phone has a pixel density of 408ppi, which gives you vivid and clear visuals on screen. This high screen-to-body ratio, combined with the high pixel density allows for a more immersive viewing experience regardless of whether you use it for playing games or watching videos.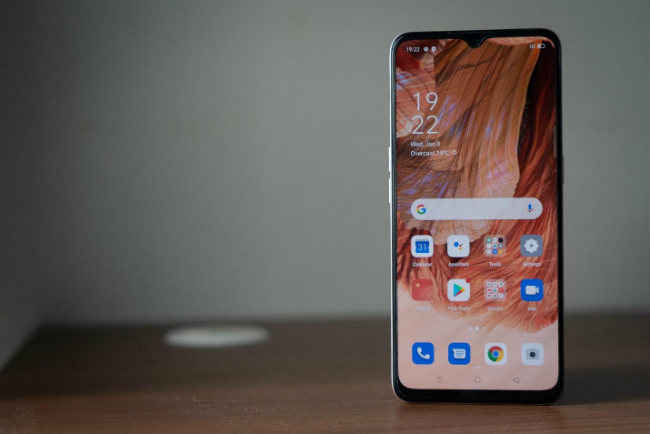 Of course, legibility and eye care are vital. You don't want to end up damaging your eyesight. This is why the OPPO F17 comes with Sunlight Screen technology that enhances the screen's visibility to ensure users can clearly see the display when in bright sunlight. At night, the phone automatically activates Moonlight Screen that dims the screen and applies bluelight filters. In fact, the phone dims its brightness down to 2nits, and then goes back up to a minimum of 10nits between 9pm and 7am. It does this via AI Intelligent Backlight that automatically adjusts backlight settings throughout the day by learning how a user manually adjusts the brightness in different scenarios.
Picture to Picturesque
The OPPO F17 packs a solid quad-rear camera setup with a 16MP primary camera, an 8MP wide-angle camera, a 2MP monochrome camera and a 2MP retro camera. The camera module perfectly matches up to the phone's sleek aesthetic; the sensors are stacked in a 2x2 array design, which makes the phone look slim and stylish. The Artificial Intelligence-powered camera comes with a host of features like AI Dazzle Color that uses advanced scene recognition and massively enhances shots of landscapes, food, or sunrise. There is also Ultra Steady Video that uses electronic image stabilization and helps capture some super stable shots of multiple action scenes, including live sports.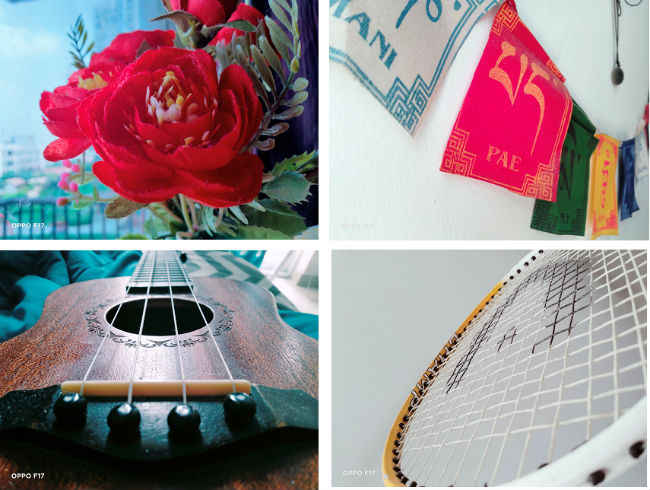 The rear camera on OPPO F17 isn't the only one getting all the love. The 16MP front camera offers AI Beautification 2.0 that automatically adjusts the colouration of the subject's skin based on the environment that the photo is taken in. This ensures a truly natural looking photo. If that wasn't cool enough, the AI also adds a makeup filter that can add a shade of colour to a subject's lips. This AI tech is tailored to different regions and supports different skin colours. On top of this, there's also a Front Night Mode that brightens shots at night while ensuring extreme clarity. It also adjusts the background light in dark environments which makes background details crisp and clear.

Zoom-Zoom!
At the heart of the OPPO F17 is the octa-core Qualcomm Snapdragon 662 that is clocked at 2.0GHz. This ensures more than enough strength for everyday tasks, as well as lots and lots of gaming. As if that wasn't enough, the phone is smart enough to offer Dual Channel Acceleration that enables Wi-Fi and mobile network to run in tandem with each other, It leads to a very stable online experience, which is vital when you're gaming or streaming videos. Additionally, the 6GB RAM + the anti-lag feature improves the performance massively, and Hyper Boost 2.1 offers higher touch responsiveness, especially when you are loading game screens.

The OPPO F17 also runs on ColorOS 7.2, which is based on Android 10. This is the latest version of the company's OS and features a bunch of new and improved features that promise a smooth and intuitive user experience. For example, the icons are specifically designed with thinner lines with increased legibility. Not only that, there is also a Multi-User Mode that helps to keep personal files and data safe by kneeling up to five independent 'user spaces' with different levels of permissions. There is also a Dark Mode and OSIE Ultra Clear Visual Effect that uses OPPOs' proprietary Screen Image Engine (OSIE) to increase video saturation and contrast, while displaying clearer visuals on third-party apps.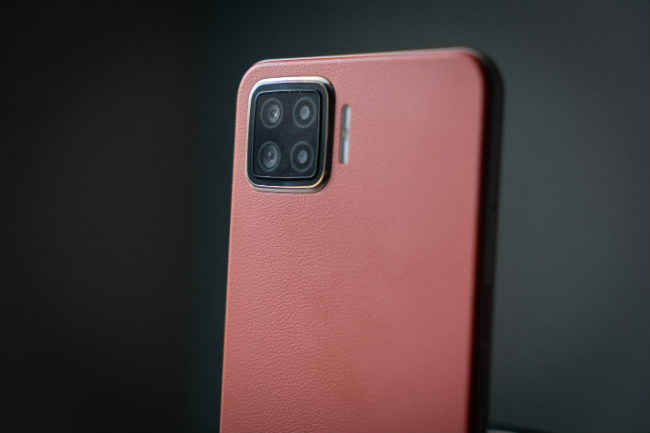 With such attention to style and performance, the OPPO F17 makes a very compelling smartphone for the modern youth who want it all while looking good. Adding to its appeal is the attractive price of the phone starting at just Rs 17990. Thanks to its combinations of hardware, software and an appealing price point, the OPPO F17 is definitely going to become a hot option among the youth.
[Brand Story]