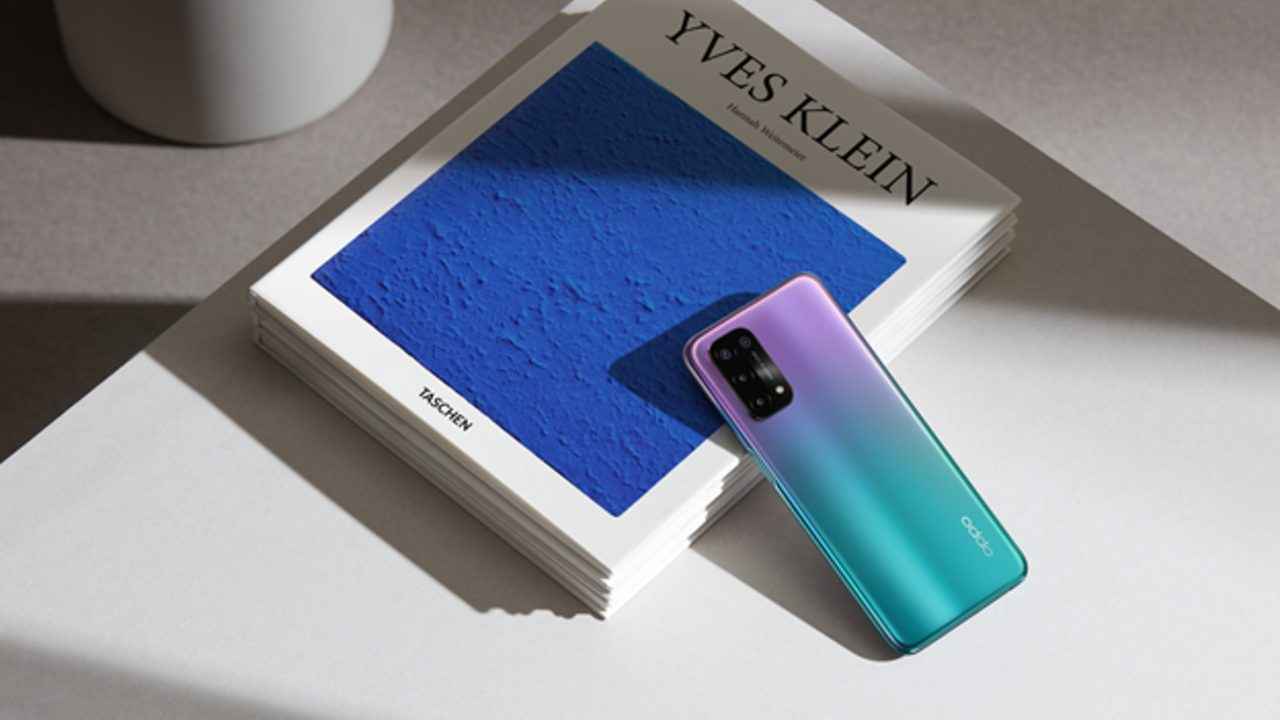 India is an extremely diverse market with people from all walks of life. As such, each and every one has different needs and requirements when it comes to what they want in a smartphone. In order to meet their needs, smartphone manufacturers like OPPO offer a vast portfolio of devices. However, while it is relatively easy to offer a lot of features on a premium smartphone, it's harder to do so on budget devices.
With its A-Series of smartphones however, OPPO has done its bit to ensure that those on a tight budget don't miss out on key features that will help them get the most out of their phones. This includes features like 5G for better connectivity, smooth display, large battery, faster charging and more. The series is known for offering features that used to be a normal fixture on most premium smartphones, but at a more affordable price point. The brand new OPPO A74 5G is the newest smartphone in the long running series and is out to not only match up to the promises of the OPPO A-Series, but set the bar even higher.
90Hz of smoothness
The OPPO A74 5G packs a 6.5-inch FHD+ punch-hole display with a resolution of 2400x1080p. However, one of the most notable features of the display has to be the fact that the phone offers a refresh rate of 90Hz and a touch sampling rate of 180Hz. The high refresh rate should help with smoother animations and transitions as you swipe around the phone. The high touch sampling rate should help when gaming as the phone will be able to register touch commands faster. So when gaming, the higher refresh rate helps ensure smoother gameplay as it allows for a higher framerate. This is very handy in fast-paced games like PFS or racing games. Meanwhile. the faster touch sampling rate will ensure that the game registers you touch faster than someone with a slower touch sampling rate. This can give players a vital competitive edge, especially when playing online.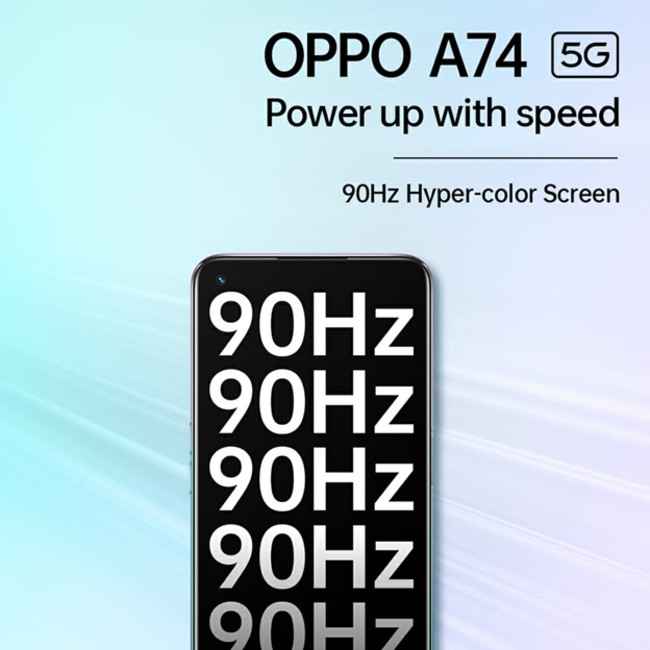 The large screen should also help binge watchers as it will give them a big screen video-watching experience. In fact, the phone also comes with Netflix HD and Amazon Prime Video HD certification, which should ensure a good video watching experience on those platforms. To ensure that you don't harm your eyes, the OPPO A74 5G comes with AI Backlight, that automatically adjusts the phone's backlight settings throughout the day. It also tracks how the user manually adjusts the brightness setting in different lighting conditions to provide all-day AI Eye Comfort. So you will be able to binge-watch your favourite TV series or movies without worrying about harming your eyes.
Bigger battery to last longer
Another key aspect of the OPPO A74 5G is its large 5000mAh battery. This battery capacity should be more than enough to last all through the day. In fact, OPPO notes that the 5000mAh battery will allow for one and a half days of use with a single charge. This means that users will get to spend less time charging and more time on the go.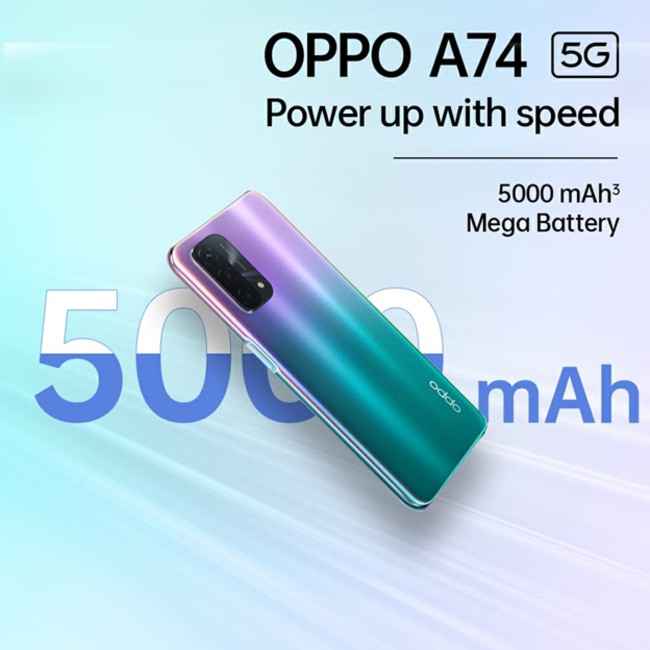 This feature can come in really handy for those who are almost constant on the go as it will ensure that users will be able to continue their work without worrying about running out of battery. This will help you de-stress and you won't have to worry about hunting for a charging spot all the time.
Faster is always better
With such a large battery, one would be forgiven for thinking that the phone would take a lot of time to charge. However, this is OPPO we are talking about. The company has been a pioneer in the field of fast charging. So of course, the OPPO A74 5G comes with a version of fast charging. The phone offers 18W Flash charging, which is said to charge the battery to 68% within 60 minutes. The benefits of fast charging are pretty evident.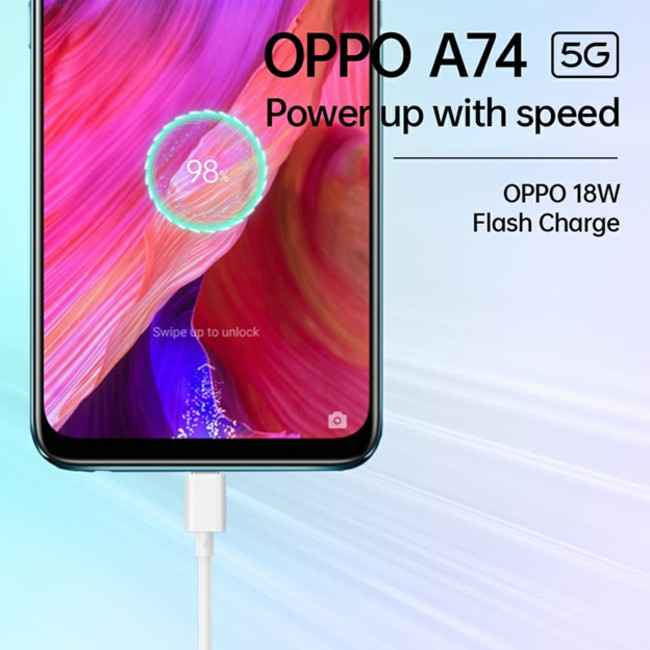 OPPO's thought process towards charging can also be seen in the Super Nighttime Standby feature. With this feature, the OPPO A74 5G can learn a user's bedtime routine and automatically optimise the phone's battery consumption. For example, when the phone knows that you are asleep, it will understand that the phone won't be used. As such, it starts to curtail resources that may not be needed. OPPO notes that with this more only, the OPPO A74 5G's battery will only decrease 2% between 11:00pm and 07:00am. This means that even if you forget to plug in your phone at night, you won't have to worry about your battery being drained when you wake up.
Affordable future proofing
At the heart of the OPPO A74 5G is the Qualcomm Snapdragon 480 5G platform. As the name would suggest, the chipset allows the smartphone to support 5G. This means that even those with a tight budget will be able to harness the full potential of 5G. The phone should be able to offer Gigabit speeds and super low latency when connected to a 5G network. This is more than just super fast download speeds. 5G will impact everything from gaming to IoT. As a gamer, the extremely low latency will make for a huge difference when it comes to online gaming. This will ensure that your commands are reflected in the game faster, thereby giving you anget edge over opponents.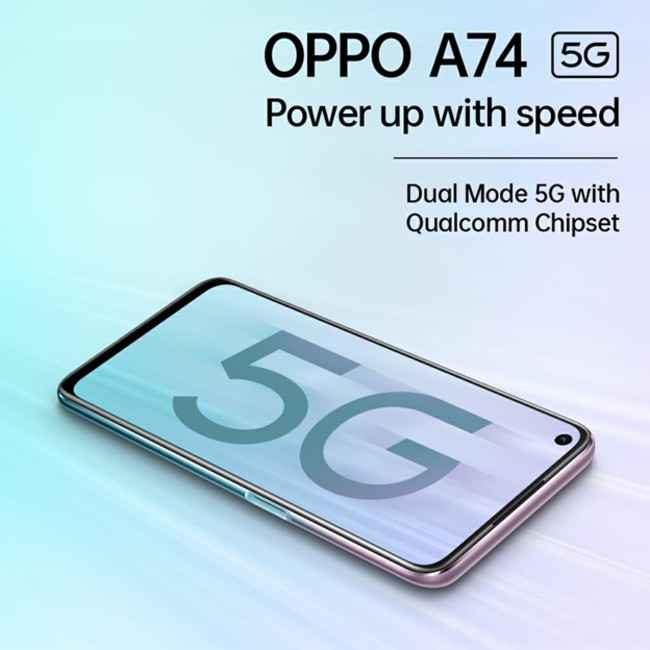 Having a 5G-ready phone in India will ensure that you will be able to make the most of the technology as soon as it's rolled out. In order words, it will ensure future proofing. This means that users won't have to go out and buy another smartphone just to enjoy 5G services.
Three cameras for triple the fun
Even with its affordable price tag, the OPPO A74 5G comes with a triple rear setup. This includes a 48MP primary camera, a 2MP depth camera, and a 2MP macro camera. For selfies and video chatting, the phone comes with an 8MP unit that is housed inside a punch-hole located in the corner of the display. The flexibility seen with the triple camera setup is vital as it gives users more options when taking a shot. For example, when they want to take close up shots they can switch to the macro camera and get detailed photos which can then be posted on social media.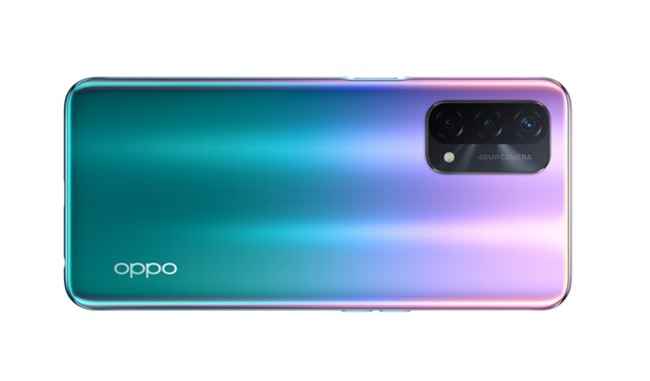 As with all OPPO devices, the OPPO A74 5G comes with a host of camera-centric features like AI Scene Enhancement 2.0. This uses the AI to intelligently recognise scenes within the shot and then automatically adjust color saturation and contrast ratio to improve picture quality. Ultra Clear 108MP image uses the 48MP unit to take a high resolution 108MP picture that offers crisp details. Of course, as this is an OPPO phone, you also get AI Beautification 2.0. This feature is designed to make people look their natural best. The feature automatically identifies and removes imperfections like blemishes, while improving the texture of the skin and touching up makeup. All this is done in accordance with the ambient lighting to ensure that the resulting image looks natural. So you can take as many selfies and pictures as you want and the only problem you'll face is choosing which one to upload to social media.
Designed to please
Design has always been a key aspect when it comes to OPPO phones. This has been true regardless of the phone's price point. The OPPO A74 5G is no different. The phone features a curved 3D shape that looks simple, yet elegant. The curved edges also make the phone easier to hold as the corners don't dig into the hand.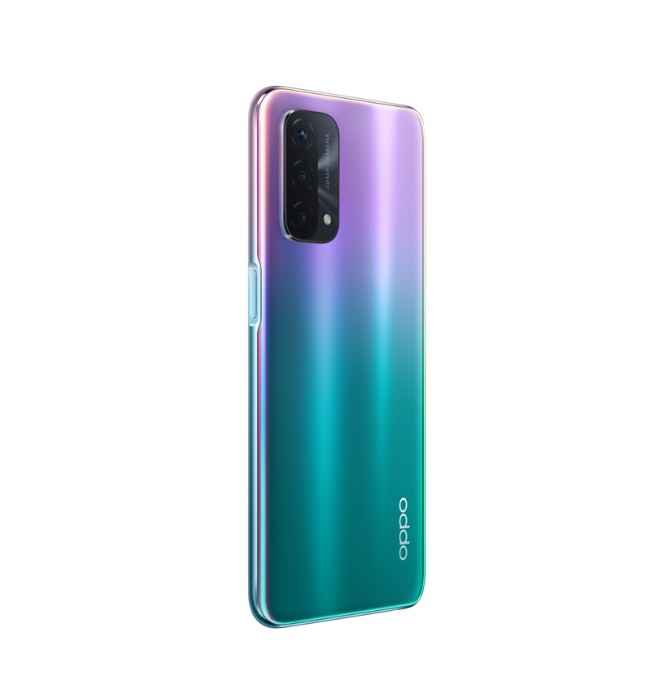 The rear panel of the OPPO A74 5G uses a 'Warm Tech" design concept, which is designed to offer a glossy, yet glare free look. If you look at the phone, the colour gradient appears to shift hues from one end of the phone to another. Speaking of the rear panel, the OPPO A74 5G features a transparent composite on the back cover. OPPO notes that this is comparable to glass and is resistant to shattering and cracking. This means that the colourful design of the rear panel should not be marred over time.
So, what does it all mean?
As one can see, the OPPO A74 5G has a lot to offer for its price point. The phone gives yours the option of a 5G-ready device that offers a host of other features like a 90Hz refresh rate, large 5000mAh battery, 18W Flash charging and much more. As such, it's a compelling choice for someone looking for a feature-rich smartphone at a relatively pocket-friendly price. It should definitely be on the cards of any OPPO fan looking for a device that's future-proof and will be their companion for a long time.
The OPPO A74 5G (6GB + 128GB) variant is priced at INR 17,990 and will be available for sale from April 26 across mainline retailer outlets and Amazon. The device will be available with a host of offers both for online and offline customers.
Online Offers via Amazon
OPPO A74 5G will be available on Amazon. The customers can avail a 10% instant bank discount on credit card, credit card EMI& debit card on selected banks. NCE is also available for up to 9 months.
There are also several bundling offers on OPPO A74 5G. Consumers' purchasing OPPO A74 5G will get OPPO EncoW11 at a reduced price of Rs 1299, OPPO Band for Rs 2499 and OPPO W31 for Rs 2499.
There is also a 2-year extended warranty available on OPPO A74 5G.
Offline Offers- Mainline Retail Outlets
Through offline retails outlets, customers will get 5% cashback on HDFC Bank, Standard Chartered, Kotak Mahindra Bank, Bank of Baroda, Federal Bank, 11% instant cashback on Paytm; Zero Down Payment scheme from all leading financers. Apart from all this, there is also the option of No Cost EMI up to 6 months.
[Brand Story]