Nokia 8, the flagship smartphone from HMD Global is now official. The smartphone brings flagship specifications, premium design and a mid-range pricing that puts it in direct competition with the OnePlus 5. With the launch of Nokia 8, OnePlus 5 finally has a considerable competitor for the crown of best smartphone under Rs 40,000.
Nokia 8 and OnePlus 5 also join the growing trend of dual camera smartphones but offer a different implementation. While the OnePlus 5 is available in two storage options, the Nokia 8 will only be offered in a single storage model. So here's a look at how the Nokia 8 compares to the OnePlus 5 and whether HMD Global has a formidable competitor to OnePlus' flagship.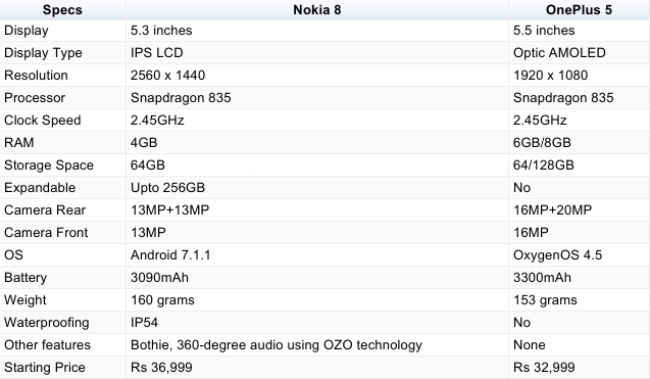 Design and Display: Nokia 8 and OnePlus 5 both feature a metal unibody design but the Nokia 8 seems more premium with a design that stands apart from other smartphones in the market. OnePlus 5's design is definitely borrowed from the iPhone 7 Plus and Oppo R11. Both offer a very good build quality, but the Nokia 8 offers a distinctive design.
The OnePlus 5 uses the same display panel also found on its predecessor, the OnePlus 3T. The handset sports a 5.5-inch Optic AMOLED display with a Full HD resolution of 1920 x 1080 pixels. Nokia 8, on the other hand, offers a smaller 5.3-inch display but with a Quad HD resolution of 2560 x 1440 pixels. The handset uses LCD panel which may not offer deeper blacks like an AMOLED panel, but the Nokia 8 has an edge in the form of a pixel-dense display.
As we observed in our review, the OnePlus 5 offers balanced colours and great viewing angles but it might seem underwhelming in front of Nokia 8's Quad HD display.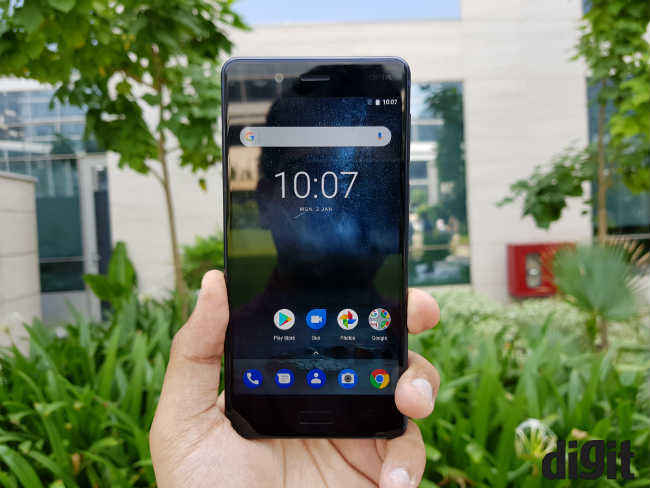 Performance and Storage: OnePlus 5's biggest selling point is the latest Snapdragon chipset and it also offers more memory than its peers right now. OnePlus 5 can be configured with an option for either 6 or 8GB RAM and 64GB or 128GB internal storage. The Nokia 8 is also powered by Qualcomm's fastest Snapdragon chipset but is sticking to the basics by offering only 4GB RAM. Nokia 8 comes in only one storage variant offering 4GB RAM and 64GB internal storage. In order to compensate, HMD Global has also added support for expandable storage up to 256GB via SD card slot.
In terms of performance, there shouldn't be a noticeable difference between both the devices but it will water down to individual preference. Both Nokia 8 and OnePlus 5 are powered by Qualcomm's Snapdragon 835, the fastest chipset available from the San Diego-based mobile chip maker as of date. OnePlus 5 seems to have an edge here with an option for either 6GB or 8GB RAM at its disposal. OnePlus 5 has more memory too, which makes it future proof for updates, while the Nokia 8 sticks to the basics by offering just enough memory with a fast processor.
Camera: The Nokia 8, with its dual cameras, brings back the Carl Zeiss optics seen on previous Nokia and Lumia-branded smartphones. Nokia 8 sports dual 13MP cameras with one RGB colour sensor and another monochrome sensor. With that additional monochrome sensor, Nokia 8 can capture images that offer high contrast similar to the one offered by Huawei's P series. With Zeiss lenses, the Nokia 8 is definitely pulling ahead of the OnePlus 5 at least in the optics department. However, we will be able to tell for sure once we review the device.
OnePlus 5, on the other hand, also has a dual camera system but supports optical zoom feature. It has one 16MP sensor with a wide-angle lens and another 20MP sensor supporting telephoto lens. The 16MP primary sensor has an equivalent focal length of 24mm while the 20MP secondary sensor has an equivalent focal length of 36mm. The smartphone doesn't offer true zoom functionality and has 1.6x optical zoom. The company confirmed that 2x optical zoom is based on software functionality.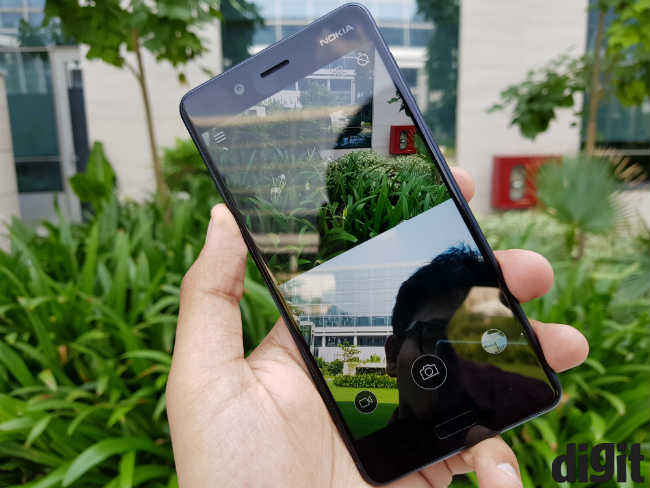 Nokia 8 also comes with optical image stabilisation. Like Google's Pixel lineup, the OnePlus 5 relies on electronic image stabilisation.
The Nokia 8 brings with it a new camera feature called Bothie which uses both front and rear cameras simultaneously. The company has also integrated the feature with Facebook and YouTube's Live streaming system. Both the smartphones support 4K video recording but Nokia has integrated it's OZO audio technology that uses three high-fidelity microphones for recording audio.
OnePlus 5 offers a dual camera with zoom functionality, but it seems crippled at the moment. Nokia 8, however, gets better optics and a monochrome sensor that can turn useful in certain situations.
Software: OnePlus 5 is running OxygenOS 4.5 based on Android 7.1 Nougat while Nokia 8 is offering near-stock Nougat experience out of the box. Both the companies have also confirmed Android 8.0 Oreo updates before the end of this year.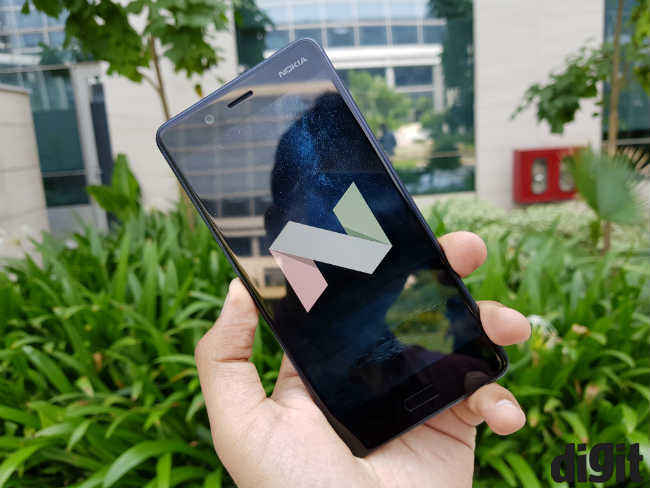 While OxygenOS may not be close to stock Android, it offers meaningful enhancements based on user feedback. Nokia 8's stock Android will help the company push software updates faster and ensure the device stays up to date when it comes to security updates. HMD Global has not confirmed for how long it plans to support its smartphones with features updates, OnePlus is not expected to support the device for more than a year.
Battery Life and Price: On paper, OnePlus 5 seems to have an edge here with its decent 3300mAh battery. Nokia 8 packs a 3080mAh battery, which has to power a pixel-dense display and a fast Qualcomm chipset. It needs to be seen whether HMD Global has done software optimisation to ensure day-long battery life. Both the smartphones also benefit from fast charging but Dash Charging from OnePlus is the fastest battery charging technology among smartphone makers. It should easily refill the device to 50 percent in half an hour.
The Nokia 8 is priced at Rs 36,999, while OnePlus 5 starts at Rs 32,999. On paper alone, OnePlus 5 looks like a value purchase but the Nokia 8 offers better display, superior optics, competitive build and enhanced features like dual shot mode and OZO audio improvements. It has one more feature that OnePlus 5 lacks - the nostalgia value which only Nokia brand can deliver right now.